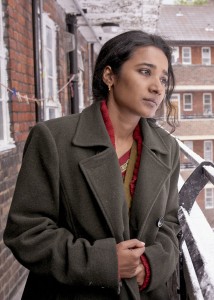 Brick Lane is a beautiful film that could have been even better. Based on a well-regarded novel of the same name by Monica Ali, Sarah Gavron's film is about a young Bangladeshi woman named "Nazneen," who is sent to London as a teenager to marry a man she has never met… (JLH: 4/5)
Click here to read my complete review online.
Click here to read our FF2 haiku.
Click here to download my review as a pdf.
Here are excepts from my face-to-face chat in Chicago with filmmaker Sarah Gavron & star Tannishtha Chatterjee 🙂
SARAH GAVRON
"My grandmother was born in Berlin.  At age 17, she was sent to England by her parents.  She was a dancer and gymnast, and she was going to be in the 1936 Olympics, but she was told: 'Certainly you can't, because you're a Jew,' and at that moment her parents realized: 'We've got to get her out.' So she was 17, and she got sent to England on her own.
It was really unfortunate for her, because if she'd been more in the [Kindertransport] loop, she would've come to London and gotten involved in the Jewish community and had a home, but actually they went out of the system.  Her parents knew someone, and they sent her off, so she was sort of a misfit in every department, because she was German and she was Jewish and both things weren't good.
That was 1937, I think.  Her parents were both literature professors in Berlin and they had some students who weren't Jewish, who loved them and hid them. Her mother died during the war.  Her father came to England eventually, as a sort of broken man, really, who never quite recovered from the whole experience.
So my grandmother came from this wonderful upbringing: cultured, educated.  She tried to fit in; she became very working class; she changed her name to 'Jennifer Coates' (which is very English); she got an impeccable English accent.  She was someone who spent her whole life hiding, not revealing her identity.  When I became a filmmaker, I endlessly interviewed my grandmother, and I made a little short about her at film school, just after she died, so she never saw it.  She would've been horrified!
My grandmother died when I was 26, so I really knew her, and I really loved her.  I knew she was Jewish, the family knew, but she wasn't revealing it to the people around her.  I mean, friends hadn't known she was Jewish until we made speeches at her funeral!  So my mother, consequently, became someone who felt it was very important to speak out, and my mother became a local politician and then the Deputy Mayor of London!
Brick Lane was daunting for me and frightening in lots of ways, because it was a first film, and it was a big novel that was well loved.  When you make a decision as a director, you know that it's a huge commitment.  It's three years of your life, and you have to stand by it, and it takes every iota of your being to make a film.
But there is no doubt that my grandmother was one of the forces that drew me to Brick Lane: seeing the world as an outsider through her eyes and then watching my mother (who's the Shahana in our family story).  Nazneen is my grandmother: from the generation displaced.  My grandmother came to England at the same age as Nazneen: 17.
Strangely enough my brother had written a book about Brick Lane called An Acre of Barren Ground, a fictionalized story told from different perspectives.  So I knew the area through that too, and I knew that various Jewish people had their roots in Brick Lane.  So there were emotional connections, although not direct by any means."
---
TANNISHTHA CHATTERJEE
"My grandmom had actually been displaced like Sarah's grandmom.  We are Hindus, so during partition [in 1948] she was displaced to India, from the east of Bengal, which is now Bangladesh, to West Bengal, which is what the Indian side of Bengal is called today.  And I heard stories from her, in my childhood, about the other side of Bengal: 'The fish of the other side of the Bengal is much better than the fish of this side of Bengal.'  She missed everything!
Yes, that was the connection when I went to Brick Lane.  The life that I have lived is very different from the experience that Nazneen was supposed to go through, but culturally there were many things when I went to meet women in and around Brick Lane who had similar stories.  Like Nazneen, they got married at a very young age in arranged-marriage situations: transported into an alien culture; didn't speak the language; didn't know anyone; didn't know how to communicate…
So when I was talking to these women, they impressed me because they found a connection.  I felt very nostalgic and in fact that particular fish that my grandmom always talked about: I never had that in India, but I had it in London!
In the beginning of the film, Nazneen is the one who wants to go back home to Bangladesh.  She has all these images from her childhood, and she feels so claustrophobic.  The only outlet she has is through her letters to her sister who lives in Bangladesh, and she's always trying to go back home.  But through the film and through her story, we realize that she finds home.  She says: 'I didn't know that I was searching for a place which I've already found.'
Her daughters are so comfortable in London, and they don't want to go back 'home' to Bangladesh.  London is 'home' for them, and that's what Nazneen realizes: 'I was 17 when I came here and now I'm 34, so I've lived half/half, where is home for me?  This is home, and this is where my daughters want to be.  This is where I found my independence and my voice in my own ways, in the things also that I brought from Bangladesh.  I wear my sari.  I have not started wearing trousers or cut my hair short.  In my very own way, I have found a voice and I am comfortable with that here.' It's a mother/daughter story."

Monica Ali's novel Brick Lane runs 415 pages, a substantial percentage of which contains letters from Hasina (Nazneen's sister in Bangladesh).  Since Ali always punctuates Nazneen's story with updates from Hasina, the reader understands that Nazneen is actually "the lucky one" long before Nazneen is able to appreciate this fact for herself.  In deference to those who have yet to read Ali's wonderful novel, I won't say any more here about the tragic dimensions of Hasina's life.
The novel also contains chapters about Nazneen's childhood in Bangladesh as well as her early years in London (including the death of her first child and the chronicle of Chanu's career disappointments).  Important characters like Dr. Azad and Razia also get their own narrative arcs.
Bottom line: Novel and film are completely complementary, and if I ruled the world, Gavron would make a sequel in which Hasina's POV was punctuated by letters from Nazneen 🙂
© Jan Lisa Huttner (6/27/08) for The Fund for Women Artists (June 11th interview conducted, condensed, and edited by Jan Lisa Huttner.)
Top Photo: "Nazneen" (Tannishtha Chatterjee) alone outside her London counsel apartment.
Middle Photo: "Chanu" (Satish Kaushik) takes his family on an outing.
Bottom Photo: Filmmaker Sarah Gavron with Tannishtha Chatterjee.
Photo Credits: Chris Raphael © 2007 Seven Seas Productions, Ltd.  Courtesy Sony Pictures Classics.