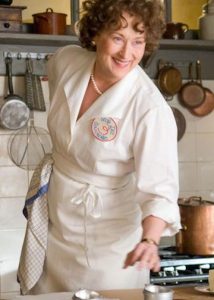 Blogger Julie Powell had a lot of hard days and long weeks in 2001. In her book, Julie & Julia: My Year of Cooking Dangerously, she tells us she worked in a cubicle in an office overlooking Ground Zero, and the 9/11 tragedy was an omnipresent fact of her life. But instead of wallowing, she decided to sit herself down at the feet of a master and study her way up from horror to happiness. Her text was Mastering the Art of French Cooking by the incomparable Julia Child.
Nora Ephron's adaptation Julie & Julia keeps its focus on Julie Powell (played by a physically subdued but emotionally vibrant Amy Adams), and Meryl Streep contributes a fabulous supporting performance, not as "the real" Julia Child, but as the Julia Child who lives in Julie Powell's head. Ephron has created a loving tribute to teachers (and students) everywhere, and a terrific film for everyone—women and men alike.
Review by FF2 Editor-in-Chief Jan Lisa Huttner
Cooking can be very comforting, especially at the end of a hard day (or a long week of them). Chopping, stirring, mashing—these can all be surprisingly relaxing activities, especially when the air fills with rich smells and you know your goal is to nurture those you love. Best yet, once you're done, you're done. Whatever tasted good, tasted good, and whatever didn't, well, that's life. Julie Powell had a lot of hard days and long weeks in 2001. After the Twin Towers collapsed on 9/11, most of us went about our business, trauma fading into memory. But Julie Powell's job was to provide support for the families of 9/11 victims, and her office, looking out over Ground Zero, made tragedy an omnipresent fact of life. So instead of wallowing, this self-described "good student" did the obvious thing: she sat herself down at the feet of a master and literally studied her way up from horror to happiness.
The teacher: Julia Child.
The text: Mastering the Art of French Cooking.
The assignment: Make all 524 recipes in 365 days.
The first time I encountered Immanuel Kant's Critique of Pure Reason as a college Junior, I couldn't make any sense of it. Sighing deeply, my professor said: "Don't worry yourself so much, Miss Huttner. Many people have lived very happy lives without ever reading Kant." But to quote Mama Rose: "Some people ain't me!" I obsessed about Kant in graduate school, and ended up teaching a course on Kant's Critique of Pure Reason for the University of Chicago's Center on Continuing Education. So let's just say Nora Ephron's adaptation of Julie Powell's book Julie & Julia: My Year of Cooking Dangerously had me at hello.
Ephron starts her cinematic stew by blanching her leading lady before turning up the flame. She peels off Amy Adams' usual perky blonde cheerleader look, dressing her in ordinary, slightly ill-fitting clothes capped by a short, brownish, and very functional hair-do. The result is that Adams' eyes come to dominate her entire face, communicating enormous intelligence, as well as confusion, determination, elation, frustration, and the whole alphabet of emotions appropriate to events that unfold from the first day to the last day of "The Julie/Julia Project."
In 2005, Adams played "Ashley Johnsten" in the Indie drama Junebug. She won film festival awards (including a Special Jury Prize at Sundance) and she was nominated for an Oscar in the Best Supporting Actress category, but none of this hoopla resonated for me. However, her breakthrough role in Junebug lead to new opportunities, and I've been thoroughly charmed by Adams ever since. She's held the center with conviction in lead roles (e.g., Enchanted and Sunshine Cleaning), and she's also made delightful contributions in supporting roles (e.g., Miss Pettigrew Lives for a Day and Night at the Museum: Battle of the Smithsonian), all in parts that relied heavily on her looks. Even playing Sister James, the tormented nun in Doubt last year, Adams was luminous. Well, why not? She's beautiful and young! But playing Julie Powell transforms Adams from "starlet" to "pro." Now I can really see her developing into a great actress, carrying mature character roles in the recent tradition of Jessica Lange, Julianne Moore, Meryl Streep…
Wait! Did I just say Meryl Streep?!? Mountains of reviews have appeared since Julie & Julia's nationwide release on August 7, most claiming two things: the star of Julie & Julia is Meryl Streep, and Meryl Streep plays Julia Child. Both of these assertions are false. Julie & Julia is not a biopic about "the real" Julia Child, and Meryl Streep isn't trying to embody "the real" Julia Child. The character Meryl Streep plays in Julie & Julia (as written and directed by Nora Ephron) is the personification of a great teacher: brilliant, enormously inspiring, and fully present in her work. Streep's role, in other words, is to be the Julia Child who lives in Julie Powell's head.
Of course Julie Powell's onscreen story seems drab and trivial compared to Julia Child's. That's not because Julia Child wrote one of the most influential cookbooks in American history, or because Julia Child was a television pioneer who helped bring PBS into the mainstream. It's not even because Julia Child is now a cultural icon whose Boston kitchen is preserved for posterity at the Smithsonian. In fact, these are the very reasons Julie Powell chose Julia Child as her personal life-preserver in the first place.
Perfectly capturing the underlying emotions in Powell's sourcebook, Ephron shows us the Julie who is constantly measuring herself against an idealized Julia. Julie can never measure up; she will always find herself wanting. But here's the thing: great teachers need great students, and just as Plato dedicated himself to Socrates, so Julie Powell dedicated herself to Julia Child. And bit by bit, under Julia Child's tutelage, Julie Powell became a better person—not just a better cook, but a more self-aware, self-confident person.Adapting Powell's book for the big screen, Ephron has the tools at hand to turn Julie's dilemma into a wonderfully cinematic joke. Julia Child was famously tall (literally towering over everyone else in her life), but Meryl Streep isn't, so how did Ephron achieve this effect? Did her casting director roam around France looking for Munchkins? Who cares? It works—both visually and metaphorically. Under Ephron's direction, Streep rises before our eyes like a delicious soufflé.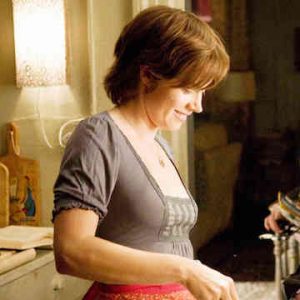 And, oh yes: the real Julie Powell landed a book contract, and a movie deal, and can now see herself played onscreen by Amy Adams. The real Julia Child died too soon to see any of this happen, but I am absolutely certain that if Julia Child were standing with Julie Powell on the Red Carpet today, she would be very proud indeed. Brava, Nora Ephron! With two great actresses and a superlative team, you've made a terrific film that's a tribute to teachers (and students) everywhere!
---
SPOILER ALERT: From Page to Screen
(Please do NOT read until after you have seen Julie and Julia)
As is my habit, I saw Julie & Julia, then I read Julie Powell's book, and then I saw Julie & Julia again before starting this review. So I knew nothing about Julie Powell, and almost nothing about Julia Child, when I formed my first impressions of Nora Ephron's film. Furthermore, I'm not a foodie; when I cook, I rely totally on gut instinct, keep things simple, and almost never consult recipes. I've never watched a cooking show, and any mental image I might have had of Julia Child before seeing Julie & Julia was heavily influenced by Dan Ackroyd's parody on Saturday Night Live.
Intentionally or not, Julie Powell keeps most of Julie & Julia: My Year of Cooking Dangerously in the present tense, and she tells us very little about her background. So I have no idea what brought "the real" Julie Powell and her husband Eric from Austin (where they were both raised) to Brooklyn (where they are living when the story begins). She talks a bit about theatre, but not too much.
The Julie character created by Nora Ephron, on the other hand, is a much more ambitious lady—someone who went to a first-class college and tried to write serious fiction before succumbing to financial imperatives. Ephron also gives her more accomplished friends, and more hands-on responsibility for solving the problems of 9/11 families. It is Ephron's Julie, not Powell's Julie, who tells husband Eric that she has always defined herself as a good student.
Julie Powell may not know this yet (after all, she's still very young), but Nora Ephron surely knows that the art of teaching, like all arts, is a dyadic activity; great teachers cannot reach their own potential without great students. So the character in her film is definitely a stronger, tougher, more competitive person than the character in Powell's book.
But the idealization of Julia Child—incomparable cook, perfect hostess, beloved wife—part Eiffel Tower and part Statue of Liberty—this character comes straight from Julie Powell, and she has earned the last words on the subject:
"I'd made eight French tarts, any one of which would have done me in a year ago. I'd had a dozen people over to my apartment, where a year ago I'd have been lucky to tempt two. Julia would be proud of me, if she knew, Hell, she was proud of me. I knew this because for nearly eleven months Julia had resided in my brain… She'd ensconced herself in there, so that now, though I couldn't look at her straight on without her melting away, I believed that she was with me more than I believed that she wasn't."
(Day 365; Recipe 524; Little, Brown and Company paperback page 313)
---
ONE FINAL POINT…
Something very weird is happening to Meryl Streep's career in mid-life, and it leaves a bitter aftertaste. Year after year, she draws us into her web with yet another superlative performance, at which point the critics rave, and then she's nominated for an Oscar. But the result is always the same. Critics use her brilliance to damn her collaborators (especially if they're female), and then, during awards season, she's invariably passed over.
Meryl Streep is quite simply the finest actress in screen history. There is no one (male or female) who can match her in the quality, quantity, depth, and range of her cinematic contributions. If I ruled the world, she would have received Best Actress Oscars for Silkwood (1983), Out of Africa (1986), The Bridges of Madison County (1995), The Devil Wears Prada (2006), and Doubt (2008). Last year's combination of Doubt and Mama Mia should have been more than sufficient, but in fact, Meryl Streep hasn't won an Oscar for twenty-six years! She received a Best Actress Oscar in 1983 for Sophie's Choice, and she also received a Best Supporting Actress Oscar in 1980 for Kramer vs. Kramer. That's it! Shameful!
So let's all agree that Meryl Streep is a great actress and let's reward her accordingly—but let's be clear here: Meryl Streep does not create her own characters; she does not write her own lines; she does not costume, light, or edit herself; and she's certainly not her own director. I shouldn't have to say this, but it seems, yet again, that I do.
© Jan Lisa Huttner (8/11/09) FF2 Media
Top Photo: Meryl Streep as "Julia Child."
Middle Photo: Amy Adams as "Julie Powell."
Bottom Photo: Meryl Streep as "Julia Child."
Photo Credit: Jonathan Wenk.