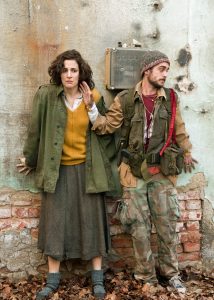 One evening Ajla (Zana Marjanovic) & Danijel (Goran Kostic) are two young people dancing in a trendy club in Sarajevo, the next they are enemies as Bosnia descends into ruthless civil war. Brilliant debut from Angelina Jolie who wrote screenplay & directed authentic cast members speaking their own languages. Click HERE for our FF2 haiku. (JLH: 5/5)
Review by FF2 Managing Editor Jan Lisa Huttner
Most of us want to believe that we are rational adults who make reasonable decisions. We look at conflicts on the nightly news (especially conflicts in other countries), and feel sure that we would successfully resist those who try to "push our buttons" for their own gain. Would that it were so!
Angelina Jolie's remarkable new film–her debut film as writer/director–tears away these illusions, and pulls us into the heart of a terrifying recent conflict many Americans barely remember even though the fall-out continues in the World Court in the Hague (not to mention in the lives of its victims).
In the Land of Blood & Honey begins with a quiet domestic scene in Sarejvo, once part of an amalgamated country called "Yugoslavia" until ethnic and religious hatred caused it to burst apart into separate autonomous mini-states.
Two sisters are at home. One, "Lejla" (Vanessa Glodjo) is the mother of a newborn infant, the other "Ajla" (Zana Marjanovic) is single and heading out for a night on the town. They embrace, and off goes Ajla to a trendy club where she's dancing the night away with "Danijel" (Goran Kostic). Love is in the air; then a bomb explodes. Their country, Yugoslavia, is no more, and Moslems and Serbs are suddenly battling for control of the former province of Bosnia.
Lejla and Ajla live in a middle class neighborhood, and the people in their apartment building are ordinary people like most of us. But when the Serbs invade, that life is over. Ajla and most of the other young women are dragged off to an uncertain fate; Lejla and the surviving neighbors become homeless refugees. Meanwhile, against all his own inclinations, Daniel, who is the son of notorious Serbian General "Nebojsa" (Rade Serbedjia), is forced to prove himself as a military man.
This is very grim stuff, but what makes it not just tolerable but illuminating are the heart-breaking performances. Everyone in In the Land of Blood & Honey has a backstory story, and they are all equally trapped into a situation that forces everyone to take sides.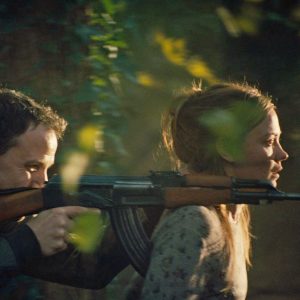 Rade Serbedjia, who was so warm as "Athos" in Fugitive Pieces, is bone-chilling as Nebojsa, but when he tells his own story even his actions become part of the whole. The child who witnessed atrocities becomes the man who commits atrocities. Memories fuel the rage for vengeance, and by the end, Lejla's heart is just as cold. Is there no way to break the cycle?
It is disheartening to read reviews by fellow critics that misrepresent the Ajla/Danijel relationship. Did they arrive mid-movie? Watch from the beginning, and it is clear that Ajla and Danijel have genuine feelings for each other. Their tragedy lies in their inability to extricate themselves from a situation that forces them to be enemies when they so clearly want to be lovers.
Brava, Angelina Jolie! In the Land of Blood & Honey is a beautiful film, beautifully told. One of the Best Films of 2011!
Jan Lisa Huttner (2011) FF2 Media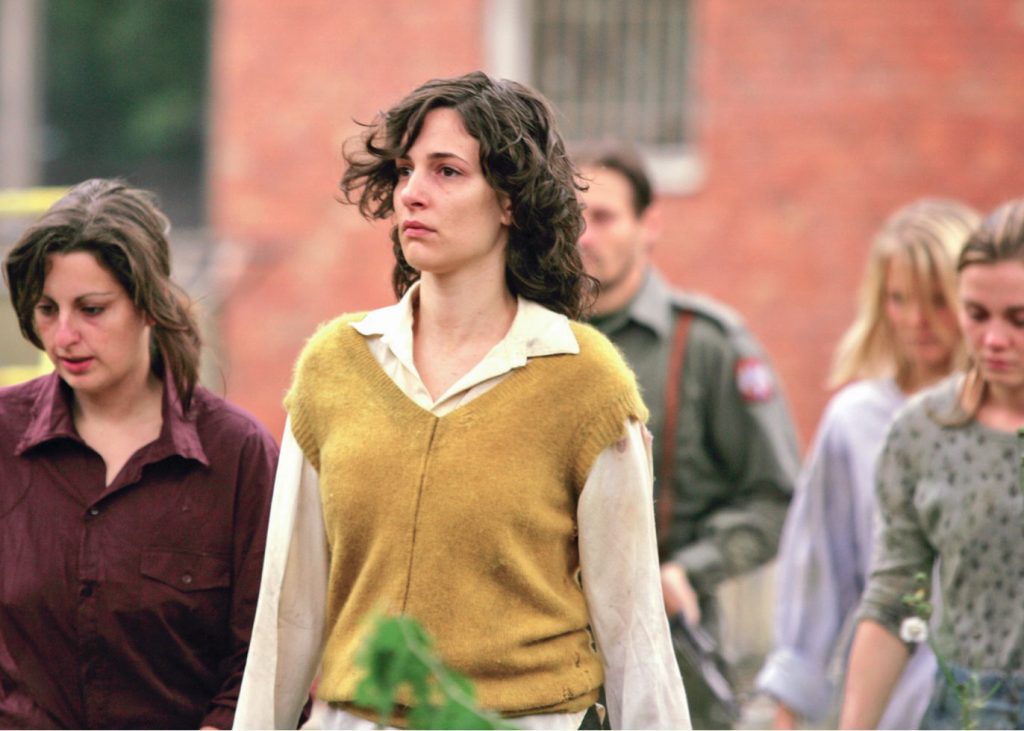 Zana Marjanovic (in gold sweater) as "Ajla" is forced into a Serbian "Rape Camp." Women in the rape camps are used as literal human shields.
Photos © Ken Regan/FilmDistrict and GK Films.
Q: Does In the Land of Blood & Honey pass the Bechdel-Wallace Test? 
Absolutely!
Sisters "Ajla" (Zana Marjanovic) & "Lejla" (Vanessa Glodjo) have many talks that have nothing whatsoever to do with men, and insofar as women in the rape camp "talk about a man" I doubt anyone–including Allison Bechdel herself–would want it any other way!