NOTE: For my "Jewish Take" on Hannah Arendt, see my Blog Post on Second City Tzivi.
Barbara Sukowa stars as the German-born political philosopher best-known today for her books on 20th Century totalitarianism. Von Trotta's film (co-written with Pam Katz) focuses on her attempts to introduce nuance into discussions of the Holocaust when she covered the trial of Nazi war criminal Adolf Eichmann in Jerusalem in 1961. The result was an uproar that still endures today. (JLH: 4/5) HIGHLY RECOMMENDED by both of us! Click HERE for our FF2 Haiku.
Review by FF2 Editor-in-Chief Jan Lisa Huttner
Finally! After so much frustration watching recent films in which world-historical women were defined by their romantic entanglements rather than their ideas/work/contributions (e.g., Aung San Suu Kyi, Amelia Earhart, Margaret Thatcher), Margarethe von Trotta (director) & Pamela Katz (screenwriter) bring us a BioPic about political philosopher Hannah Arendt (brilliantly portrayed by Barbara Sukowa).
Instead of a full life story, von Trotta & Katz maintain a tight focus on the period from 1961 to 1964, opening with Hannah Arendt's decision to cover the trial of Adolf Eichmann & closing with the firestorm that erupted when her articles appeared first in the New Yorker magazine & then in book form (as Eichmann in Jerusalem: A Report on the Banality of Evil) in 1963 (after Eichmann was executed).
Struggling to make intellectual order out of emotional chaos, Hannah Arendt receives very aggressive support on every level from her close friend Mary McCarthy (best-known now for her novel The Group) played as a tigress by Janet McTeer. She also relies on the quiet but steadfast efforts of her assistant Lotte Kohler played by the elegant actress Julia Jentsch (best-known to American art house audiences for her roles in the German films Effi Briest, The Edukators & Sophie Scholl: The Final Days).
Important male figures in Arendt's life included her husband Heinrich Blucher (Axel Milberg), her friend Hans Jonas (Ulrich Noethen), and her mentor Kurt Blumenfeld (Michael Gegen). There are also a few flashbacks touching on her relationship with philosopher Martin Heidegger (Klaus Pohl). These intimate scenes show she was not at all the "arrogant" woman she was said to be, nevertheless she refused to allow personal feelings to keep her from moving in the direction of her thoughts.
The film is deliberately layered: the more you know about the Holocaust, the more you will understand how extraordinarily courageous Hannah Arendt was to raise sensitive issues long before most people were able to even comprehend her concerns (let alone agree with them). This isn't to say that all her conclusions were correct, but just that subsequent decades have affirmed that many of the questions she asked were right on the mark.
Hannah Arendt opens tomorrow at the Film Forum in NYC and moves from there to other art house theatres in subsequent weeks. Click HERE for Film Forum showtime. Click HERE for release schedule.
Click HERE for my review of Rosenstrasse (the first film collaboration of director Margarethe von Trotta and screenwriter Pamela Katz).
Top Photo: Barbara Sukowa as "Hannah Arendt" working in the press room in Jerusalem during the Eichmann Trial (1961). Bottom Photo: Relaxing with BFF "Mary McCarthy" (Janet McTeer) back in New York.
Photo Credits:  Véronique Kolber/Zeitgeist Films
Q: Does Hannah Arendt pass the Bechdel-Wallace Test?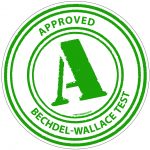 Absolutely!
Of course she sometimes discusses her marriage with Mary McCarthy (see photo above with Janet McTeer), but most of the time, Hannah's primary concern is her work, especially in scenes with her assistant Lotte Kohler (Julia Jentsch).
6/2/13 UPDATE: Spoiler Alert–Please do not read until after you have seen Hannah Arendt.
15 of my colleagues have now weighed in on Rotten Tomatoes & right now Hannah Arendt has an astonishingly "fresh" score of 100%. Unfortunately my delight in this unexpected outcome is a bit constrained by reviews which seize on an opportunity to express attitudes about Israel which are definitely not part of the von Trotta/Katz film.
For example, in her review for the Village Voice, Marsha McCreadle says this: "Israeli secret forces track down Arendt on an early morning walk… It is the one time the courageous Arendt… looks scared."
Read the whole quote & it is clear in context that McCreadle thinks Arendt is afraid of the Israelis, but quite the contrary. She's relieved that the mysterious car contains Israelis, meaning she can quickly dismiss any violent intent. What's my evidence? The very next scene shows her arriving in Israel to visit Kurt Blumenfeld. If she had anything to fear from the state of Israel, then why would she deliberately travel there rather than stay as far away as possible?
If she looks afraid, it is because lone gunmen have already made their presence felt in America (keep in mind that this scene takes place right around the time of the Kennedy Assassination), and some of the hate-filled letters Lotte Kohler reads aloud would chill the heart of any sane person.