Jan's JCC Manhattan Sneak Peak
Linor Abargil was a candidate for "Miss World" when she was brutally raped by someone she thought was a colleague. The Italians would do nothing, but the Israelis arrested him when they both got home.
Excellent doc by Cecilia Peck focuses on Linor's attempt to recover from her trauma by acting as an advocate for other women. And yet, as the rapist comes close to parole, Linor begins to fragment.
A strong & eloquent case for speaking out. (JLH: 4/5)
Note: Richard & I saw Brave Miss World at a special screening at JCC Manhattan. Click HERE for our FF2 Haiku. A full review of Brave Miss World will be posted when is released in NYC theatres.
Top Photo: Linor speaks out at a "Take Back the Night" rally at Princeton University.
Bottom Photo: Linor bonds with teenage rape survivors in Soweto, South Africa.
Photo Credits: Cecilia Peck & Rocket Girl Productions.
January 2016 Update: Hooray! Brave Miss World is now available on DVD & On Demand! Click HERE for links via GoWatchIt. Get more information & order DVD on the Brave Miss World website 🙂
After a horrifying and brutal rape, an Israeli beauty queen decides to use her experience to help others suffering from rape trauma to share their stories and heal through the process of speaking out.
A powerful documentary directed by Cecilia Peck. (EML: 4/5)
Review by FF2 Associate Eliana M. Levenson 
Flashes of landscape. The overlay of a woman's face. Then the voice. The voice of Linor Abargil as she recounts the events of one night in Milan. A night just seven weeks before she would be crowned Miss World 1998 on an international stage. A night when a homesick girl sought the help of a Hebrew speaking travel agent to take her safely to the airport. A night when 18 year old Linor was brutally raped by Uri Shlomo Nur.
Following her win as Miss World 1998, Linor decides that rather than hide the tragedy of her sexual assault, she will use her newfound platform to help share her story and inspire other women who have suffered similar traumas to share their experiences as well. The film notes Linor's decision to speak out about the truth of what happened to her, and also establish a blog to provide a space for women to share their own stories.
Linor is shocked when thousands of women immediately begin sharing their stories on her website. But, for Linor, the website is no longer enough. As she reads the horrific accounts of women worldwide, Linor decides that she wants to meet some of these women face to face, leading her on a worldwide journey of victim advocacy.
Though Linor's family is incredibly supportive, they don't quite understand her need to open up these old wounds and they fear that her work will be cause her to suffer PTSD type symptoms. Still, for Linor, being a part of this effort to help women find their voices again after rape or sexual assault is crucial to her recovery.
In South Africa, where women are more likely to be raped than taught to read or write, Linor meets with a group of teenagers who bravely speak out about their assault. She later holds a press conference where one mother asks the question that resonates throughout the documentary: How do we protect other women from sexually assault?
Of course, Linor does not have the answer nor does the documentary attempt to provide one. Rather, Linor's story is about giving women back their voices and allowing them to share openly their experiences with sexual assault. From college students to housewives to celebrities like Fran Drescher and Joan Collins, rape and sexual assault is a tragic universal reality for many women worldwide, a reality that often suffers in the silence of a stigma not for the perpetrators, but for the victims.
On the road to personal recovery, Linor finds religion and takes action as a law student, seeking to reform some Israeli laws that perpetuate the silencing of victims. She also travels back to Italy to find the other victims of her rapist to encourage them to write letters to his parole board to prevent his release. Though this trip to Italy is difficult, there's also something empowering for her about returning to the scene of the crime and knowing that she not only survived, she triumphed.
As someone who knows people close to me who have suffered the traumas of rape and sexual assault, I found it incredibly poignant to watch Linor and those she was able to interview discuss their experiences. It is particularly chilling to know that these women are often blamed and even vilified for speaking out against those that attacked them. Because of this, it's no surprise that many women decide against reporting their rapes. However, because I have relatives and friends who have suffered, I am thankful that Linor is not only encouraging women to speak out, but also providing them with a support system to face the backlash once they do.
© Eliana M. Levenson FF2 Media (1/14/16)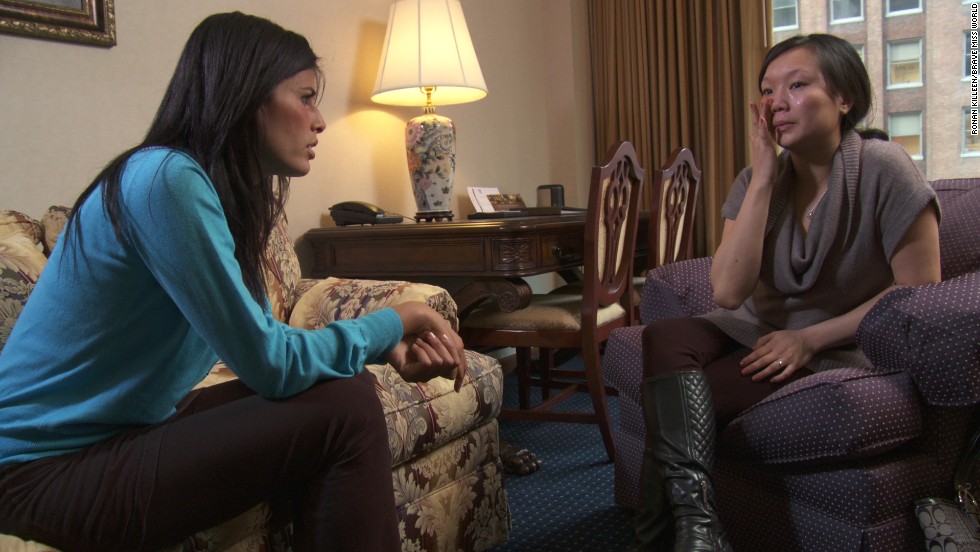 Top Photo: The poster for the film BRAVE MISS WORLD featuring Linor Abargil.
Bottom Photo: Linor interviews a fellow victim of sexual assault.
Photo Credits: Netflix (2014)
Q: Does Brave Miss World pass the Bechdel-Wallace Test?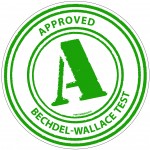 Absolutely!
Brave Miss World is filled with heart-rending scenes of Linor speaking one-on-one with victims of rape and sexual assault. Although men are the perpetrators of these crimes, the scenes in question are about the crimes these men perpetrate, never "about the men" per se.