Review of The Great Invisible by Associate Editor Brigid K. Presecky
Margaret Brown powerfully documents the people and places disastrously left in the aftermath of the 2010 BP oil spill. Sparing a political agenda, Brown perfectly captures the mishandling of events through interviews and extensive footage of the Deepwater Horizon oil rig. (BKP: 4.5/5)
**********************************
April 20, 2010.
Eleven men who went to work that morning on the Deepwater Horizon never returned home. Lives were changed forever as the oil rig exploded, sending 210 million gallons of crude oil through Gulf of Mexico.
Filmmaker Margaret Brown takes professional and personal approaches of detailing the consequences of the oil spill. On the corporate side, the film accounts the reaction of then-CEO of BP Tony Hayward as he promised a grand cleanup for the public beaches and the ocean floor. In reality, BP's tactic was to add more chemicals (to disperse the pollution) and try to sink the remaining oil to the ocean floor. The documentary shows the harsh realities that faced the southeastern coast, using powerful imagery of the oil-covered wildlife and the economically wiped-out town of Bayou La Batre, Alabama.
Interviews with workers string together the series of unfortunate events, detailing the unsafe working conditions on the oil rig. Did BP know of the risky working conditions? Were the lives of 11 men worth the extra dollars saved? Brown tries to answers these questions by taking a touching, emotional look at the families left behind. By adding the personal layers to the documentary, it makes that much more of an impact on the viewer. The details of the oil spill are the basis of the film, but seeing how the spill affected so many lives is what makes it so important.
The film includes footage of cut-together videos from one of the victims, revealing how the man died weeks before his child was born. Between his heart-wrenching story and many others, Brown succeeds in connecting with the audience and making them care about the issue.
Although the spill occurred five years ago, the documentary foreshadows years of consequences to come. It highlights just how the grim effects will be felt in the American economy and environment unless preventative action is taken. Sure, politicians make general promises for a brighter future in the hopes of gaining more votes, but these promises must be taken seriously. If they are not, how many more lives will be negatively affected? Brown does not want to find out, and thanks to The Great Invisible, neither do viewers.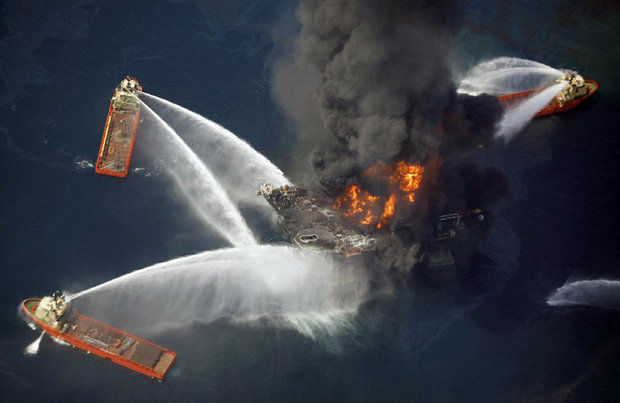 Review © Brigid K. Presecky (4/21/15)
Photo: The Deepwater Horizon oil rig explodes on April 20, 2010.
Q: Does The Great Invisible pass the Bechdel Test?
No.