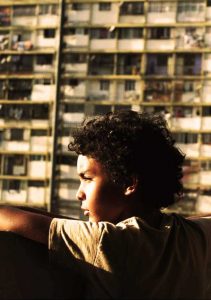 Writer/Director Mariana Rondón's coming-of-age film Pelo Malo (also known as Bad Hair) is a Venezuelan tale about a boy in search of his identity. Originally screened in the at the 2013 Toronto International Film Festival, the film tackling homophobia, racism and poverty is worth the watch. (BKP: 4/5)
Review by Managing Editor Brigid K. Presecky
Set in the poverty-stricken neighborhood of Caracas, nine-year-old Junior (Samuel Lange) obsesses with straightening his curly locks of hair, wanting a brand new look for the school year.
He tries anything and everything, from wet combs and hair gel to a giant glob of mayonnaise. Nothing works. His behavior tests the patience of his overworked mother Marta (Samantha Castillo) as she clings to her sanity after the loss of her husband.
Why should she have to carry the weight of the world on her shoulders while her child fusses with something as superficial as his hair? Viewers feel the pain of both characters, largely due to the performances from Lange and Castillo. They're both striking, engaging and believable as mother and son.
Thankfully, Junior finds a trusted ally in his
grandmother, Carmen, (Nelly Ramos), the one friend who will sing and dance, completely unafraid of his "condition." Their relationship is the gem of the story, a welcome reprieve in an otherwise serious story.
Mariana Rondón, known for A la media noche y media (1999) and Postcards From Leningrad (2007) uses her knowledge and background from Barquisimeto, Venezuela to her advantage, beautifully capturing the setting and making the audience feel as if they are there, experiencing Latin America along with their family.
The film highlights the search for identity through a young boy and his family, demonstrating the fear and acceptance that lives in every human. Homophobia, racism and financial strife are a relevant in Junior's story, just as they are relevant in so many human stories. Pelo Malo simply uses the titular "bad hair" as symbol of circumstance, the situations people are born into that they either live with, grow out of or escape.
© Brigid K. Presecky (4/16/17) FF2 Media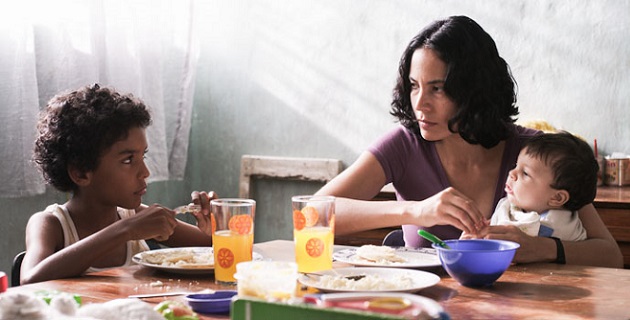 Top Photo: Samuel Lange as "Junior"
Middle Photo: Samantha Castillo as "Marta," Junior's widowed mother
Bottom Photo: Samuel Lange as "Junior"
Photo Credits:  Artefactos S.F, Hanfgarn & Ufer Film und TV Produktion, Imagen Latina
Q: Does Bad Hair pass the Bechdel-Wallace test?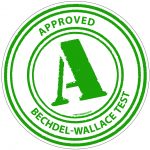 Yes!
Marta and Carmen are the two main females, different with their approaches in dealing with Junior and his obsession with his hair.