It started in the NYWIFT Q&A I attended on December 14th… One of the members of the audience stood up and told screenwriters Scott Alexander & Larry Karaszewski that they had been unfair to Walter:
"You did hours of interviews with Margaret, but you didn't have an opportunity to interview Walter. Don't you think you have been unfair to him by not including his point of view?"
I should have expected it, but I was dumbfounded. Alexander & Karaszewski clearly show in Big Eyes that Walter's POV was heavily documented–in the press, in books, on television, and in the courtroom. There was never any doubt–nor could there we any doubt–about what Walter thought. Walter said his say to anyone who would listen! 
Big Eyes is Margaret Keane's story, a story far less-documented and much less known. Take me for example. I am someone who has made a career of my commitment to women artists for well over a decade now, and I knew nothing about Margaret Keane before I saw Big Eyes.
Why are so few people in our culture interested in women's stories? Why do we typically demand a "He Said/She Said" face-off whenever a woman tries to tell her story?
Yes, of course, the person who asked this question in the NYWIFT Q&A was a man. And now I am prepared, so now I expect the hear even more demands for "Walter's POV"as Big Eyes begins its nationwide roll-out 🙁
Click HERE to read my rave review of Big Eyes 🙂
© Jan Lisa Huttner (12/25/14) FF2 Media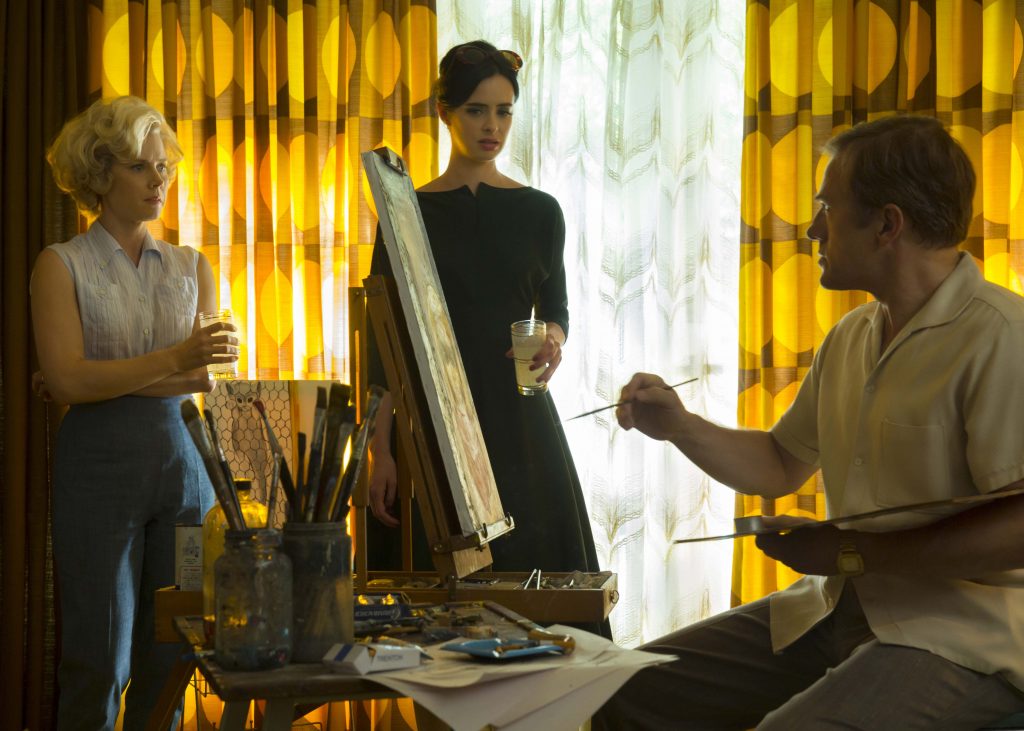 POSTSCRIPT: I had the good fortune to chat with screenwriter Larry Karaszewski after the Q&A. Learning of my love for Big Eyes, he agreed to accept my "friend request" on Facebook and we have been corresponding every since. Larry: You are the best!
Top Photo: From the Big Eyes PR campaign.
Middle Photo: Cartoon of Scott (left) & Larry (right) posted by Larry's Facebook page.
Bottom Photo: Walter (Christoph Waltz) in Margaret's studio pretending to paint while Margaret (Amy Adams) stews and her friend DeeAnn (Krysten Ritter) looks on in disbelief.