After years as an apprentice, Alice finally has a chance to prove herself as a mechanic. But can she succeed as the only woman working on an all male crew?
Directed by Lucie Borleteau. Screenplay by Borleteau in collaboration with Clara Bourreau. (JLH: 4.5/5)
Rendez Vous with French Cinema (NYC 2015)
"Alice" (Ariane Labed) has devoted most of her young life to learning the technical ins & out of maritime engineering. Now age 30, she finally has the opportunity she has worked for: a mechanic on a freighter has died, and Alice has been called up to replace him.
Regardless of what initially motivated Alice to take on this demanding profession, she has no doubts about her ability to succeed–not just professionally but also personally. And so she says goodbye to her boyfriend "Felix" (Anders Danielsen Lie) in Marseille and boards the Fidelio. The old freighter has a new second mechanic.
Lucie Borleteau (collaborating with co-writer Clara Bourreau) has made a striking first feature about the struggle of a woman to succeed in an all male world. Fidelio, Alice's Odyssey is simultaneously totally specific (capturing the rhythms of the long days and nights spent at sea punctuated by brief visits to ports-of-call), yet easily generalized to other Road Warrior professions. (I was a consultant for almost 20 years, so I can validate many of their observations from my own experience.)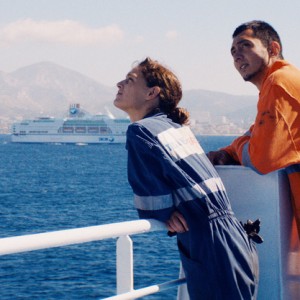 Ariane Labed is excellent as "Alice." Her physical confidence is immediately evident from the way she swims and hoists herself up a ladder. This Alice is no frills; she wears grease on her face more easily than conventional make-up. And when she does dress up, it's more for effect than personal satisfaction.
But it's a lonely life.
Alice knows when to act like she's just another one of "the guys," but she has also developed an intuitive sense of how far she can intrude on the all-male domains aboard ship.
In one striking sequence, Alice is on a gangway walking past various rooms. In one room, some of the guys are watching porn. In another room, some of the guys are singing karaoke. The interiors glow with the warmth of their camaraderie, but Alice is on the outside looking in. Should she decide to enter either room, no one will force her out, but she's had enough experience by this point to know her mere presence will be felt as intrusive.
After endless days on the high seas, with stops in places like Bamako (Senegal) and Gdansk (Poland), Alice's odyssey on the Fidelio is over. In between assignments, most of the men go home to their families, but the in between is more complicated for Alice too. She has demonstrated that she can prove herself on the high seas, but the price is high.
Top Photo: Ariane Labed as "Alice," alone in her berth.
Middle Photo: Alice on deck with one of her crew mates.
Bottom Photo: Alice in the engine room–the master of her craft.
Photo Credits: Pyramide International/UniFrance
Q: Does Fidelio, Alice's Odyssey pass the Bechdel Test? 
Yes, but just barely.
During the stop in Bamako, some of the bar girls help Alice primp. The surprise in this scene is how easy-going she is with them, even thought there are no real conversations per se.
The explanation for her behavior comes later, when Alice takes Felix to visit her parents. It turns out Alice has three sisters. She relates to her sisters just as easily as she relates to the bar girls. She doesn't turn away from them, act aloof, or resist their chatter in anyway. But even when Alice is with them, it is clear that she is never one of them.
FINAL POINT: Fidelio, Alice's Odyssey has a realistically international cast. Although the Captain (Melvil Poupaud) is French and each of the Chief Engineers appears to be French too, the rest of her shipmates come from a variety of countries in Asia and Eastern Europe. This is a perceptive touch. The implicit "First World" hierarchy on board helps make some specific plot twists more believable than they might otherwise be.