Review of Hombres A La Carta by Associate Editor Brigid K. Presecky
Screenwriter Solanny Valdelamar Correa tells the story of a 36-year-old woman in a race with her ticking biological clock. Bordering between relatable and implausible, Hombres A La Carta ("Men on Demand") follows "Cecilia" (Chichila Navia) and her contemporary ways of finding a husband and potential father for her children. (BKP: 3.5/5)
********************
Responsible and independent Cecilia confronts her dilemma early on in Hombres A La Carta: if the successful journalist wants to have children, she should start that process soon. The audience gets a peak into Cecilia's life, realizing that the every-girl is relatable in so many ways: her alarm clock does not work, she is late for work and finds solace in drinking wine with her friends. The struggles that Cecilia faces in her everyday life, however, sets her apart and immediately makes her empathetic to viewers. She not only gets accidentally punched in the eye by a perfectly-toned woman in an exercise class, but her doctor tells her disheartening facts: she is not getting any younger. If Cecilia can find a life partner, she will find a father for her child and the problem will be solved.
The film shows Cecilia's venture into speed-dating and the awkward situations she encounters. From the unappetizing way the men eat to their inappropriate one-liners, Cecilia finds little luck when it comes to finding "the one." Unfortunately, the speed-dating sequence continues on for the remaining two acts of Hombres. Whatever seemed to be amusing or entertaining in Act One becomes slightly stale for the rest of the 90-minute film.
Despite the stagnant moments in the plot, Cecilia acts as an interesting character study, with a story that has a structured beginning, middle and end. Solanny Valdelamar Correa writes Cecilia in a way that makes her seem like an old friend or relative – making you care and want to see her dreams come true.
The visual aspects of Hombres A La Carta is a highlight. Both Director of Photography Nelson Robayo and Director of Art Juliana Rene capture Cecilia's colorful world. She is constantly eating and writing about the food she is consuming. Instead of just having Cecilia describe the food, there are numerous close-up shots of delicious, vibrant-looking dinners. (Note to self: Do not watch this film on an empty stomach!)
Chichila Navia carries the comical film, even in the most ridiculous of circumstances. She is perfectly cast as the woman trying to slow time down and accomplish everything she wants to before she hits 40. The themes of time and age are relatable to so many people who use them as milestones, "I can't do this after this age" or "I'll never find a husband after this age." The lightweight film has its questionable moments, but its lesson is sincere: it is never too late to start the life you want.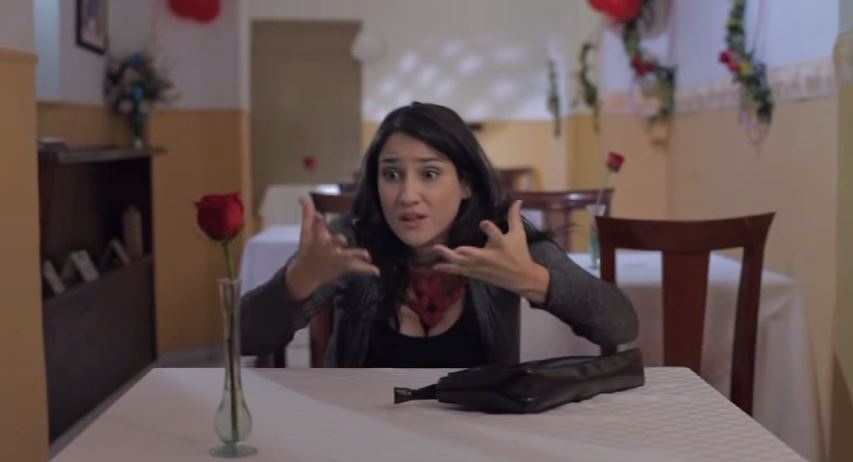 Review © Brigid K. Presecky (5/5/15)
Photo: Chichila Navia as "Cecilia," the mid-thirties woman struggling with speed-dating
Q: Does Hombres A La Carta pass the Bechdel Test?
Technically, yes.
Although there are many scenes between Cecilia and her female family members, the majority of their conversations revolve around her potential suitor.