Oscar-winning actress Helen Hunt wrote, directed, and stars in this lovely dramedy about a brash New York editor facing her "Empty Nest Summer"–that turning point in life when her only son "Angelo" (Brenton Thwaites) has finished high school and is about to start college. I laughed; I cried; I had a great time! (JLH: 4/5)
*************************
"Jackie" (Helen Hunt) is a high powered editor at a prestigious magazine (probably the New Yorker but never explicitly identified by name). She is elegant, precise, and a bit compulsive. She is also a divorced single mother who dotes on her son "Angelo" (Brenton Thwaites). Jackie and Angelo have been "a team of two" finishing each other's sentences for years, but now they have reached a milestone: Angelo has just graduated from high school and he is about to start college.
But not to worry, Jackie has anticipated this. Angelo has been accepted at New York University and even though he will live "on campus," his dorm is only a few steps away from her apartment. Jackie and Angelo visit the NYU dorm (mostly so she can take carpet measurements), and then he packs up for his annual summer vacation in California (where his father lives).
Reader: Will it surprise you to hear that Angelo is in no rush to return to Manhattan? Of course not. Reader: Will it surprise you to hear that Jackie flies out to Los Angeles to see what's up? Of course not. What will surprise you is how warm, genuine, and generous this story is… Well, maybe it won't surprise you, but it certainly surprised me. 
Jackie's ex-husband "Peter" (Robert Knepper) turns out to be a nice enough guy. Sure, he has a new family, but he's still a good father to Angelo and Angelo likes having a sibling (even if she's just a chatty little step-sister).
Peter is not Jackie's problem; Jackie is Jackie's problem. She has used Angelo as a shield, but now Jackie has no more excuses. The time has come to figure out who she is and what she wants out of life. And once she realizes his, Jackie applies herself with the same intelligence and determination which has marked every other area of her life.
I don't want to say more because I want you to go on this journey yourself. Spend some time with Jackie at Venice Beach and you too will emerge refreshed. I laughed; I cried; I had a great time!
© Jan Lisa Huttner (5/1/15)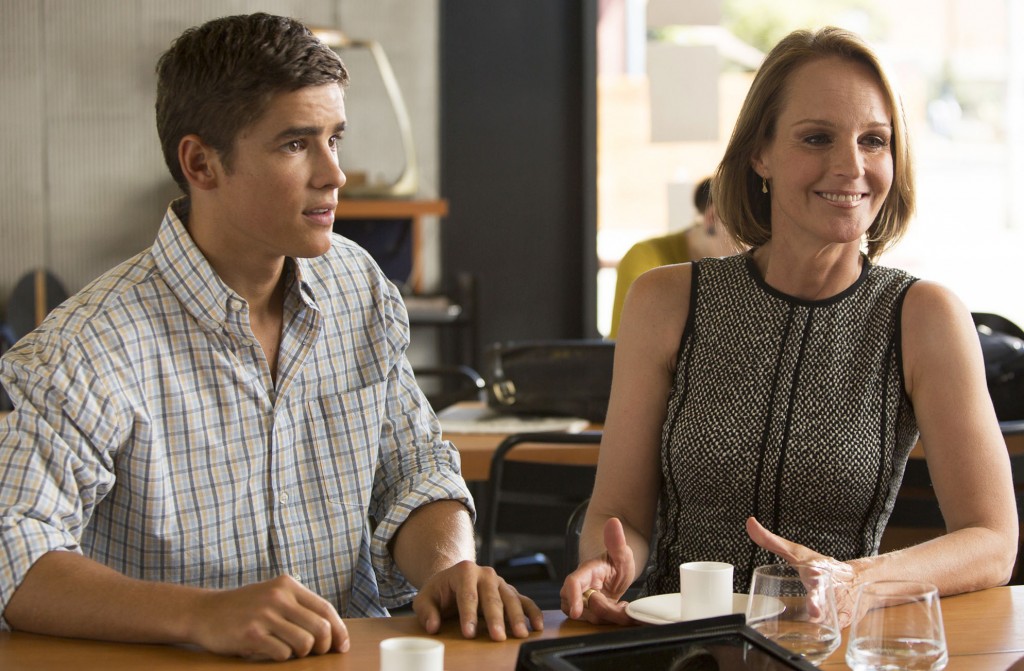 Top Photo: "Jackie" (Helen Hunt) in Manhattan.
Middle Photo: Jackie at Venice Beach spying on Angelo with her new friends "Ian" (Luke Wilson) and "Ramon" (David Zayas).
Bottom Photo: Jackie with "Angelo" (Brenton Thwaites).
Photo Credits: Patrick Siegmann © Screen Media Films
Q: Does Ride pass the Bechdel Test?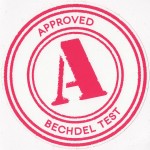 Yes, but it's quite a stretch 🙁
Actress Julie Dretzin has a recurring bit part as an NYU functionary named "Joanna." Joanna first appears at the beginning when she shows Angelo his dorm room and talks a bit about who his new roommate will be. She reappears later when Jackie comes to do some measurements. It falls to poor Joanna to tell Jackie that Angelo has informed NYU he no longer plans to register for classes. But without the little bits of conversation about decorating the room, the answer to the Bechdel Question would be no…
There are very few female parts in Ride, which makes Helen Hunt a bit of a "Queen Bee" in this intance. But I can't hold it against her because the first film she wrote and directed was the totally gynocentric film Then She Found Me (which I also liked a great deal).