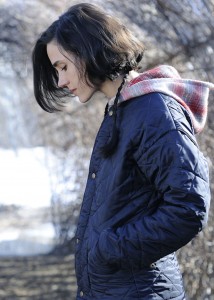 Jennifer Connelly is so compelling as a struggling single mother in Claudia Llosa's new film that narrative details like whys and wherefores pale next to the need to find her again after she disappears. (JLH: 4/5)
Review by FF2 Managing Editor Jan Lisa Huttner
Aloft is a strange and mysterious new film written and directed by award-winning Peruvian filmmaker Claudia Llosa.
The main character is "Nana" (Jennifer Connelly) a single mother raising two sons. The younger son "Gully" (Winta McGrath) is gravely ill; the older son "Ivan" (Zen McGrath) is moody and resents all the time and attention his mother is investing in her search for a cure.
Nana is not the talkative type, so it's not always clear exactly what is going on, but embodied by Connelly, Nana is intensely charismatic. Against all odds, she continues to force herself–and force her sons–into impossible situations. Why is she alone? Where is the father of these two boys and why isn't he providing some support? Is he dead or has he simply abandoned them? Nothing about their lives is entirely clear. 
Then, out of nowhere, a stranger named "Ressmore" (Melanie Laurent) appears, and we realize we've abruptly jumped twenty years into the future. "Ivan" (Cillian Murphy) is now an adult who has married and started a family of his own. Ressmore pretends to be interested in Ivan, but she's really looking for Nana. With some difficulty, Ressmore convinces Ivan to help her find Nana, and as they travel together, Ivan tells us–in flashback–why he and Nana have been estranged for almost twenty years at that point.
The narrative thread hovers at the edge of incoherence and ordinarily this would exhaust me, but Jennifer Connelly is so compelling in Aloft that I became as driven as Ressmore. All I wanted was to find Nana too. Where had she gone, why did she leave, and what was she doing now? The quest was urgent and I was totally hooked.
This is Claudia Llosa's third feature film, and the first one in English. Her first film, Madeinusa, was released in Peru in 2005, and the next year, Llosa became the first Peruvian woman to have her film submitted to AMPAS–the Academy of Motion Picture Arts & Sciences–for a Best Foreign Language Film Oscar. Her second film, The Milk of Sorrow, was not only submitted by Peru, it also became the first Peruvian film to be nominated for one of the five coveted BFLF spots. It didn't win (the 2010 BFLF Oscar went to The Secret in Their Eyes from Argentina), but it won a slew of other awards including the Berlin Film Festival's Golden Bear. 
No doubt I had more patience with Aloft because I had already seen these first two films, so knew to expect a Llosa film to play at the edge of Magic Realism. Just consider the audacity of naming the protagonist of your film "Madeinusa" (from the label "Made in USA" but pronounced as one single word = may-den-usa).
The women in Llosa's films all carry enormous cultural and historical burdens as women, so her objective as a filmmaker is simply to put us in their shoes as they walk along paths that are anything but clean, smooth and linear.
The cinematography, score, and sound design are all superb. The visual and aural beauty that surrounds her–some of it rustic, some of it arctic–allow Nana to slip her mortal coils. In this realm of imagination, Nana–in the body of Jennifer Connelly–soars to great spiritual heights.
© Jan Lisa Huttner FF2 Media (5/21/15)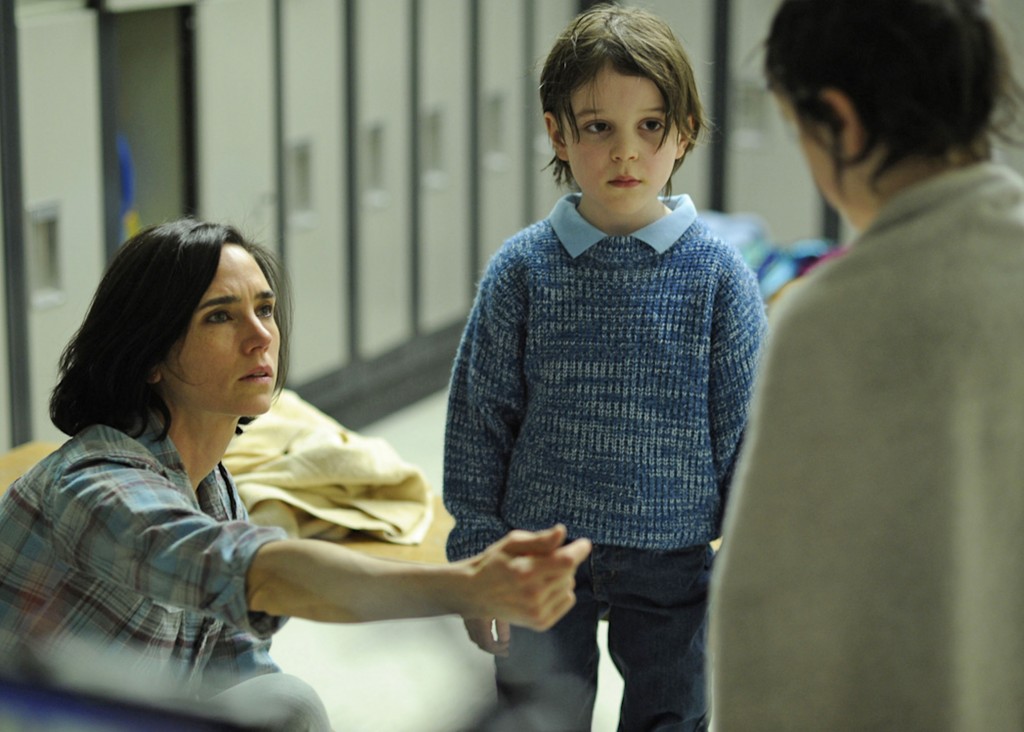 Top Photo: Jennifer Connelly as "Nana."
Middle Photo #1: Melanie Laurent as "Ressmore."
Middle Photo #2: Cillian Murphy as "Ivan."
Bottom Photo: Jennifer Connelly with Winta McGrath as "Gully" and Zen McGrath as "Young Ivan."
Photo Credits: Jose Haro, Courtesy of Sony Pictures Classics.
Q: Does Aloft pass the Bechdel Test?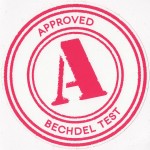 Yes, but barely.
While "Ressmore" (Melanie Laurent) is searching for "Nana" (Jennifer Connelly), she has peripheral conversations with various women she meets along the way, but none are of any significance. They're just moments that keep the plot moving forward.
Nana seemingly has no relationships with and/or attachments to other women at any point in her life.
Q: Where is Aloft set?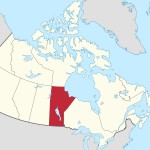 Aloft was filmed in Manitoba–the red province on this map–in 2013.
But while the location of the story is clearly Canada, the final scenes seem to be set further north, closer to the Arctic Circle.
Source of WikiMap = "Manitoba in Canada" by TUBS