The tension-filled drama, centering on a home for pregnant teenagers, spends more time focusing on the marital woes of their 30-year-old handyman. Director Nathan Silver makes the story feel intimate – sometimes eerie – and beautifully brings the screenplay by Chloe Domont and Cody Stokes to life. But despite the setting and mood, there are too many aspects of Uncertain Terms that are left unfulfilled. (BKP: 3.5/5)
Review by Associate Editor Brigid K. Presecky
The film opens in the middle of woodlands, far away from any recognizable landmark. From the back, we see redheaded "Nina," (India Menuez) slowly walking the gravel path. She dials a cell phone number and it goes straight to voicemail. She turns around. The big reveal? Teenage Nina is very, very pregnant.
Nina is one of five girls living with "Carla," (Cindy Silver) a caring housemother who provides shelter, food and education for pregnant girls with nowhere to go. Initially, the premise is engaging. Who are these girls? What are their stories? How did they end up here? Their circumstances are touched on, but all too briefly, as each girl shares small anecdotes about parents, boyfriends and one-night stands. The focus shifts to "Robbie," (David Dahlbom) Carla's scruffy nephew who comes looking for work while his marriage is failing. He strikes up a friendship/flirtation with flippant Nina, an odd relationship that drives the rest of the film.
For a clichéd romance plot, the film has its share of uncomfortable moments that stray from the norm (i.e. pregnant girls smoking and drinking). Although the focus is on Robbie, he is not the protagonist nor the antagonist. None of the characters are pigeonholed in that way. The audience merely feels like they are sitting in the group-home, witnessing an unfolding of bizarre events.
Despite its tug-of-war between realism and abnormality, there are occasional touching scenes, particularly one in which Carla shares her backstory and her willingness to give abandoned girls a safe, temporary home. Those moments, unfortunately, are too much of a rarity in Uncertain Terms.
© Brigid K. Presecky (5/29/15)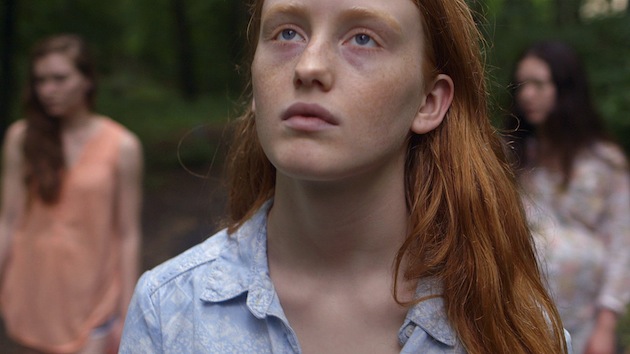 Photo: India Menuez as "Nina."
Q: Does Uncertain Terms pass the Bechdel Test?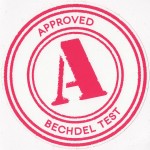 Yes.
Carla's story is the best scene of the film. There are other woman-to-woman scenes, like Nina welcoming a new girl into the house, but the remainder revolve around Robbie or Nina's boyfriend.