Chris Pratt leads an allegorical, action-packed continuation of the Jurassic Park franchise, set 20 years after the events of the original film. Despite a satisfactory script and heavy reliance on CGI, the entertaining Jurassic World takes you on a perilous journey, back to the infamous park that has terrorized audiences for two decades. (BKP: 4/5)
Review by Associate Editor Brigid K. Presecky
The park is reopened. Much like Disney World and countless amusement parks, the sleek and technologically-advanced Jurassic World is monopolized by corporate America. The dinosaur exhibits fit in between a Starbucks and a Brookstone, with Coca-Cola bottles in the background and Mercedes-Benz zipping in and out of the tropical rainforest – an odd blend of the film's theme and blatant product placement.
Twenty years of visitors viewing the park's dinosaurs has become as routine as visiting "elephants in the city zoo." In order to reinvigorate business and generate new interest, things need to be bigger, louder … with more teeth. Enter "Claire," (Bryce Dallas Howard) Jurassic World's uptight operations manager trying to balance time with her visiting nephews (Nick Robinson and Ty Simpkins) and keeping a watchful eye on the newly engineered Indominus Rex. But when the hybrid dinosaur becomes a bigger threat than originally intended, hunky raptor-trainer "Owen" (Chris Pratt) steps in to help.
… And the chase ensues. Themes of "Man vs. Machine" and "Man vs. Nature" are obvious and simple, but entertaining enough to make children literally sit at the edge of their seats, eyes wide with amazement at the big screen. However impressive the 21st Century CGI, the animatronics of the 1993 film somehow made the threat seem more realistic, more frightening. Nonetheless, the grand John Williams score transports audiences back to that familiar world, one so much bigger than the multiplex theater.
The script (written by Amanda Silver, Rick Jaffa, Colin Trevorrow and Derek Connolly) could have been more substantive and is overshadowed by blood and special effects. But watching Chris Pratt stealthily dive under a truck and soak himself with gasoline to avoid a deadly dinosaur attack is merely one example of how the action worked better than the dialogue. Bryce Dallas Howard is given a stereotypical, cold female role but manages to bring emotion – while running in high heels, no less. The standout role, surprisingly, is Jake Johnson as the humorous tech-savvy operator "Lowery." When so much of the film is saturated with chase scenes and loud roars, the quieter moments allow New Girl's Johnson to do what he does best – make people laugh.
Jurassic World has lived up to its own hype, already becoming the biggest opening in box office history. Within the past year, Chris Pratt has been a part of three blockbuster hits, including The LEGO Movie and Marvel's Guardians of the Galaxy. All three films are set for sequels, with Pratt's star power at an all-time high. His role as Owen Grady is the highlight of Jurassic World. No, the film does not quite meet the quality of Steven Spielberg's masterpiece based on Michael Crichton's 1990 novel. However, Jurassic World is a satisfactory tentpole movie to kick off the summer season. On a deeper level, it has allowed people to slip on their 3D glasses, bask in the epicness of a John Williams score and, for a few hours, resurrect the feelings of childlike adventure.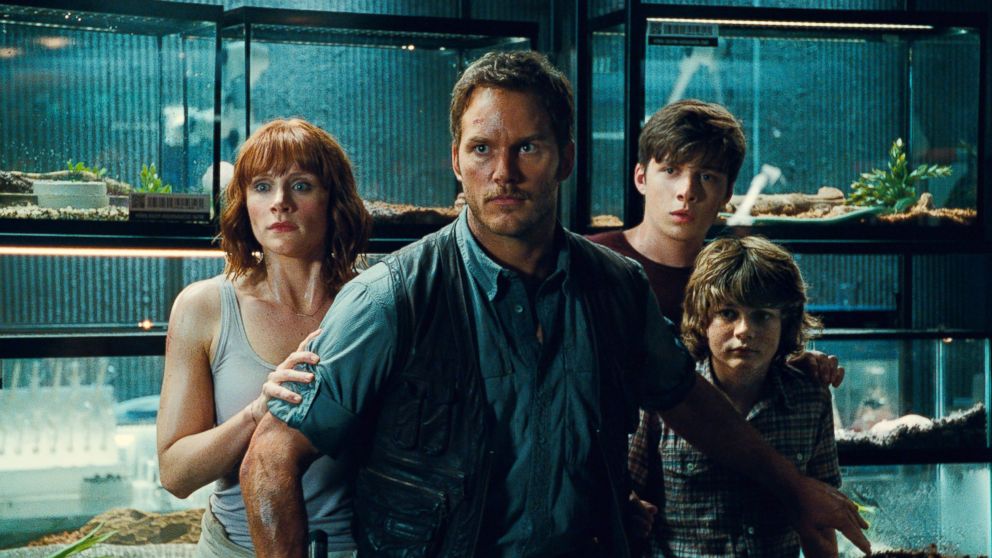 Review © Brigid K. Presecky (6/15/15)
Top photo: Chris Pratt as "Owen"
Bottom photo: Bryce Dallas Howard as "Claire" with Chris Pratt as "Owen"and Nick Robinson as "Zach" and Ty Simpkins as "Gray"
Q: Does Jurassic World pass the Bechdel Test?
Not really. "Claire" (Bryce Dallas Howard) has two brief scenes with her sister (Judy Greer) but they revolve around the young boys.