In an era of entertainment saturated with superheroes, Redeemer tells a familiar tale about a vigilante whose dark past leads him down the path of justice. The low-budget action film quickly becomes repetitive, relying too heavily on gruesome martial-arts-type fight sequences. (BKP: 3.5/5)
Review by Associate Editor Brigid K. Presecky
The hooded hero, known around South America as "Redeemer," has become a legend. Much like Bruce Wayne, Peter Parker and the endless amount of comic book heroes, "Redeemer" is simply an alter-ego for a distraught Chilean man, "Nick Pardo" (Marko Zaror). Pardo's need for redemption and traumatic loss of his loved ones – perpetuated by enemy "Scorpion" (Jose Luis Mosca) – causes him to don a gray sweatshirt and reinvigorate the meaning of retributive justice.
Instead of listening to a police blotter or scanning security cameras, the extremely religious Redeemer receives criminal intel by sitting in church pews and eavesdropping on people's stories. When one man tearfully begs God for justice after his son is beaten by Neo-Nazis, Pardo switches into vigilante mode and goes after the perpetrators.
Although the film uses English subtitles, words are barely spoken as Pardo routinely kicks, punches and beats a revolving door of wrongdoers. With a significantly lower budget than any of Hollywood's blockbuster films, Redeemer forgoes the gunfire and uses other blood-spurting methods (like Pardo using pliers to clamp down on a man's gums to yank his teeth out). Although the stunts are unique and well-choreographed, with handsome and athletic Zaror making every hook and jab seem easy, the action becomes tedious.
Director Ernesto Diaz Espinosa and Script-Collaborator Gina Aguad use countless fight sequences of Redeemer facing his enemies in order to build to the climax of the film. Like any superhero story, the plot is carried out by the continuous threats of the villains, in particular, the cruel and unusual Scorpion and an American drug lord "Bradock" (Noah Segan). With so many scenes filled with graphic imagery – knives through body parts and cut up faces – the filmmakers efforts are apparent. Those efforts, however, do not necessarily add up to enjoyable entertainment, particularly in an age with mass amounts of other hooded vigilantes to choose from.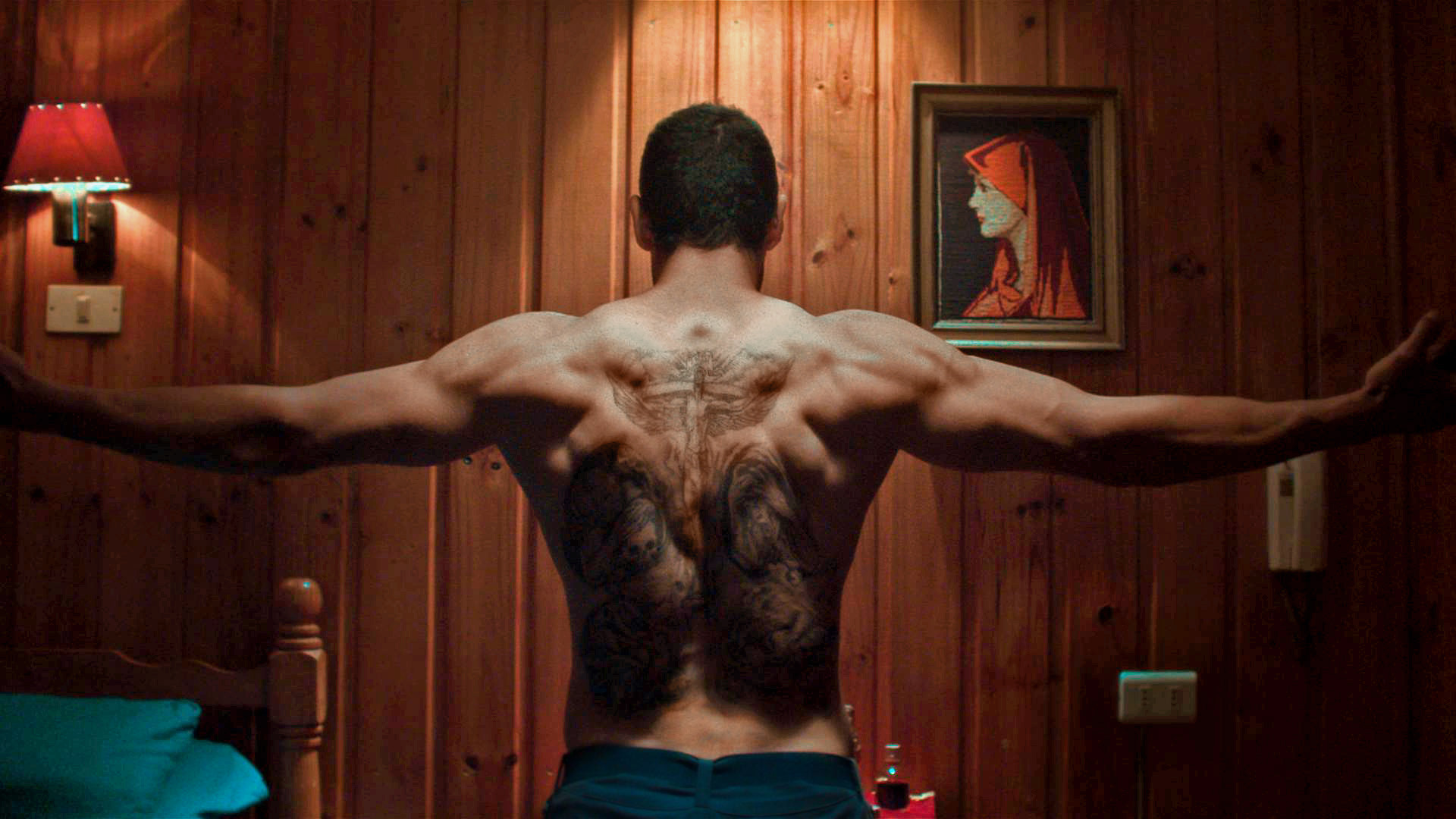 Review © Brigid K. Presecky (6/16/15)
Photo: Marko Zaror as "Nick Pardo" aka "Redeemer"
Q: Does Redeemer pass the Bechdel Test?
No.