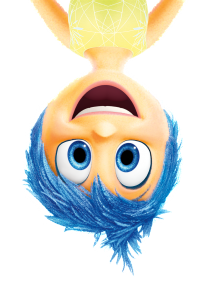 There is a common theme that binds all of Pixar's finest hours together: letting go. Woody waves goodbye to Andy. Marlin watches Nemo swim away. Ellie thanks Carl for the adventure. The long-awaited Inside Out is no different, telling a beautiful and insightful story about life's curveballs and letting go of childhood. The film exudes a range of emotions – quite literally. Set in the control center of an 11-year-old girl's brain, the story personifies feelings of joy, anger, fear, disgust and sadness.
Screenwriter Meg LeFauve takes children on an adventurous ride into Riley's imaginative world while quietly making adults reminisce about their own marbles of memory. (BKP: 5/5)
Review by Associate Editor Brigid K. Presecky
The audience meets young "Riley" (Kaitlyn Dias) as she and her parents (Kyle MacLachlan and Diane Lane) move from Minnesota to the crowded, narrow streets of San Francisco. The jarring change of location causes Riley to miss her best friend, her hockey team and her comfortable world filled with goofball antics and all-around stability. Cut to her mind's control center where emotions live as colorfully charismatic figures: "Joy" (Amy Poehler), "Anger" (Lewis Black), "Fear" (Bill Hader), "Disgust" (Mindy Kaling), and "Sadness" (Phyllis Smith).
Back in Minnesota, everything worked perfectly, with Joy at the helm of the control center and Disgust only making an appearance when broccoli was on the dinner plate. The "Train of Thought" zipped around Riley's islands of personality, with every memory encased in color-coded marbles, each one stored away in its proper place. But when Riley tries to adjust to her new life, things go awry and Joy and Sadness are thrust from the control center into the hectic, imploding world of the mind. The only emotions that remain in control of 11-year-old's mind? Fear, Disgust and Anger.
At first, the complexity is a lot to take in. There are core memories, long-term memories and personality islands. There are endless aspects of Riley's mind to keep track of with new characters introduced on a regular basis. Every element introduced, however, serves its rightful purpose and makes complete sense by film's conclusion.
The clever script by Pete Docter, Meg LeFauve and Josh Cooley has subtle, witty moments that might take a second viewing to appreciate. One, for example, has Joy knocking over a bag of blocks with some marked FACTS and others marked OPINIONS. Worrying they will get mixed up, "Bing-Bong" (Riley's imaginary friend voiced by Richard Kind) assures Joy that happens all the time.
One scene after the other, Riley's circumstances pack an emotional punch. Inside Out makes the pain of growing up evident, simple and relatable to most everyone watching. What happens when joy is lost, or if sadness taints our memories? What happens to our personality when circumstances change? The film asks grand questions while tirelessly keeping you, and all ages, entertained. It makes you laugh. It makes you cry. Kind of like life itself.
Review © Brigid K. Presecky (6/19/15)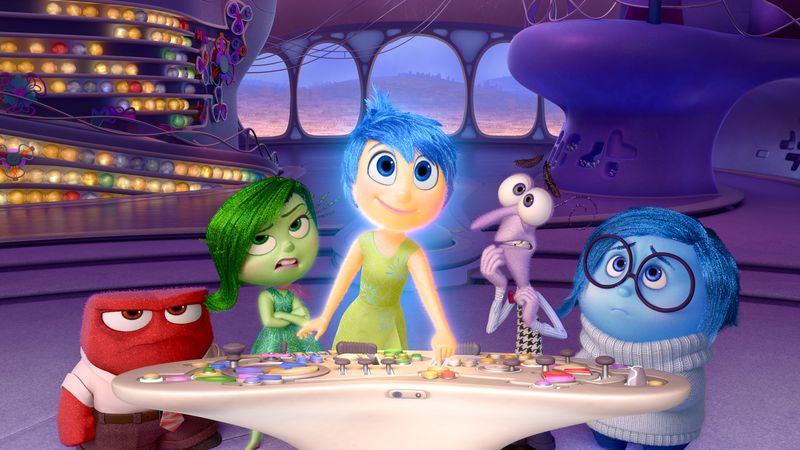 Top photo: Amy Poehler as the voice of "Joy."
Bottom photo: Lewis Black as "Anger," Mindy Kaling as "Disgust," and Amy Poehler as "Joy," with Bill Hader as "Fear" and Phyllis Smith as "Sadness."
Q: Does Inside Out pass the Bechdel Test?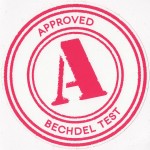 Yes.
As much as the film is about the entirety of Riley's mind, it is primarily about the journey of "Joy" (Amy Poehler) and "Sadness" (Phyllis Smith) as they try to make their way back to the control center.
Note that screenwriter Meg LeFauve  is also known for her work on Jane Anderson's film The Baby Dance (for which she received an Emmy nomination way back when).
Shout-Out to Skeptics: When you add women to the team, the work generally benefits from multiple points of view. Just sayin'…