Co-written by Jennifer Phang and Jacqueline Kim, Advantageous is set in a futuristic society where women have lost footing in the workforce.
A single mother, "Gwen" (Jacqueline Kim) struggles to provide for her daughter. Left with no other options, she must undergo a procedure to keep her job, a procedure that transports her consciousness into a younger, more attractive body. (JEP: 3.5/5)
Review by Contributing Editor Jessica E. Perry
Advantageous was directed and co-written by Jennifer Phang. Her writing partner, Jacqueline Kim, also stars in the film as "Gwen," a struggling mother in a futuristic society who undergoes a new-age procedure in order to keep her job and provide for her daughter.
Gwen's world revolves around her daughter "Jules" (Samantha Kim). Just as Jules gets accepted into a prestigious (and expensive) school, which will secure her future, Gwen loses her job. In this society, women have all but been cast out of the workforce. Once their beauty fades they no longer have value.
The company Gwen works for is in the beginning stages of testing a new procedure that will eradicate disease, in that people can transfer their consciousness from their old or diseased body to a new, younger one.
Hoping for a promotion, as the face of this company, "The Center for Advanced Health and Living", Gwen instead finds herself out of a job entirely. As a result of her age, Gwen has been deemed an unfit face of the company.
Gwen immediately begins to search for a new job, but is unable to get a single interview. After being denied monetary help by her estranged family, Gwen sees no other way out but to undergo the procedure in order to get her job back.
Her coworker, "Fisher" (James Urbaniak), tries to dissuade Gwen from going through with the procedure. She will be one of the first human subjects, and the technology is not yet at the point it should be to provide a seamless transfer. However, with no foreseeable options left, Gwen undergoes the procedure and her consciousness is transferred to a beautiful, younger body.
The new "Gwen 2.0" (Freya Adams) does not have the same connection with Jules; her motherly instinct has all but disappeared. As Jules struggles with losing the mother she knew and loved, we learn that Gwen gave up her life to save her daughter's. Like Jules, the audience has been deceived, as the new Gwen 2.0 is not the same woman as the one whose memories she now possesses.
Advantageous won the Dramatic Special Jury Prize at this year's Sundance Film Festival, and boasts four wins at VC FilmFest. Although there are undoubtedly some plot holes, the story itself is new and exciting, a concept that draws the viewer in from the very start.
The world of the film was not always believable, as the costumes and set design lacked continuity in their futuristic elements. However, I easily forgave these faults, as I wanted to know what happened next in the story. So although the acting floundered in places and the directing at times felt forced, Kim and Phang's strong narrative kept me engaged and wanting more.
Review © Jessica E. Perry (6/28/15)
Top Photo: Gwen ponders her fate.
Bottom Photo: Gwen's Boss, "Isa Cryer" (Jennifer Ehle), prides herself on the procedure's growing popularity.
Photo Credit: Robert M. Chang
Q: Does Advantageous pass the Bechdel Test?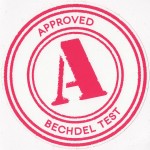 Yes, absolutely.
Gwen and her daughter have many scenes together where they talk about the world and the meaning of life.
In fact, most of the conversations between women in this film do not revolve around men. Instead, importance lies in the job market and the role of women in their New Age society.