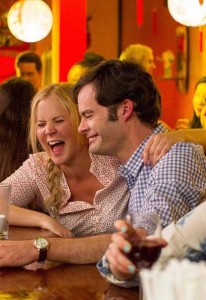 As a young girl, Amy's father insists that monogamy is not realistic. From that moment on, she takes his words to heart until sports doctor "Aaron Conners" changes everything.
Written by comedian Amy Schumer, Trainwreck is 2 hours of non-stop laughs, with family and relationship situations drawn from Schumer's real life experiences. (JEP: 4/5)
Review by Contributing Editor Jessica E. Perry
Written by Amy Schumer, Trainwreck–her first feature–is based loosely on comedienne Schumer's her own life experiences. Directed by Judd Apatow, the film is 122 minutes of laugh out loud moments, coupled with a surprisingly touching story of family, love, and finding yourself.
The film opens on two young girls and their father as he explains to them why Mommy and Daddy are getting divorced through a hilarious doll analogy. They repeat his mantra back to him "monogamy is not realistic, monogamy is not realistic, monogamy is not realistic…"
Flash forward to a now grown "Amy" (Amy Schumer) who took her father's words to heart. She goes through a slew of guys, never breaking her rule of "no staying the night." Her younger sister "Kim" (Brie Larson), on the other hand, does the exact opposite–playing house with her husband and adorable stepson.
Romantically, Amy's life is a mess and that is just the way she likes it. But work-wise Amy is doing well as a writer for the trash talking men's magazine S'nuff, and is even up for a promotion. Her boss "Dianna" (Tilda Swinton) assigns Amy a piece on sports doctor "Aaron Conners" (Bill Hader), even though Amy distains anything and everything sports related.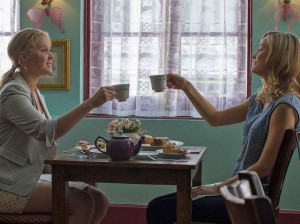 Staying on her usual path, Amy goes for a drink with Aaron and then proceeds–bold and a tad over-confident–to invite herself over to Aaron's apartment. The night goes as planned, but the morning after changes the game.
With coaxing from his friend LeBron James (with the NBA giant gamely playing himself), Aaron calls Amy the next day asking to see her again. From that moment on Amy and her ways are doomed. A relationship ensues and love grows.
All the while, Amy and her sister are focused on caring for their father "Gordon" (Colin Quinn) who has multiple sclerosis which has progressed to the point where he must be moved to an assisted living facility. The familial struggle and relationships between father and daughter, and sister and sister, give Trainwreck more substance than many of its standard RomCom counterparts.
I laughed so hard I cried. Amy was crass and hysterical, but she was also relatable. Bill Hader was a fresh take on the typical romantic male lead, and was as funny as expected. I will also say LeBron James was a surprise, delivering a solid comedic performance.
Yes, at a runtime of over 2 hours, Trainwreck is long for a comedy, and admittedly it felt that way. But I think we should all give the film a pardon for that, as Schumer succeeds in making us laugh out loud almost the entire 2 hours, breaking only for those touching family moments. See Trainwreck and see it now. You are in for a whole lot of laughs!
© Jessica E. Perry FF2 Media (7/20/15)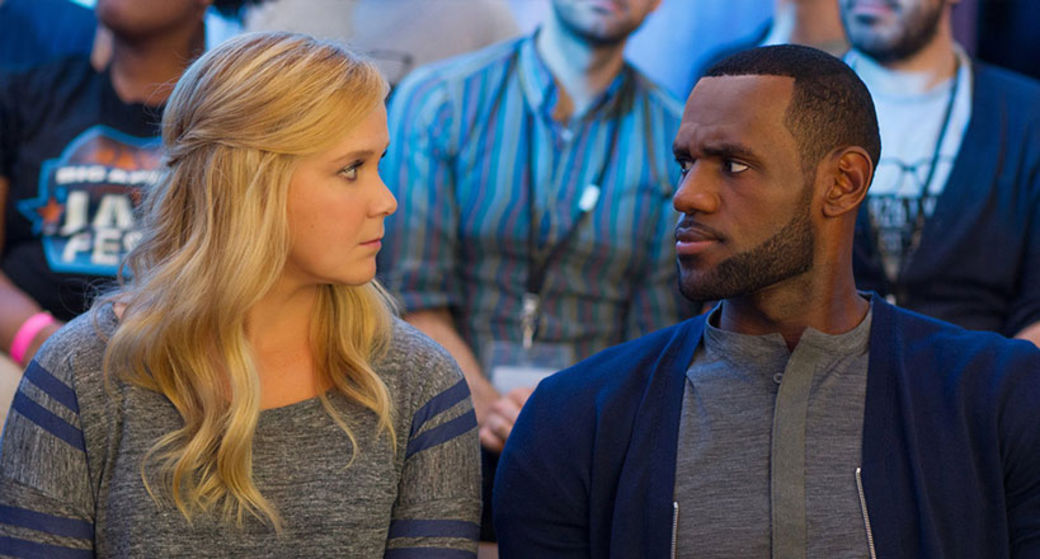 Top Photo: "Amy" (Amy Schumer) and "Aaron" (Bill Hader) go out for the first time.
Middle Photo: Amy and her sister Kim (Brie Larson) having morning tea… and morning champagne.
Bottom Photo: LeBron James, playing the protective friend, asking Amy what her intentions are with Aaron.
Photo Credits: Mary Cybulski © 2015 – Universal Pictures
Q: Does Trainwreck pass the Bechdel Test?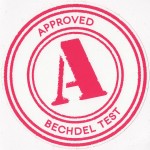 Yes!
Amy and her sister Kim have many scenes together, revolving around life and family.
In addition, Amy and her hysterical boss "Dianna" (Tilda Swinton) have conversations together about work and Amy's possible promotion.