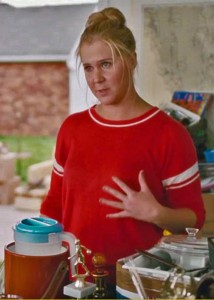 Comedienne Amy Schumer is feisty and adorable in her first staring role, but the film–which she wrote–was directed by Judd Apatow. And Apatow, as the reigning master of mainstream comedy, succeeds in softening all of Schumer's edges.
There are some laugh-out-loud moments, especially in the first half, but the long, slow slide into a predicable finale weighs the whole film down. (JLH: 3.5/5)
Review by FF2 Managing Editor Jan Lisa Huttner
I love Amy Schumer: I really, really do. I admit that I was a bit slow to warm up to her Comedy Central show Inside Amy Schumer (which has always been a bit too raunchy for my taste), but I have seen the light and I am now a regular. Many of this year's skits have hit the Bull's Eye. While 12 Angry Men parody was certainly audacious, I am particularly partial to the "I'm Sorry" bit (which really did make me laugh and cry simultaneously).
So, yes, I love Amy Schumer… But I'm not quite so fond of Judd Apatow… This puts me in a bind, because Apatow may well be the most powerful advocate for women filmmakers on our planet right now. Almost single-handed, Apatow made both Lena Dunham and Kristen Wiig MSM (mainstream media) phenomena, enabling both women to expand the range of "acceptable options" for women artists everywhere.
He clearly made a wise choice when he married comedienne Leslie Mann (although I have liked her best in her non-Apatow produced roles including "Laurie" in The Bling Ring and "Kate" in The Other Woman). In his own words: "My wife tends to challenge me when I'm working on the female roles…," so minimally he has been sensitized to issues of "Male Privilege" that many men in Movieland still prefer to ignore.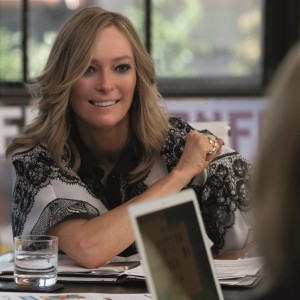 And the fact that Apatow and Mann are now raising two daughters–Maude and Iris–both of whom appeared in their semi-autobiographical film This is Forty–gives him a stake in the next generation. Feminist literature on women's equality suggests that the most powerful advocates we have are the fathers of daughters. I certainly benefited personally and professionally from the love of a supportive father. From my own first hand observation, fathers of daughters take the position: "No one tells my daughter what she can and can't be except me… And she never lets me stop her either."
But <insert BIG SIGH here> all of this is cover: I hate to say it, but the truth is that the most surprising thing about Trainwreck is how boring it is.
The first half is very promising: By day, "Amy" (Amy Schumer) is a hard-working writer for S'nuff, a glossy magazine for men helmed by a monster named "Dianna" (Tilda Swinton). By night, Amy is a "player," drinking, smoking, and seeking unencumbered sexual pleasure with a wide range of partners. Amy is living large in New York City–The Big Apple–and apparently loving every minute of it.
Then, one morning in a pitch meeting, Dianna throws Amy a curve. Dianna knows Amy hates sports, therefore she decides Amy is the perfect person to interview the NBA's new star: an Orthopedic Surgeon named "Aaron Conners" (Bill Hader). Thus the lady who has spent her entire life avoiding romantic entanglements is summarily thrown at "Dr. Right"–who is even better than any mere "Mr. Right" could ever be–and the movie goes downhill from there.
Dr. Aaron is simply too good to be true. In one scene he's playing one-on-one with LeBron James; in the next scene he's getting a philanthropy award from Doctors Without Borders. We know who this man is, so let's just say it out loud: this man–Dr. Aaron–is not a person, this man is a Jewish Mother's Dream. Please note that I am being deliberately ironic here. The mother having this dream isn't a real Jewish Mother either, she's a stereotype, just like Dr. Aaron is. To win him, Amy has to stop being herself and turn into a stereotype too. And so we see Amy Schumer–the same woman who put her own hotness on trial during the 12 Angry Men parody–transformed into a perky blonde cheerleader. The Horror! The Horror!
Schumer is certainly a team player. My gut tells me she subordinated her own instincts just as much as I believe Kristen Wiig and Annie Mumolo did when they wrote (or did they?) the Oscar-nominated screenplay for Bridesmaids way back in 2011. In both cases, my gut tells me they all deferred to Apatow, and once again I think the reward will be box office magic. But that doesn't make it fun… or at least not as much fun as it might have been if the person at the controls had had a bit more of an edge. 
Trainwreck has its laugh-out-loud moments. Tilda Swinton as Dianna–the S'nuff editor–does a great job playing to our memories of Meryl Streep as "Miranda" in The Devil Wears Prada. TV commentator Marv Albert is also hilarious as himself in an intervention organized by LeBron James (who portrays himself as a stoic giant with a heart of gold).
And the whole sports subplot is a brilliant ruse to lure guys into a film that is not only a RomCom but an actual Chick Flick (in which two sisters bicker about and then cry about their dying Daddy until they finally collapse into a big moist group hug).
But the runtime–125 minutes–is a give away: there is a whole lot of dead air in Trainwreck. Stick a pin in this balloon and you won't hear a loud satisfying "pop," just a long slow hiss…
© Jan Lisa Huttner FF2 Media (7/17/15)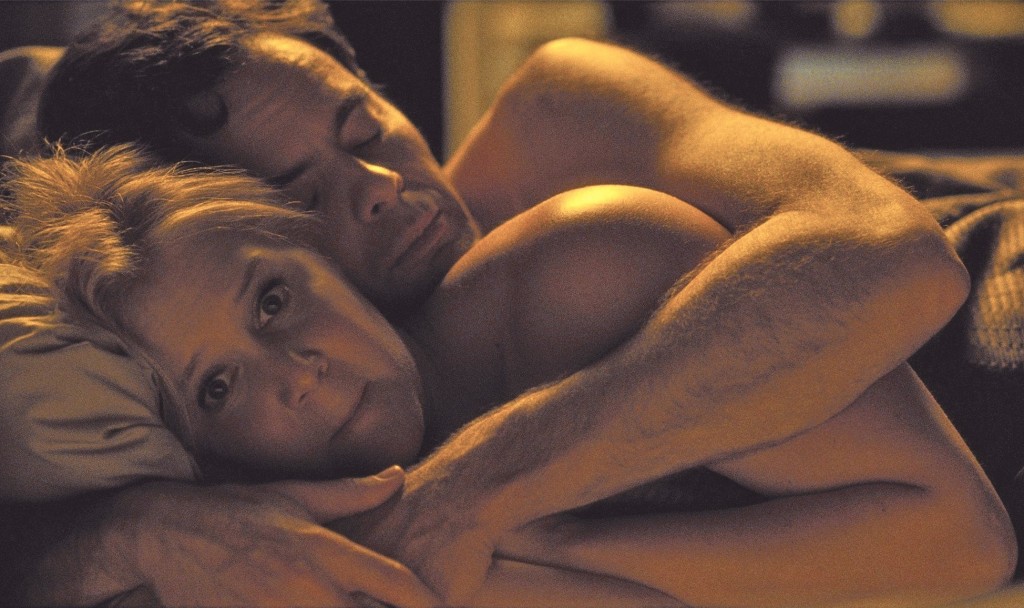 Top Photo: Amy Schumer plays "Amy," a mess of a girl who learns to straighten up and fly right when she meets "The One."
First Middle Photo: Tilda Swinton as "Dianna" the editor of S'Nuff magazine.
Second Middle Photo: Orthopedic Surgeon "Aaron Conners" (Bill Hader) goes one-on-one with LeBron James (playing himself).
Bottom Photo: Dr. Aaron gets all lovely-dovey. Will Amy submit?!? I haven't a clue!!!
Photo Credits: Mary Cybulski – © 2015 – Universal Pictures
Q: Does Trainwreck pass the Bechdel Test?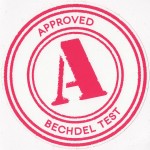 Absolutely!
In addition to her two key relationships with her editor/boss "Dianna" (Tilda Swinton) and her sister "Kim" (Brie Larson), Amy also has a work buddy named "Nikki" (played by Vanessa Bayer from Saturday Night Live). Some of the talk is about guys–of course–but most of it is about work in particular and/or life in general.
Chris Evert and  Marisa Tomei also have funny little cameos which don't affect the Bechdel Question, but are welcome moments nonetheless.