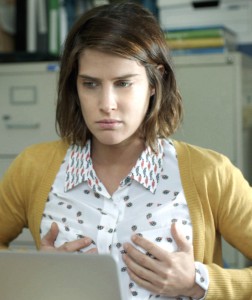 An inner city schoolteacher finds out that she is pregnant at the same time her career is in turmoil. Her star student becomes pregnant around the same time, and the two form an unlikely bond and friendship through their similar situation.
Boasting a female dominated cast, Unexpected is an enjoyable watch, with strong performances from both Colbie Smulders and Gail Bean. (JEP: 3.5/5)
Review by Contributing Editor Jessica E. Perry
 Unexpected, directed by Kris Swanberg, opens with the promise of delivering a satisfying indie, and aside from a few fumbles, does not disappoint.
"Samantha Abbott" (Colbie Smulders) is a teacher at an inner city high school that is closing its doors at the end of the year. Struggling to find a new job, Samantha finds a position available at her dream job. However, her career plans are derailed when learns she is pregnant.
What's more, Samantha learns that her most promising student, "Jasmine" (Gail Bean) is also dealing with an unplanned pregnancy. The two women develop an unlikely friendship, their common situation bringing them together.
While Samantha's pregnancy is unexpected, she is in a steady relationship and lives with her boyfriend "John" (Anders Holm). So her situation is not that of the stereotype of "unexpected" pregnancy that one might expect. Instead, the day after John learns Samantha is pregnant, he pops the question and the two get married at the courthouse soon after.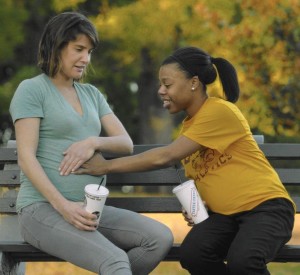 Jasmine, on the other hand, has a boyfriend who soon proves himself unfit to be a father. But she vows to be a good mother to her child, doing for her baby what her mother was unable to do for her. With the support of her grandmother and immediate family, Jasmine knows all will work out. While Samantha, who has a much more secure home situation, is full of doubt.
The student and the teacher form an unlikely friendship. Samantha is determined to help Jasmine attend college, even in her current situation. And Jasmine's confidence coaxes Samantha into a more appeased state about her own pregnancy and being able to keep her career after the baby comes.
Samantha's mother "Carolyn" (Elizabeth McGovern, who you probably know as Cora Crawley from Downton Abbey) delivers a charming performance, serving as a force of caring resistance to her daughter's quickie wedding and unexpected pregnancy. Anders Holm is perfectly cast as the caring partner, equal parts endearing and understanding.
As a fan of Colbie Smulders I was looking forward to Unexpected. While there was nothing groundbreaking about her performance, it was a new character choice for Smulders, and she did not disappoint, delivering a strong and relatable performance. However, the stand out performance of the film was Gail Bean as "Jasmine", who was unknown to me before this film.
Solid performances all around, with a predictable yet lovely storyline all the same, Unexpected is an enjoyable watch for a night in or a night out (it is available to watch both in theaters or on demand on iTunes).
© Jessica E. Perry FF2 Media (7/29/15)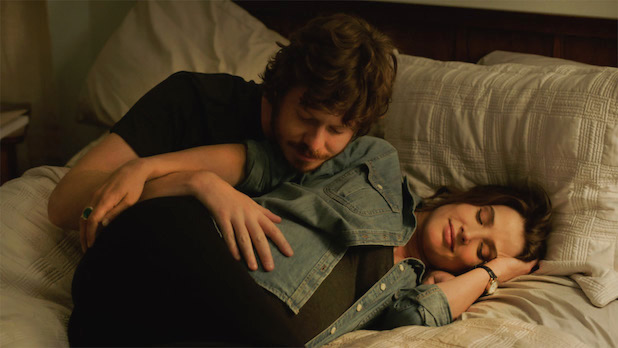 Top Photo: Samantha is worried she is pregnant, and is testing the signs.
Middle Photo: Samantha and Jasmine's friendship grows from their common situation.
Bottom Photo: John and Samantha talk about their baby on the way.
Photo Credits: The Film Arcade
Q: Does Unexpected pass the Bechdel Test?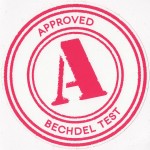 100% yes!
The film revolves around Samantha and Jasmine's friendship, boasting a female dominated cast. The two lead characters focus on things like the future, school, career, and their families.