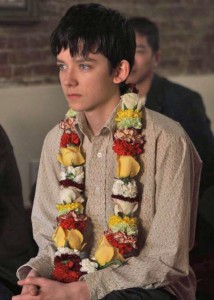 Filmmakers Shari Springer Berman and Robert Pulcini throw a lot of love–and an excellent cast–at Eleanor Henderson's novel Ten Thousand Saints, but success eludes them. Unfortunately, their adaptation is a bit of a "paint by numbers" exercise that never manages to fully engage. (JLH: 3/5)
Review by Managing Editor Jan Lisa Huttner (with additional two cents from Contributing Editor Jessica Perry at the bottom)
According to Amazon, Eleanor Henderson's novel Ten Thousand Saints is 390 pages long. I haven't read it, so I can't tell you where filmmakers Shari Springer Berman and Robert Pulcini–who co-wrote and co-directed this adaptation–made their cuts. But I can tell you that their film–which runs just under two hours–has left an excellent cast stranded in a plot-heavy drama that is surprisingly dull and predictable.
My guess is that Henderson created backstories for each of her main characters, but without these backstories–which have been stripped away in the screenplay–it's very hard to care about the cardboard people who now inhabit the Ten Thousand Saints universe. Of course, I am only guessing. Surely something must have made Berman and Pulcini interested in Henderson's novel when they first started the project. I'm not callous enough to believe their primary motivation was to recreate the vibe of the East Village in the '80s. But hey, who knows? After all, they have done a marvelous job of capturing a certain look that oozes with nostalgia. I just wish the tableau had included people who feel as real as their milieu.
The central character is a a high school kid named "Jude" (Asa Butterfield) as in "Hey Jude."  Jude's Dad "Lester" (Ethan Hawke) is a stoner who lives in Manhattan. Jude's Mom "Harriet" (Julianne Nicholson) is a single mother raising Jude and his sister "Prudence" (Nadia Alexander)–as in "Dear Prudence"–in a large comfortable home in Vermont, although it's never quite clear where she gets her money. Does the income Harriet derives from blowing glass baubles really stretch this far? Hard to believe, but once again, who knows? What matters is that Nicholson is never provided with an opportunity to give Harriet any depth or dimension.
After a brief prologue explaining why Lester left Vermont sometime in the '70s, Ten Thousand Saints  jumps ahead ten years to New Year's Eve, 1987, when Harriet suddenly informs Jude that he must to go to the bus station to meet up with "Eliza Kaplan" (Hailee Steinfeld), another high school student who just happens to be passing through town… on New Year's Eve. This news comes out of left field and Jude is rightfully resentful because even though he has never met her, Jude knows that Eliza Kaplan is the daughter of Lester's latest girlfriend "Diane" (Emily Mortimer). So he dutifully goes to the bus station, and one thing leads to another, over and over again, in the same over-determined way, in an overstuffed plot filled with similar coincidences and improbabilities.
It's as if Berman and Pulcini are checking off the boxes on a master list: abortion, adoption, drug overdose, gentrification, teen pregnancy, etc, etc. Presumably Henderson used her 390 pages to provide some connective tissue, but once again, who knows? What matters is that actors–no matter how talented they are–have a hard time making such a depressing litany of social issues interesting, even when they are allowed to visit a few requisite cultural landmarks like CBGB and Tompkins Square Park along the way.
Asa Butterfield is a handsome young actor from London who was barely ten years old when he played the lead role in The Boy in the Stripped Pajamas. (Just to be clear here, Butterfield played a German boy named "Bruno." "Shmuel"–the Jewish boy who actually wore the stripped pajamas–was not the lead, and Jack Scanlon–the young actor who played Shmuel–has pretty much disappeared from view.) A few years later, Butterfield played "Hugo" in Martin Scorsese's Oscar-winning  film Hugo, but it's indicative of Butterfield's screen presence that none of Hugo's nominations–let alone its five wins–were in acting categories.
Butterfield has zero charisma, and casting him as Jude was a seemingly "safe" choice that backfired. The intensity that Canadian actor Avan Jogia–who plays Jude's Vermont buddy "Teddy"–packs into the first fifteen minutes of Ten Thousand Saints is never recaptured and yet his image lingers on screen like a vampire, making Butterfield seem even more pale than he already is. With neither the inherent emotion of the Holocaust nor Scorsese's technical wizardry to sustain him, Butterfield is like a black hole that drains energy from Ten Thousand Saints rather than adding anything to it.
In 2003, Shari Springer Berman and Robert Pulcini came out a nowhere to win an Oscar-nomination for their first feature film American Splendor (which also pushed the career of actor Paul Giamatti from obscurity right up to the Indie A List). They followed up with The Nanny Diaries (which I fought for to no avail). But since then, their films have gone from bad to worse…
I do not believe the Conventional Wisdom that the book is always better than the movie. Berman and Pulcini met the challenge of adapting Harvey Pekar's complicated graphic memoir American Splendor with flying colors, and The Nanny Diaries is a case in point where the screenplay is actually better than the source novel on which it is based. So all I can do now is wish Berman and Pulcini better luck in the future.
© Jan Lisa Huttner FF2 Media (8/19/15)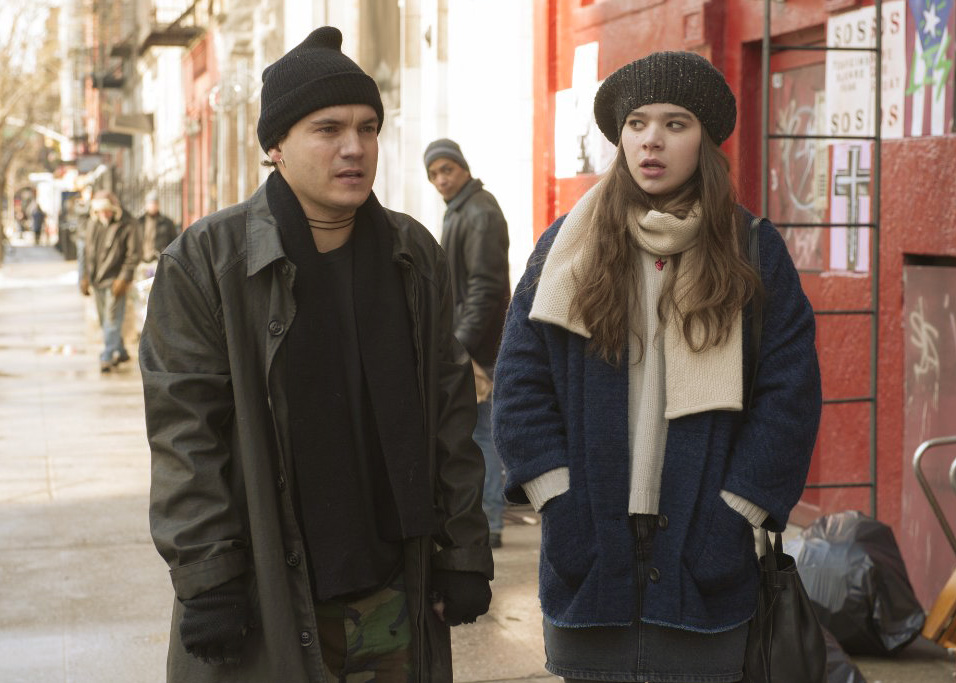 Top Photo: Asa Butterfield as "Jude."
Middle Photo: Hailee Steinfeld as "Eliza Kaplan," with Emile Hirsch as an East Village musician named "Johnny."
Bottom Photo: Jude and a very pregnant Eliza walk the streets of New York.
Photo Credits: JoJo Whilden © The Solution Entertainment Group (2014)
Q #1: Does Ten Thousand Saints pass the Bechdel Test?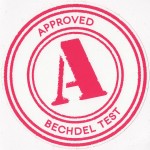 Yes, but barely.
Hailee Steinfeld has a couple of brief scenes with Emily Mortimer (who plays her mother "Diane"), and one even briefer scene with Julianne Nicholson (who plays Jude's mother "Harriet"). Near the end, Mortimer and Nicholson also get one scene together in which they discuss Eliza. The fact that they are connected to each other through Lester has become a moot point by this phase of the plot. But unfortunately they are both marginal characters with very small roles. Eliza also has a classmate in one scene, but if you blink you will miss her.
Q #2: Where is Tompkins Square Park?
Tompkins Square Park is located in Manhattan's East Village north of Houston Street and southeast of Union Square (14th Street). To orient non-New Yorkers, this is very close to where the famous Fillmore East once stood. On the other hand, the CBGB club–actually referenced by name in the film–was several blocks further south to Bowery then west to Bleecker. Click HERE for more on the 1988 riot shown in the film (which actually happened).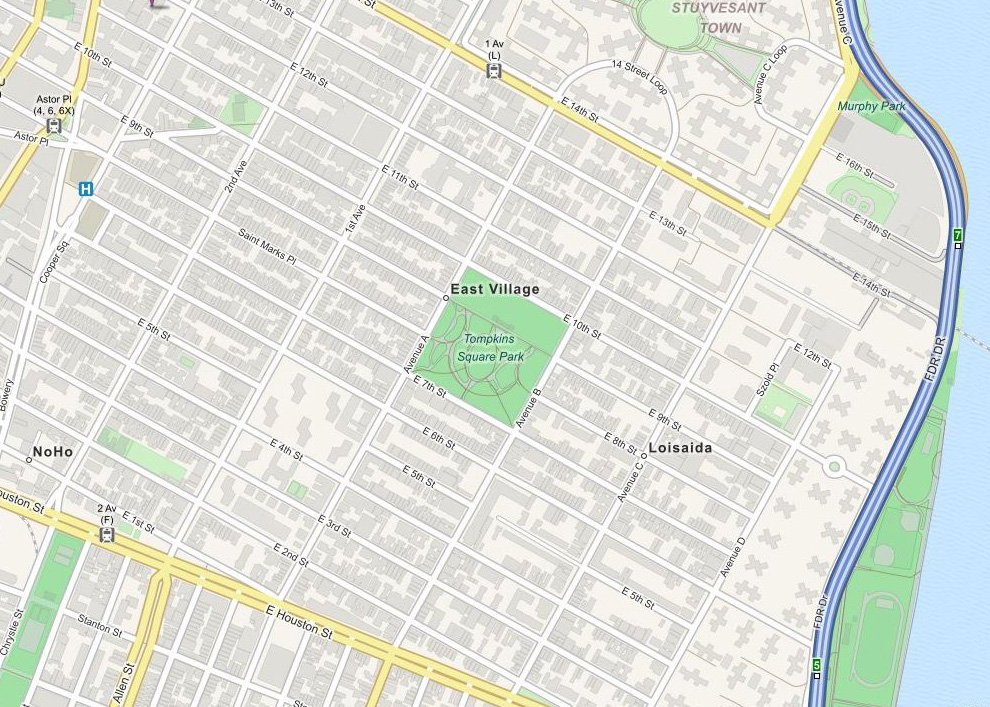 I have to agree with Jan on this one: Ten Thousand Saints began with a lot of promise but by the end I was frustrated with every character and ultimately not invested in the film's resolution.
Asa Butterfield stars in the film as "Jude," a teenage boy growing up in a small town in Vermont. While I wouldn't say his performance was so unbearable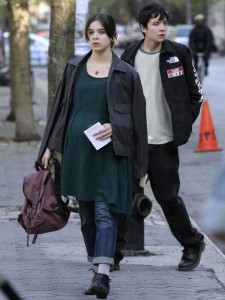 that it was synonymous with a "black hole" draining energy from the film, I also wouldn't say it was anything special.
I'm sure filmmakers Shari Springer Berman and Robet Pulcini strove to capture their audience with a strong and compelling protagonist. But sadly in this case, they did not succeed. I found myself caring more about exterior characters, such as Avan Jogia's small yet ever-present role as Jude's friend Teddy. And saw a new side to Hailee Steinfeld in her performance as "Eliza," a pregnant teen who will do anything to feel safe. But unfortunately, I did not see anything new in Butterfield. In all honesty, I was so distracted by his terrible haircut in the first half of the film that I wasn't focused on much else.
I will fess up and admit that before watching the film, I was not aware that Ten Thousand Saints was adapted from a book. But if I had been, I'm not sure if this review would be much different, because the final product is the same. To me, Ten Thousand Saints felt like a gritty, precariously executed, coming of age story propped up only by a compelling 1980's New York City backdrop.
Ten Thousand Saints showed so much promise at the beginning that I want to say it was great. Instead, it was an hour and a half of me wanting to knock each character upside the head and tell them to "get it together!" The film had its moments, but I'll hold my thumbs up for Berman and Pulcini until their next films. (JEP: 3/5)
© Jessica E. Perry FF2 Media (8/25/15)