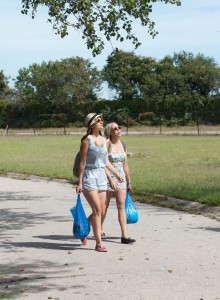 First-time directors Sarah-Violet Bliss and Charles Rogers tell a humorous story of two best friends on their journey to the beach. The simplicity and relatability of the premise allows the comedy to take center stage, with Clare McNulty and Bridey Elliot perfectly executing their Brooklynite alter egos. (BKP: 4/5)
Review by Associate Editor Brigid K. Presecky
The comedy opens with a rooftop party in Williamsburg (Brooklyn). Hippie twin sisters play guitars and sing their self-written songs to a group of their closest friends. Here we meet "Allie" (Clare McNulty) and "Harper" (Bridey Elliot) – two of their "friends" who discretely text back and forth during the performance. Immediately, you get to know their senses of humor. While they greet the twin sisters with sugary-sweet compliments, they are secretly making fun of them behind their backs. This moment, alone, is a true-to-life picture of millennials who struggle to handle societal expectations in their early 20s . On the outside, most people act as if they have their lives together and everything is great. On the inside, it's a different story.
Before leaving the party, Allie and
Harper meet two guys with enough sex appeal to set a beach date for the following day. This is perfect for Allie, who is leaving for the Peace Corp in the coming week, and wants one last day of fun and adventure.
Harper, too, is looking to forget her money troubles and head to Fort Tilden without a care in the world. But their memorable day doesn't actually happen at the beach – because they never quite get there. Small obstacles continuously get in their way: bicycles, neighbors, crashes and phone calls to name a few. This plot device has been used in countless films (Date Night, Baby's Day Out and/or every roadtrip movie ever made) yet it feels refreshingly entertaining for Fort Tilden.
Maybe you need a particular sense of humor to relate to this story or maybe you need to be in the "millennial" age range, but so much of the comedy seemingly comes from real-life experiences. Furthermore, the idea of "What am I going to do with my life?" can be applied to a broader audience – or at least the exact same demographic who watches Lena Dunham's HBO comedy Girls. There is a similar tone between the two as they both take place in Brooklyn with young hipsters looking Instagram-ready in their big sunglasses and floral rompers. Fort Tilden feels uncomfortably real, like these scenarios are occurring in real-time and not in an idealistic, picture-perfect world of cinema.
McNulty and Elliot are perfect in their roles as best friends, Allie and Harper. The undeniable chemistry makes for an easy, enjoyable watch. Like Girls, the story takes place in a complicated, yet simplistic world. Its insightful message is understated and sweet, using comedy as its main vehicle rather than sappy or dramatic plotlines. Allie and Harper, like many young women their age, are trying to find their place in this world. All they have is each other, a gift more important than a perfect job or a cashed rent check.
© Brigid K. Presecky FF2 Media (8/14/15)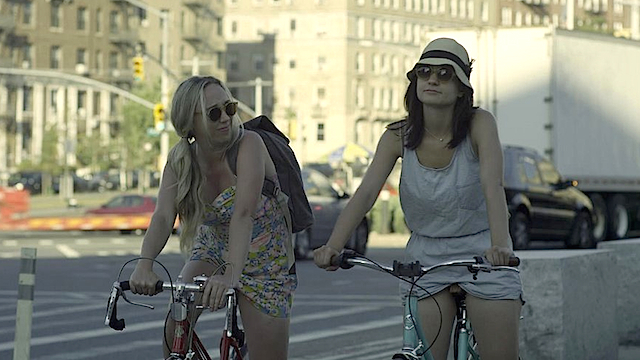 Photos:  Clare McNulty as "Allie"  and Bridey Elliot as "Harper"
Photo Credits: Brian Lannin © Orion
Q: Does Fort Tilden pass the Bechdel Test?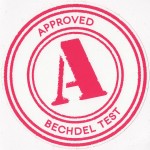 Absolutely! Although they talk about relationships,  "Allie" (Clare McNulty) and "Harper" (Bridey Elliot) have conversations about many other things: their life choices, their families, etc.