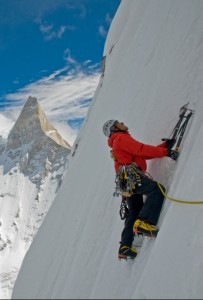 With breathtaking cinematography and a heartfelt message, Jimmy Chin and Elizabeth "Chai" Vasarhelyi document three friends and their treacherous, painstaking journey of climbing Mount Meru. (BKP: 4.5/5)
Review by Associate Editor Brigid K. Presecky
September 2011. Northern India.
Climbers Jimmy Chin, Conrad Anker and Renan Ozturk set out on a trek to reach The Shark's Fin, a smooth surface at the top of Mount Meru – located 21,000 feet above the Ganges River. There is more to the story, however, other than climbing a terrain more difficult and dangerous than Mount Everest.
Three years prior, Chin, Anker and Ozturk attempted to climb Mount Meru in what was supposed to have been a seven day journey. With only 100 meters remaining in their climb, a snowy storm derailed their efforts, leaving them stranded for 20 days in freezing temperatures and with little food. Thankfully, the men returned home safely, promising each other – and their families – that they would never attempt a climb to The Shark's Fin again.
This is where Meru unveils the heart of its story – with the families of the climbers. As three years pass and the pull towards another attempt at Mount Meru starts to consume their lives, worry and and hesitation comes to the forefront of their personal lives – particularly Jimmy Chin's wife, co-director Elizabeth "Chai" Vasarhelyi. When discussing the making of the documentary, Vasarhelyi reflects on the importance of focusing on the familial aspect of the climbers:
In these kinds of stories, people often get caught up in the accomplishment, but there's another side, of course. Being married to Jimmy, I'm especially interested in what the female characters in the story—the ones back home, often wringing their hands—had to say. How did they tolerate the risks these climbers, their closest family members, take as part of their professional careers? What drove their lives, and what kept them steady? Despite the fact that this film reaches an apex of 21,000 feet, I felt Meru had to also remain firmly on the ground.
It does, indeed. With more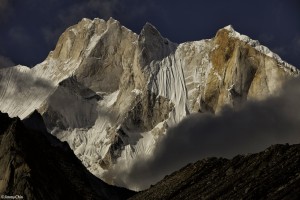 failed attempts than any other mountain in the Himalayas, their families are understandably apprehensive. Is this really worth it? What if they do not return home? What is the point? Their fear and nerves are projected onto the audience as Chin, Anker and Ozturk begin their second, high-stakes journey to The Shark's Fin.
Climber/Cinematographer Renan Ozturk beautifully captures their every move. The crisp and steady imagery brings you into their world and makes you feel like you are the fourth man on their climb to the top.
The documentary tells a story that is less about reaching The Shark's Fin and more about a metaphor for accomplishing goals, trusting friends and loving family. The hardships and fear-inducing moments keep your blood pumping, making you fully engaged in their every move.
The only thing typical about Meru is the editing style – complete with talking heads and narrations which give insight into history, feelings and reflections. It is a story well-told from beginning to end, leaving you both inspired… and utterly exhausted.
© Brigid K. Presecky FF2 Media (8/19/15)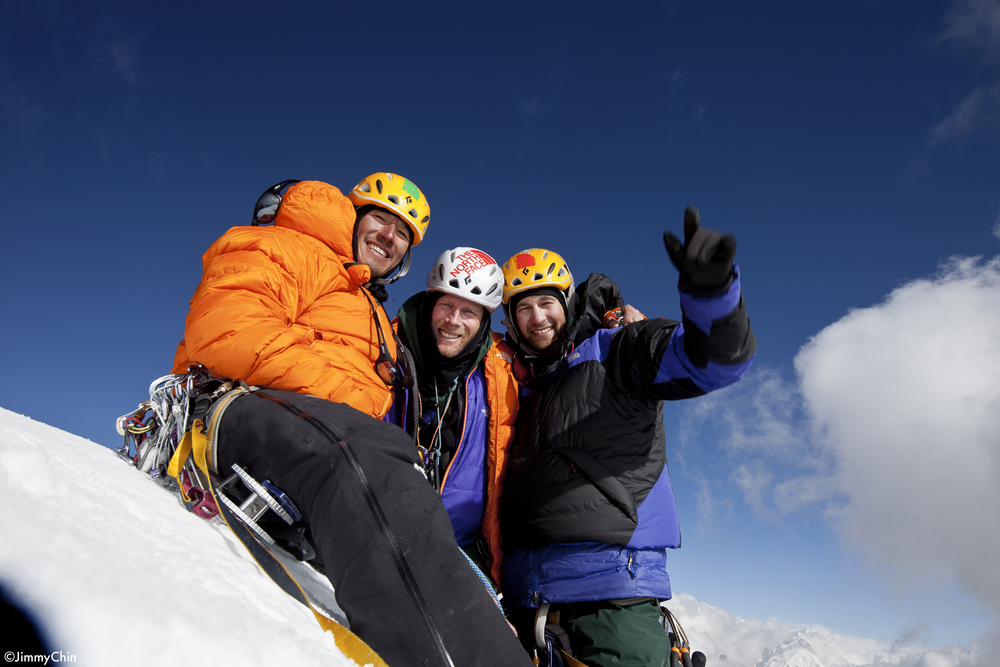 Top Photo: Jimmy Chin and The Meru Expedition, Garwhal, India
Middle Photo: View of Mount Meru from Tapovon Basecamp. The Shark's Fin is the central pillar in the formation.
Bottom Photo: The North Face Meru Expedition, 2011; Climbers Jimmy Chin, Conrad Anker and Renan Ozturk
Photo Credits: © Jimmy Chin
Q: Does Meru pass the Bechdel Test?
Unfortunately, no.