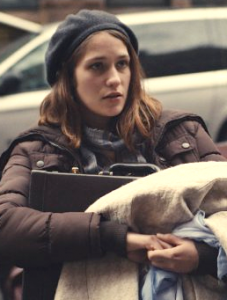 Written by Greta Gerwig and Noah Baumbach, the pair deliver a wonderful and original film about a lonely college freshman living in New York, whose life becomes a lot more eventful the moment she reaches out to her soon-to-be stepsister. (JEP: 4.5/5)
Review by Contributing Editor Jessica E. Perry
As a freshman at Barnard College, "Tracy" (Lola Kirke) is lonely and struggling to fit in. She forms a bond with neighboring student "Tony" (Matthew Shear) through their mutual goal to be admitted into a highly selective and elite writing society on campus.
Tracy soon develops romantic feelings for Tony and things seem to be turning around. That is, until she runs into Tony and his new girlfriend "Nicolette" (Jasmine Cephas Jones) on campus. Once again Tracy finds herself alone, trying to navigate the ins and outs of her school's isolating social circles and find her place in New York City.
Tracy's mother is getting married over the upcoming Thanksgiving Weekend, and her fiancé's daughter also lives in New York City. So she encourages Tracy to reach out to her soon-to-be stepsister. Tracy resists at first, but when she is once again eating dinner alone in a diner, she decides to take a chance and reach out.
Enter "Brooke" (Greta Gerwig), a 30-something who still lives life like she's in her 20s, a character trait that has long since stopped being "cute." But Tracy immediately loves Brooke, idolizing her and overlooking any flaw.
Tracy goes back to campus after her first night with Brooke, and writes a "fictional" short story about her soon-to-be stepsister and her adventurous ways. It is a story that is sure to step on some toes, but Tracy goes ahead with it anyway, submitting it to the campus writing society.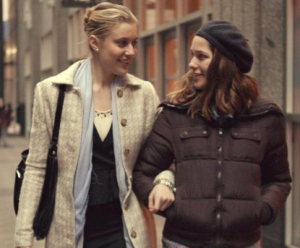 Meanwhile, Brooke is attempting to open a restaurant. It is her newest venture that no one thinks she will actually follow through on. And when her boyfriend–and biggest financial backer–pulls out of the deal, he leaves Brooke high and dry.
Tracy adventures with Brooke to find a new financial partner for the restaurant, and she drags Tony and Nicolette along for the ride. Hilarious situations ensue, paired with genuine and honest moments.
Mistress America is the second film Greta Gerwig and Noah Baumbach have done together. While I have not seen, and therefore cannot speak about Frances Ha, I found Mistress America unique, creative, and simply on point. Gerwig and Baumbach bring us a film that at times feels completely a mess (in the most honest way), but artfully executed, this mess is completely intentional.
The characters are all flawed, all extremely human, and nothing is sugar coated. Brooke is trouble, and everyone knows it. Greta Gerwig delivers a wonderful performance, in a role that was undoubtedly made for her. Lola Kirke is a new face, and one to watch. She is absolutely perfect as Tracy, delivering a subtle yet grounded performance. I believed her the whole way through.
© Jessica E. Perry FF2 Media (8/19/15)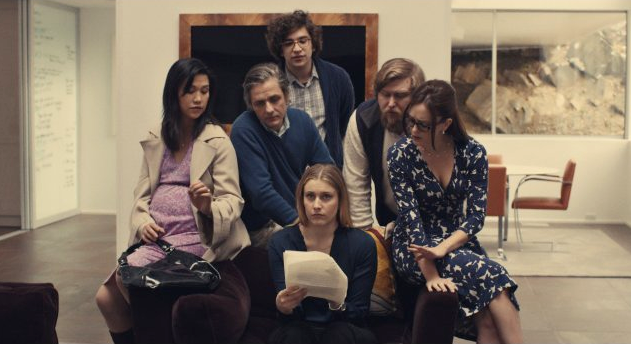 Top Photo: Tracy carrying all of Brooke's things for her back to her apartment.
Middle Photo: Brooke and Tracy out on the town.
Bottom Photo: Brooke and potential financial backers reading Tracy's "fictional" short story.
Photo Credits: Fox Searchlight Pictures
Q: Does Mistress America pass the Bechdel Test?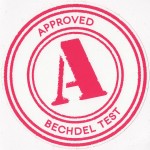 Definitely!
From Tracy's opening conversation with her mother about adjusting to college life, to Brook and Tracy's numerous conversations about anything and everything, Mistress America is filled with meaningful interactions between the female characters.