Director Ruby Yang shows a heartfelt look at the struggles and hardships of Chinese teenagers as they join together to make their own high school musical. With engaging subject matter, My Voice, My Life focuses on disadvantaged youth, the often-overlooked civilians of Chinese population. (BKP: 4/5)
Review by Associate Editor Brigid K. Presecky
If the hit musical/comedy television show Glee was set in Hong Kong, China rather than Lima, Ohio … you'd get a good sense of what director Ruby Yang is going for in her documentary My Voice, My Life. Instead of belting out ballads at regionals, this real-life group of 31 high school students are on a mission to make a musical. But there's a catch! Unlike the academically-advanced Asian stereotype, these students are in a third-tier education system and have disabilities ranging from behavioral issues to sight impairment – and have six months to complete their task.
Yang captures the insecurities and fears of different teenagers (Ah Bok, Fat Yin, Sio Fan, Tsz Nok) as they express their love for singing and dancing. Whether they have problems at home or at school, they find an inner confidence at rehearsals by expressing themselves through art. One young girl, in particular, hits her stride while auditioning for a male role, singing:
Looking back now at the past
At the girl I used to be
Self-indulgent, living fast
I hoped one day I would be free
Of all the pain within me
When the casting director announces that she (Coby) gets the part, the genuine excitement and awe in her face perfectly exemplifies the theme of the film – how there is a place for everyone. You may not be the smartest or the best or the most popular, but there is a place for you.
Watching the inspiring journey of these students is like watching a feel-good feature film, a different route for Yang, who won an Oscar in 2007 for The Blood of Yingzhou District, a short film about Chinese AIDS orphans. This time, the high-school set film is lighter in tone and taps into the untouched world of the Chinese majority. According to Yang in an interview with Xfinity ASIA, it is a common misconception that Chinese youth have a strict, intense educational system. In fact, that stereotype is based on merely 20% of the population.
Yang brings you into this world, exploring the varying personalities and diverse backgrounds of these energetic, enthusiastic teenagers. Unlike many slower-paced documentaries, these teenagers add a layer of freshness and relevancy to My Voice, My Life. Likewise, Yang (also the film's editor) makes a point of focusing on the faculty and staff's involvement, with their dedication and guidance playing a key factor in the musical's success.
The mix of light-heartedness and serious subject matter is the perfect blend of emotion that keeps the film balanced and engrossing. Sure, the payoff is rewarding, but the journey of making the musical is the reason to watch. As My Voice, My Life puts it, "A journey of character and art … unsettles and elevates each ordinary yet precious life."
© Brigid K. Presecky FF2 Media (8/31/15)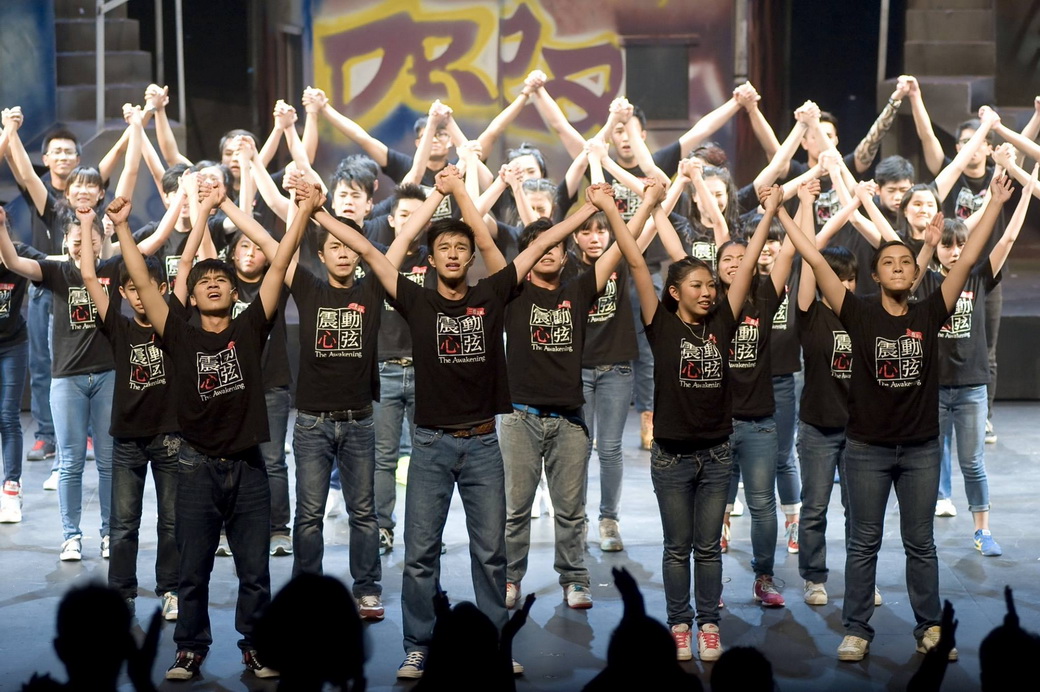 Top Photo: A visually impaired student, Tsz Nok, participates in the school musical
Middle & Bottom Photos: Opening night of the musical, the result of a six-month-long rehearsal
Photo Credits: CINEMAflix Distribution
Q: Does My Voice, My Life pass the Bechdel Test?
Not really.
There is a female focus, but does not pass the Bechdel Test.