Amy Berg's new documentary Prophet's Prey is similar to her 2014 release of an FF2 Media favorite, An Open Secret. This time, Berg's compelling storytelling captures the exploitation of children (and adults) in the community of FLDS – the Fundamentalist Church of Jesus Christ of the Latter-Day Saints. (BKP: 4/5)
Review by Associate Editor Brigid K. Presecky
"The only thing necessary for the triumph of evil is for good men to do nothing." – Edmund Burke
Like Director Amy Berg's 2006 documentary Deliver Us From Evil, following a Catholic priest during the church's molestation scandal, Prophet's Prey tells the story of imprisoned FLDS former president, Warren Jeffs. The film follows the proud polygamist's story from his initial involvement in FLDS to the day he was deemed a convicted felon for child sexual assault, rape and incest (specifically, impregnating two underage girls).
Initially, Berg gives the audience history of the Fundamentalist Church of Jesus Christ of the Latter-Day Saints. With detailed family trees, worn photographs and informative talking heads, viewers get a sense of what this part of the Mormon church is all about. Not to be confused with The Church of Jesus Christ of Latter-day Saints, the core beliefs of the Fundamentalist sector include: participating in plural marriage, not conforming to mainstream American society and practicing faith as taught in the 19th Century by leaders Joseph Smith and Brigham Young.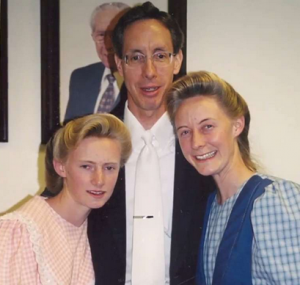 Audio from Warren Jeffs' creepy, monotonous sermons are edited throughout the film, adding a chilling effect to an already unfathomable origin story and life with 70 wives – yes, you read that correctly. Warren's relationship with his father, former FLDS president Rulon Jeffs, who had a mere 20 wives and 60 children, is documented and examined through revealing narrations.
Warren Jeffs' rise to power in his community began when he bought large amounts of land and virtually became the "ruler" of his own kingdom. He enforced strict behavior and dress code, while stripping away any electronic devices or toys for children to play with. He instilled fear in his followers, taking pleasure in threatening the end of the world (which, he thought was going to be in the year 2000. Whoops). This bizarre way of life continued for years as he met and married numerous women and sexually abused young children. Berg's revelatory documentary clears the blurred lines between religious freedoms and criminal acts. How was this ok? How did so many people know about this and never report it?
Some of the most interesting narrations come from the investigative reporters (Sam Brower and Jon Krakauer) who tracked down Warren Jeffs and uncovered his disturbing lifestyle. Their pursuit to expose Jeffs' criminal ways gives the story the suspenseful, edge-of-your-seat aspect to go along with the history of the FLDS faith.
Berg's powerful documentary opens your eyes to a world – and faith – that is rarely portrayed in mainstream media … give or take TLC's Sister Wives. Although the hours and hours worth of footage might have felt condensed to the editors, the running time becomes exhaustive. But maybe that is how Berg intended it … to make viewers so uncomfortable and sickened by this man's actions that you want the film to end. Like most of Berg's projects, she succeeds in her goals of exposing this criminal and the underrepresented group of people he abused.
© Brigid K. Presecky FF2 Media (10/27/15)
Top and Middle Photos: Warren Jeffs and his child-brides
Bottom Photo: Members of the Fundamentalist Church of Jesus Christ of the Latter-Day Saints gather around a picture of their leader, Warren Jeffs
Photo Credits: Showtime
Q: Does Prophet's Prey pass the Bechdel Test?
No.
There are interviews with women, but the story centers around Warren Jeffs' peculiar life.