Writers Severin Fiala and Veronika Franz conjure up a terrifying psychological thriller about twin boys and their unrecognizable mother. A beautifully-shot, disturbing take on family drama. (BKP: 3.5/5)
Review by Associate Editor Brigid K. Presecky
Unlike the abundant, low-budget flicks in American cinemas, Goodnight Mommy (aka Ich seh, Ich seh) is an Austria-based thriller teetering more towards high-brow horror. Like last year's breakout hit The Babadook, this film takes another look at the traumatizing relationships between mothers and sons.  
The English-subtitled story thrives in its simplicity. Set around a remote, placid lake, twin brothers "Elias" and "Lukas" (real-life twins Elias and Lukas Schwarz) live with their single mother (Susanne Wuest) who is recovering from facial cosmetic reconstruction. While she sleeps around the clock, her sons spend their time swimming, hiking and enjoying their quiet – albeit creepy – surroundings together.
With her head entirely wrapped in bandages, she is an unrecognizable woman – and not only physically. The boys notice something different about her. She's mean, cold and only acknowledges one of them. What happened to her? Why is she acting like this? Why has their life turned bleak and depressing? … The boys conclude that this new, strange mother of theirs must be an imposter. The remainder of the film is something to witness on your own, filled with gruesome violence (one scene, in particular, which involves the mother's mouth, super glue and a box cutter) and a not-so-shocking twist in Act Three.
The eery look of the film is stunning, thanks to Cinematographer Martin Gschlacht setting the uneasy tone from the first frame. Because there are only three characters, the audience can feel the loneliness and the seclusion that Elias and Lukas are feeling. Their questions are your questions. Their fears are your fears. Although there are typical scares like creepy-crawlers and the mother's bloodshot, the most terrifying element is seeing the world through the eyes of these vulnerable children.
Like the aforementioned The Babadook, and countless other films in the same genre, the horror and psychological aspects are used as allegories for dark, tumultuous relationships. In this case, it is about a mother not protecting her children. It is a frightening look at what happens when that bond is ripped apart and how detrimental it can be to a person's psyche.
However "scary" or disturbing, there isn't too much that is new in Goodnight Mommy. The final plot twist resembles of one of the most popular films in the horror genre – a title I will not spoil for obvious reasons. What makes it stand out, however, is the quality. From the acting and the cinematography, to the spook-tacular elements that make the audience's skin crawl, it is an accomplished work of art.   
© Brigid K. Presecky FF2 Media (9/25/15)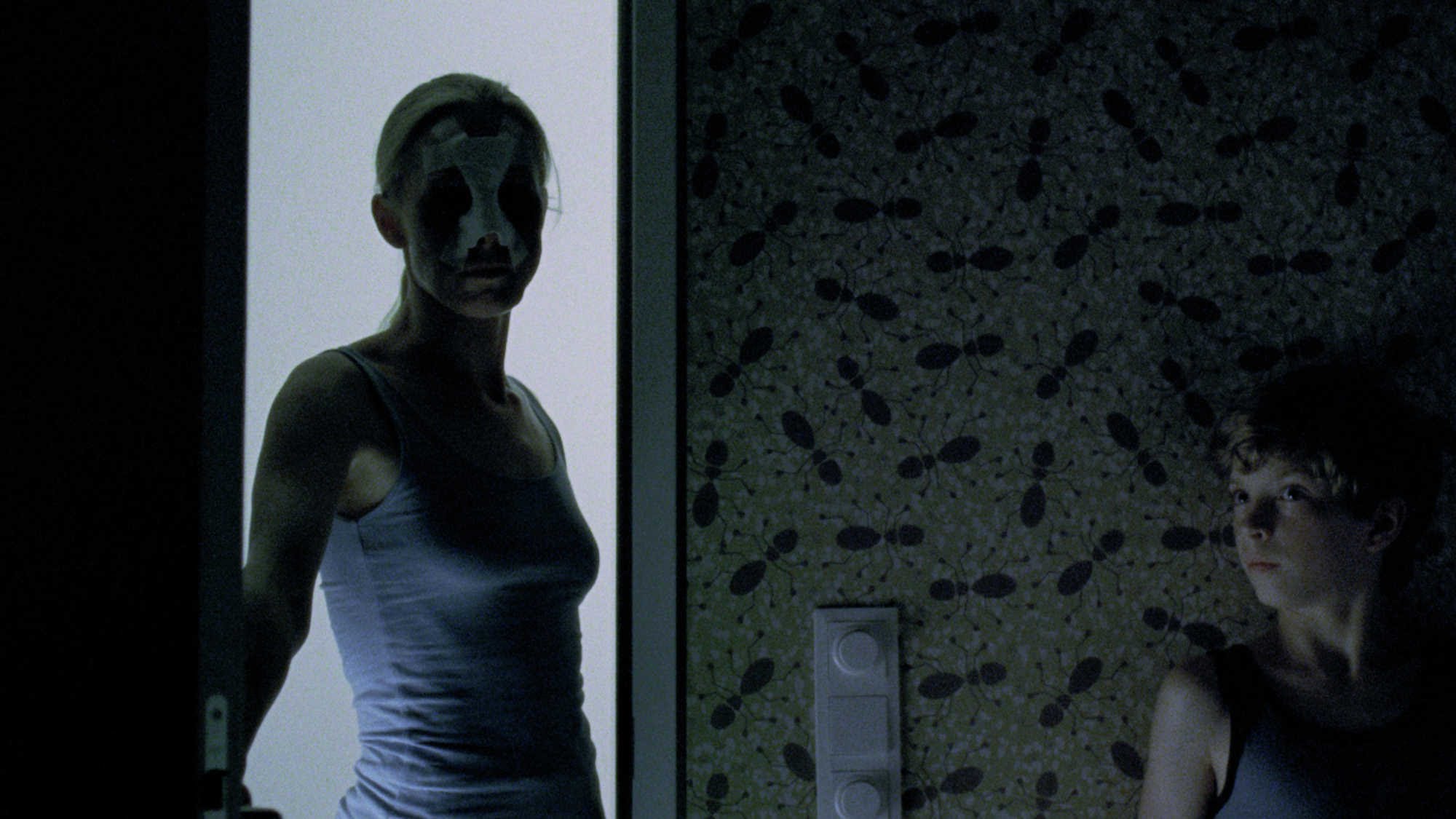 Middle and Bottom Photos: The "mother" (Susanne Wuest) recovers from facial reconstruction surgery
Photo Credits:  Radius-TWC
Q: Does Goodnight Mommy pass the Bechdel Test?
No.