In My Father's House is a touching and thought-provoking documentary written and directed by Anne Sundberg and Ricki Stern. The film follows rapper Che 'Rhymefest' Smith as he reunites with his estranged father Brian. Through all the ups and downs, the two men work hard to learn where they fit into each other's lives now, discovering how their own identities are shaped by one another. (JEP: 4/5)
Review by Contributing Editor Jessica E. Perry
In My Father's House was directed by Ricki Stern and Anne Sundberg, and written by the pair and Pax Wassermann. The thought-provoking documentary follows rapper Che 'Rhymefest' Smith as he questions his identity and legacy, reuniting as an adult with his estranged father.
The film opens with a list of staggering statistics about how many children grow up without fathers, and how the absent parent affects these children when they've become adults.
Like many families, Che grew up in a single-parent household. He can count on one hand how many times he's met his father, and the lack of knowing his father has affected him into adulthood. He questions his identity, where he comes from, and who he is, because of an absent father figure.
After a fairly successful early rap career—including a Grammy win for co-writing Kayne West's hit track Jesus Walks—Che returns to Chicago and, with his new wife, ventures to become a homeowner. His father's childhood home happens to be on the market at the same time they start looking for a house. Che's wife believes that it is his legacy to make a better home in this house for his own children then his father had ever given him.
So Che purchases the house, and makes it a home for his wife and kids. However, living in his father's childhood home brings up unresolved feelings that bring Che make the decision to track down his father in order to get answers to questions he has had all his life.
Che quickly finds his father Brian, a struggling alcoholic living homeless in Chicago for over 20 years. Brian and Che reunite and attempt to make up for lost time. The two work hard to be a part of each other's lives. Che works hard to help his father get off the streets, helping him until he can sign his first-ever lease on an apartment. Brian does his best to stop drinking, attending meetings and replacing alcohol with pop.
Life has its ups and downs and no one is perfect. In My Father's House does not attempt to tell you it is. Che and Brian's broken relationship is not suddenly whole, but instead, the film reminds us just how important family is, no matter the circumstances.
Journey with Che as he discovers his identity and plants the roots for his own legacy. Sundberg and Stern have brought us an award-winning thought-provoking documentary on the meaning and importance of both family and one's own identity.
© Jessica E. Perry FF2 Media (10/11/15)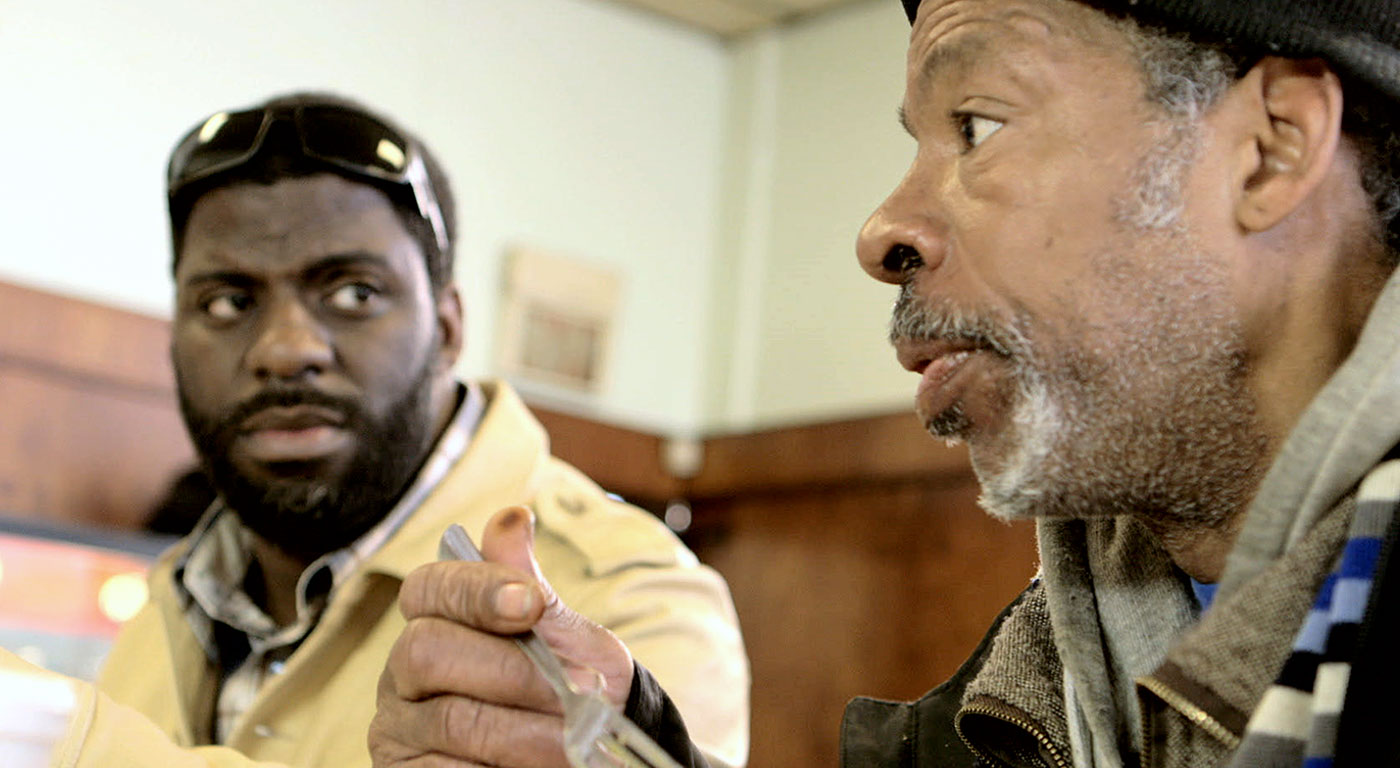 Top Photo: In My Father's House movie poster.
Middle Photo: Che and his father reunite for the first time in 25 years.
Bottom Photo: Brian and Che share a meal as father and son.
Photo Credits: Break Thru Films
Q: Does In My Father's House pass the Bechdel Test?

No.