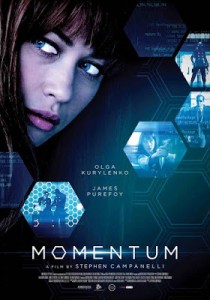 Olga Kurylenko stars as a high-tech bank robber whose identity is accidentally revealed during a heist-gone-wrong. In its entirety, Momentum is made up of action sequences – with little character development or entertainment. (BKP: 2.5/5)
Review by Associate Editor Brigid K. Presecky
In the opening sequence, four thieves in Cape Town, South Africa disguise themselves in high-tech uniforms, complete with laser beams, weapons and voice-changing modulators. Trying to execute the perfect crime (stealing a bag of diamonds), one of the thieves is killed and the identity of "Alex" (Olga Kurylenko) is revealed.
Shortly after, the other two thieves – Alex's boyfriend "Kevin" (Colin Moss) and friend "Ray" (Brendan Murray) – are killed by the henchmen of "Mr. Washington" (James Purefoy), a man who wants the diamonds, encrypted with a secret USB drive, for an American senator (a microscopic role played by Morgan Freeman).
With seemingly unending action sequences from gunfire to choreographed fights, the plot plays out in a predictable fashion. Although the action is well-executed, the lack of story inevitably leads to a lack of empathy for the characters – particularly Alex.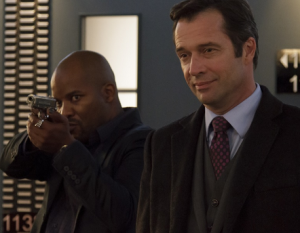 Whether a story takes place in an alternate universe, in outer space, or in the harsh trenches of war – audiences will care about the journey if they care about the characters. In Momentum, characters come secondary to the action. However, Olga Kurylenko, most recognized as "Camille" from the 2008 James Bond film Quantum of Solace, makes the most of her role as "Alex," despite being a one-note, emotionally vacant leading lady. Surprisingly, the script is co-written by a female (Debra Sullivan with Adam Marcus), yet creates Alex as a one-note character. She can dress in a slimming nightgown and carry a gun, but who is she? What is she thinking?
Despite the lack of story, the visual aspects of the film are unique and impressive thanks to first-time director Stephen S. Campanelli and his years-long experience as a camera operator (American Sniper, The Maze Runner, Invictus). He perfectly executes the stunts while maintaining an even tone and steady pacing. Yes, these technical elements work, but they can never seem to keep the story afloat.
Although Morgan Freeman's credits on the film might draw viewers, but they will ultimately be disappointed due to his limited screentime. If some niche audience finds characters less interesting than a chase scene, Momentum might be the action flick they are looking for.
© Brigid K. Presecky FF2 Media (10/16/15)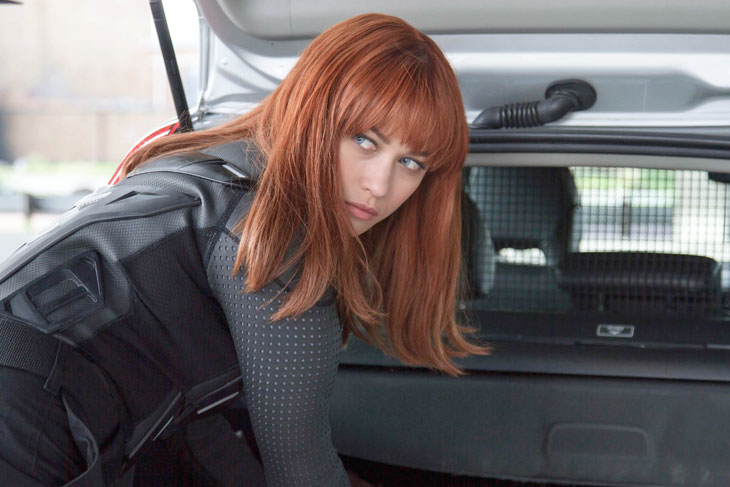 Middle Photo: James Purefoy as "Mr. Washington"
Bottom Photo: Olga Kurylenko stars as former CIA agent "Alex"
Photo Credits: Azari Media
Q: Does Momentum pass the Bechdel Test?
No.