Carey Mulligan gives a standout performance as "Maude Watts," an empowering 24-year-old mother who fights for the right to vote. Director Sarah Gavron and Writer Abi Morgan shed a light on the struggles, heartache and courage of women in early 20th Century England. (BKP: 4/5)
Review by Associate Editor Brigid K. Presecky
With the fight for equality still raging today, filmmakers Gavron and Morgan take viewers back to a tumultuous time in British history – when women were tirelessly fighting for the right to vote. After years of researching participants of the suffrage movement, Abi Morgan created Suffragette's protagonist, Maude Watts, an exhausted sweatshop worker, a wife of "Sonny" (Ben Whishaw) and a mother of young "George" (the precious Adam Michael Dodd).
From the opening scene, Maude is thrust into the world of "rebellious" women as she watches suffragettes break storefront windows and shout loudly in the streets, "Votes for women!" Even at her hellish workplace, full of dangerous machinery and a sexually grotesque supervisor (Geoff Bell), Maude witnesses the power of the movement when her trusted co-worker "Violet" (Anne-Marie Duff) encourages her attendance at a local WSPU (Women's Social and Political Union) meeting.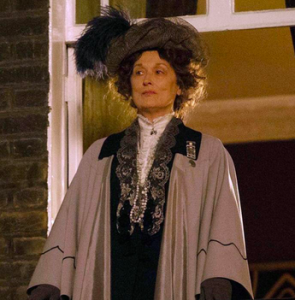 Because of "Edith Ellyn" (Helena Bonham Carter), "Emily Wilding Davison" (Natalie
Press) and co-worker Violet, Maude is inspired to join the fight and follow in the footsteps of activist Emmeline Pankhurst (a small cameo played by Meryl Streep). Her role in the WSPU escalates quickly, however, as she testifies in Parliament for an amendment to a bill which will give women voting rights. But when things do not turn out in their favor, Maude's quiet existence is becomes a world of chaos and upheaval.
When her unsupportive husband Sonny gives their son up for adoption, Maude pleads with little Georgie to remember her name. Mulligan gives her finest performance in the film's most heart-wrenching scene as a mother agonized by the separation from her child.
By seeing the world through the eyes of this protagonist, viewers get an up-close look at what these women endured on a personal level, rather than flipping through pages in a history book or listing off statistics.
Despite some dips in the pacing and overall energy, Morgan creates both female and male characters that make up for it by being real and rounded. By giving different viewpoints to each woman, from kind-hearted mother Violet to intense martyr Davison, the spectrum of viewpoints is represented. Director Sarah Gavron and everyone involved in production brings Morgan's vision to life, creating an inspiring, hopeful narrative about the fight for justice.
© Brigid K. Presecky FF2 Media (10/23/15)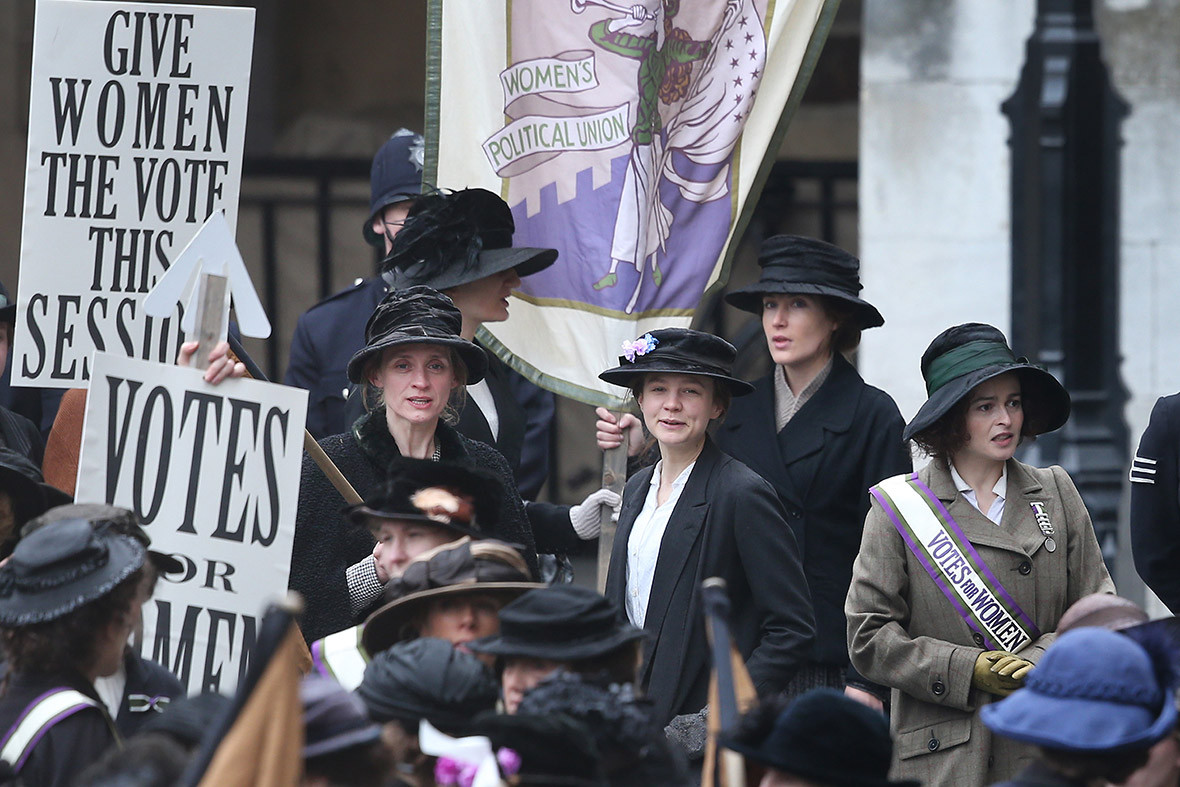 Middle Photo: Meryl Streep as activist "Emmeline Pankhurst"
Bottom Photo: "Maude," (Carey Mulligan) "Violet," (Anne-Marie Duff) "Edith Ellyn" (Helena Bonham Carter) and "Emily Wilding Davison" (Natalie Press) protest for voting rights
Photo Credits: Focus Features
Q: Does Suffragette pass the Bechdel Test?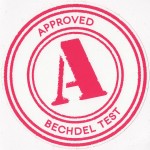 Without a doubt!

A majority of scenes pass the Bechdel Test. "Maude" (Carey Mulligan) has scenes with "Violet" (Anne-Marie Duff), "Edith Ellyn" (Helena Bonham Carter) and "Emily Wilding Davison" (Natalie Press) to name a few. They are all focused on the amendment to the bill and the voting rights of women.