In a shockingly different role for Sarah Silverman, the stand-up comedian gives a dramatic, career-defining performance as a drug-addicted wife and mother of two children. Although the script by Amy Koppelman and Paige Dylan falters in its bizarre, grotesque depiction of suburban housewives, Silverman's transformation is mesmerizing. (BKP: 3.5/5)
Review by Associate Editor Brigid K. Presecky
"Laney" (Sarah Silverman) has a seemingly perfect life – a successful, loving husband "Bruce" (Josh Charles), two sweet children (Skylar Gaertner and Shayne Coleman) and a even a new family dog. She has the pristine house, the nice car and the helpful friends. Would this life make you turn to hardcore drug use? Would it make you want to have an affair with a close friend's husband? It would to Laney, the cocaine-addicted mother and wife whose handle on her depression worsens by the day.
Maybe her actions are sparked by abandonment from her father. Maybe her actions spice up life in the humdrum suburbs. Maybe her medication is altering the chemical imbalance in her brain … Or, maybe, it is a combination of everything. Laney spirals out of control and ends up in rehab, only to be released back into "normal" life with the threat of relapse circling around her.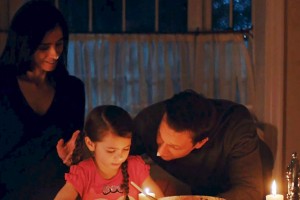 I Smile Back is a slowly-paced, 85-minute film that spans Laney's months-long journey, making for a more interesting character study than an actual story with a beginning, middle and end. The intentions of writers Koppelman and Dylan are clear: Laney is used as a vessel to showcase how battles of depression and drug use can tear a family apart … with seemingly unending, vicious cycles of disappointment and heartache.
Watching Silverman play every emotion as a scared, protective, suicidal, drug-addicted mother is a journey all its own. What the writers failed to do, however, is make a connection between Laney and viewers. Why should we root for this woman? Why are stay-at-home mothers continuously depicted as catty, spoiled, lonely souls who have nothing – and no one – to turn to but drugs? Granted, not all homemakers in films are in the same category as Laney, but nothing about the lead character makes you want to see her succeed.
A character does not have to be "likeable" or always do the right thing, but there needs to be some characteristic of a film's protagonist to make the audience care – Laney doesn't fit the bill. To make this point clear: Sarah Silverman is the reason to see I Smile Back. It would not come as a surprise to see her name on the 2015 Oscar ballot, given her impressive performance as this deeply distraught woman.
Stories are often told to show an evolution of a particular character or characters. Whether Dorothy is realizing there's "no place like home" or Lex Luthor is giving up the last shred of his humanity, there is a want and a need for those characters to grow. It can be uplifting or discouraging, but what makes a good story is witnessing the arc of the hero (or antihero). Laney's journey is resemblant of a heart monitor: ticking up and down, up and down and then, simply, flatlining. It leaves the audience unfulfilled, unsatisfied and ultimately disappointed.
© Brigid K. Presecky FF2 Media (10/23/15)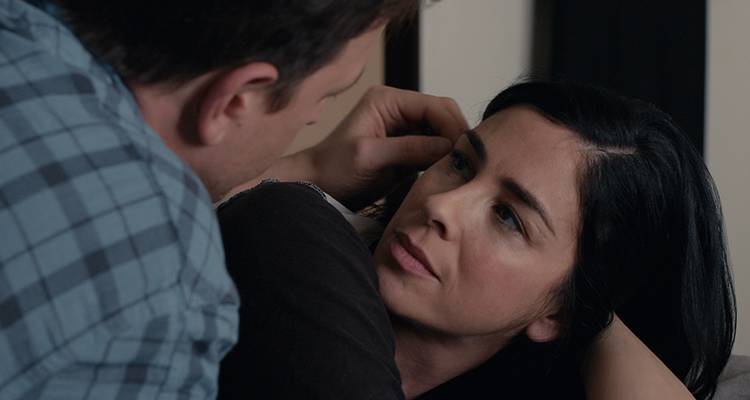 Middle Photo: Sarah Silverman as "Laney" with Josh Charles as "Bruce" and Shayne Coleman as their daughter "Janey." Not pictured: Skylar Gaertner as her anxiety-ridden son "Eli."
Bottom Photo: Laney and Bruce share an intimate moment as husband and wife
Photo Credits: Broad Green Pictures
Q: Does I Smile Back pass the Bechdel Test?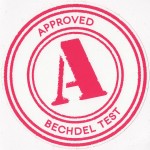 Yes.
"Laney" (Sarah Silverman) has a young daughter "Janey" (Shayne Coleman) and a half-sister she meets for the first time. Although the scenes are brief, they do pass the Bechdel Test.