Full Title = Peggy Guggenheim: Art Addict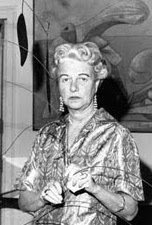 Directed by Lisa Immordino Vreeland, Peggy Guggenheim: Art Addict is your standard historical documentary. It artfully depicts the life of Peggy Guggenheim, her fierce love of art, and the prominent influence she had on the world she loved. (JEP: 3.5/5)
Review by Contributing Editor Jessica E. Perry
Peggy Guggenheim was born into a very prominent family, but always felt like an outsider in the bourgeois lifestyle. When she was 19 Peggy began working in a bookstore. It was here that she was first exposed to art. Once the door to the art world had been opened, Peggy could not get enough. She had found her people and her passion.
Peggy was also a sexually curious and promiscuous young woman. She desperately wanted to lose her virginity, and her marriage to Laurence Vail allowed her to do just that. However, their marriage quickly took a turn. Vail was abusive, and eventually the two were granted a divorce. But this too came with consequences.
In the tapes, Peggy states that, at the time, the court would not let her keep both her son and her lover. She chose her lover, and gave up her son Sinbad to Vail's custody. A little while later, however, said lover died tragically and quite unexpectedly when he went in for minor hand surgery and never woke from the anesthesia. Throughout her life, Penny continued with her "sexually deviant" ways, and as a woman, was criticized for behavior that most men of the time were partaking in.
Peggy proceeds to move to Europe and struggles with whether to or not to open a publishing company or an art gallery. In the interview tapes, she
admits that it came down to expenses. The art gallery was cheaper to start, and that was the sole reason she chose it over the publishing company. But it was the opening of this gallery that marked an important moment in the art world, as Peggy would become a prominent force in the world of modern art in both Europe and America.
During World War II, Peggy helped artists flee Europe for the United States, and in 1941 she made it safely to America herself. She opened a gallery in New York that served as a link between American and European Modernism as one of the first galleries to show both schools of art together in one space.
During this time, Peggy also discovered Jackson Pollock, which she marks as her greatest achievement. She eventually made her way back to Europe settling in Venice, Italy where she opened a museum of modern art. For Peggy, it was always art above all—art above money, art above life.
Directed by Lisa Immordino Vreeland and written by Vreeland and Bernadine Colish, Peggy Guggenheim: Art Addict is a comprehensive look at the life of a prominent figure in the art world. It does not paint Peggy as a saint, but instead, is harsh with its truth. While the film is not much more than a standard talking heads documentary (although featuring interviews with Robert DeNiro and other important figures), it is elevated to a new level because of the first-hand interviews with Peggy herself. For art aficionados, this documentary is a fascinating portrait of someone so important to the art world … For everyone else, it is interesting at best and may or may not hold your attention the whole way through.
© Jessica E. Perry FF2 Media (11/8/15)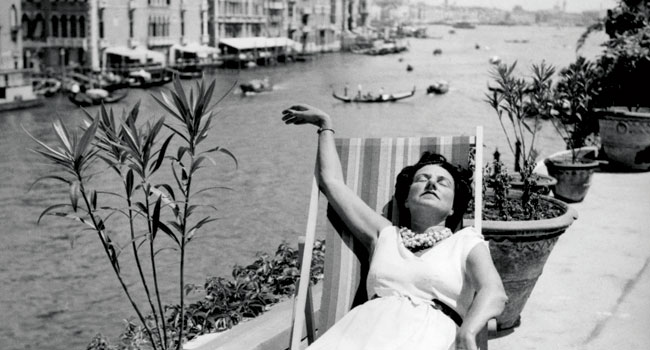 Top Photo: Peggy later in life, at her home in Venice.
Middle Photo: Peggy had a love for dogs, owning at least fourteen.
Bottom Photo: A youthful Peggy, basking in the sun in Europe.
Photo Credits: Dakota Group
Q: Does Peggy Guggenheim: Art Addict pass the Bechdel Test?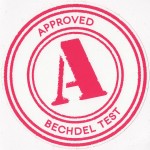 Yes.
The tapes of the last interview with Peggy Guggenheim are played almost continuously throughout the film. These tapes depict Peggy speaking with her biographer Jacqueline Bograd Weld. They speak of everything from art and life, to World War II.