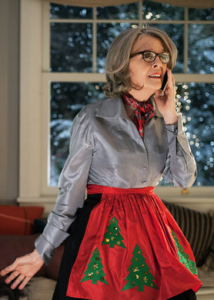 The entire self-pitying Cooper clan reluctantly reunites for one last family Christmas. Director Jessie Nelson's well-intentioned holiday movie strives to be a hybrid of Love Actually and The Family Stone, yet the star-studded cast of Love the Coopers never quite amounts to its potential. (BKP: 3.5/5)
Review by Associate Editor Brigid K. Presecky
The film opens with the holiday season in full swing, with gingerbread cookies being decorated and Christmas lights strung from every front porch. Narrator Steve Martin (If you squeal at the Father of the Bride Martin/Keaton connection, you are not alone) introduces us to the Cooper family. Married couple "Sam" (John Goodman) and "Charlotte" (Diane Keaton) are planning on having one last family Christmas before telling their grown children, "Hank" (Ed Helms) and "Eleanor" (Olivia Wilde) that they are getting divorced. But it turns out that Sam and Charlotte are not the only ones who are miserable during this particular holiday season.
While single father Hank cannot find employment as a photographer, his playwright sister Eleanor anticipates disappointment (or as she calls it, "anticippointment") from her parents and puts off Christmas dinner by waiting at the airport bar. She just so happens to chat up camo-dressed, Republican "Joe" (Jake Lacey) who is about to be deployed and begs him to come home with her and pretend to be her boyfriend. If this plot sounds familiar, it is because it is. Typically, this formula works, but here it feels contrived due to the lack of chemistry between Wilde and Lacey.
Meanwhile, Charlotte's sister, "Emma" (Marissa Tomei) shoplifts a Christmas present and spends the majority of the film in the back seat of a cop car, where she bonds with "Officer Percy Williams" (Anthony Mackie). Every one of these stories feels disjointed from the next, never really coming together until the final act of the film. This storyline, in particular, feels especially disconnected from the rest of the film, especially Percy's suppressed homosexuality backstory. Thankfully, Emma's story has a sweet resolve that makes the role feel like less of a waste of Tomei's talent.
In another off-kilter plot, Charlotte's father "Bucky" (Alan Arkin) goes to the same diner everyday and flirts with "Ruby" (Amanda Seyfried). At first, you are led to believe he's a grandfather figure to her. But in a bizarre way, they allude to more romantic feelings which feels suited for a different movie altogether.
When the whole Cooper gang sits down for dinner, their separate storylines come together for the climax of the movie. However, the climax comes a little too late. There is far too much time spent apart than together, making the film feel longer than it needs to be. You never quite feel their familial connection because they are hardly together on screen. It almost feels like you are watching a season finale episode of Brothers and Sisters or Parenthood without having seen the previous 21 episodes.
Yet, the theme of being thankful for family, despite our individual problems and "anticippointments," leaves you walking out of the theater excited for the holiday season. Because every house with twinkling lights, every dinner table full of green bean casserole and half-eaten mashed potatoes, sit families just like the Coopers: people who are divorced or unemployed or unhappy with their lives. When you are reminded of how precious life really is, having an obnoxious family really isn't all that bad.
© Brigid K. Presecky FF2 Media (11/16/15)
Top Photo: Diane Keaton as matriarch "Charlotte"
Middle Photo: Alan Arkin as "Bucky" and Amanda Seyfried as "Ruby"
Bottom Photo: The Cooper family sits down for Christmas dinner
Photo Credits: CBS Films
Q: Does Love the Coopers pass the Bechdel Test?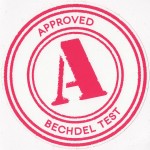 Yes!
"Charlotte" (Diane Keaton) has a tumultuous relationship with her younger sister, "Emma" (Marissa Tomei). Since Emma never had a family over own, her anger and jealousy bubbles to the surface until she and Charlotte have a screaming match about their lives.