Filmmaker Tara Subkoff brings us #Horror a horror film based on real life events and the harsh truth about the effects of cyber bullying. While dealing with a very important topic, #Horror unfortunately misses the mark. (JEP: 3/5)
Review by Contributing Editor Jessica E. Perry
Written and directed by Tara Subkoff, #Horror deals with the growing issue of cyber bullying. Based on true events, the film deals with an important topic, but is faulty in its execution.
"Sam" (Sadie Seelert), like any 12-year-old girl, wants to fit in. As the only scholarship student at her new school, she'll do anything to become friends with the wealthy popular girls. These new "friends" of hers are addicted to a social media game where posting cruel pictures of each other online earns them points.
The girls have a sleepover at "Sofia Cox's" (Bridget McGarry) giant mansion. "Cat" (Haley Murphy) overhears Sofia's mom "Alex" (Chloë Sevigny) talking about how the house may be haunted since the artist that lived there before went on a crazy murder spree. Naturally, Cat tells the girls as a ploy to spook them.
However, Cat angers quickly. She soon turns on her friend "Georgie" (Emma Adler) for being too overweight, urging Georgie to kill herself. Cat's incessant bullying leads Sofia to kick her out of the house. Cat reluctantly leaves and turns hysterica
l, running alone through the woods.
Meanwhile, the rest of the girls agree to lock their phones away in a safe to prevent Georgie from having to see the nasty things that Cat posted about her online. All the while, a black leather gloved hand records the girls' sleepover.
Once they have forgone the technology, ceasing their online addiction if only for a little while, the girls begin to talk honestly and learn new things about one another. But one girl's obsession with the online game goes too far, and in an effort to be remembered forever and the all time top scorer, an innocent sleepover soon turns murderous.
The film is interesting in that it deals with a very pressing topic. Cyber bullying is becoming a growing problem for young children, and based on real events, the film will hold your attention for this reason. But sadly, it is only for this reason. The film itself is a bit of a disjointed mess. The parents have no real role in the film other than to further confuse an already flimsy the plot.
As someone who scares easily at horror films, I can honestly say that I was not scared once. So it appears entitling the film #Horror was wishful thinking on Tara Subkoff's part, as the only thing you'll be horrified by is the girls' cruel behavior towards one another. And sadly the film as part of the "horror" genre just could not hit its mark.
© Jessica E. Perry FF2 Media (11/22/15)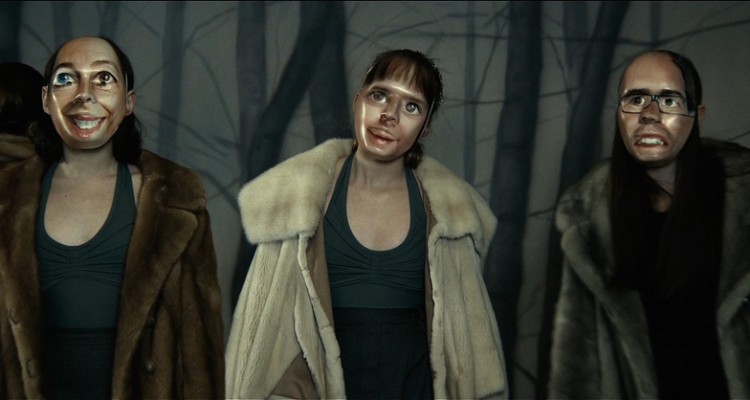 Top Photo: Poster for #Horror.
Middle Photo: Sofia calls for help.
Bottom Photo: The girls dance in creepy masks during their sleepover.
Photo Credits: Paul M. Roura
Q: Does #Horror pass the Bechdel Test?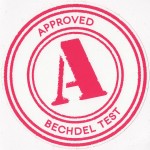 Yes, 100%.
Sam has a conversation with her Mom (Natasha Lyonne) about wanting to fit in with her new friends, and not wanting her mom to interfere.
Likewise, at the sleepover the girls talk about many things, primarily turning to bully one another about their actions and/or appearances.