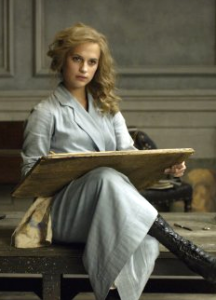 Inspired by the lives of Lili Elbe and Gerda Wegener, The Danish Girl is a stunning film written for the screen by Lucinda Coxon and directed by Tom Hooper. The film is based on the incredible true story of Lili Elbe, who was one of the first known people to undergo sex reassignment surgery. It is a story of love, loss, and the beauty of finding one's true self. (JEP: 4/5)
Review by Contributing Editor Jessica E. Perry
 The Danish Girl marks another stunning performance from Eddie Redmayne—who won the Oscar last year for his portrayal of Stephen Hawking in The Theory of Everything.
 Based on the novel by David Ebershoff and adapted for the screen by Lucinda Coxon, The Danish Girl is based on the life of Lili Elbe who is one of the first known people to undergo sex reassignment surgery.
"Einar Wegener" (Eddie Redmayne) and his wife "Gerda Wegener" (Alicia Vikander) appear to have an admirable marriage; their peers laughing as they explain that Einar has only ever had eyes for Gerda. Both Einar and Gerda are painters. Einar is already known for his artistic work, but Gerda still struggles to find her subject.
Gerda is in the process of painting a portrait of her friend "Ulla" (Amber Heard), a beautiful dancer. But Ulla's busy rehearsal schedule makes it hard for her to come to sittings, and Gerda is concerned she will not have the painting completed in time.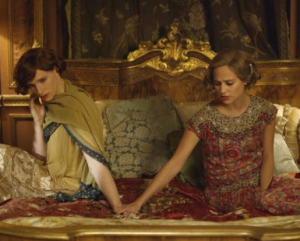 So she asks Einar to sit for her in Ulla's clothing so she may continue the portrait. After some convincing Einar agrees. But sitting in women's clothing, touching the silky fabrics and mimicking a woman's posture, evokes a visible shift in Einar. We see this shift immediately, but Gerda does not.
So when Gerda convinces Einar to go to a work function dressed in women's clothing as "Lili"—the name Ulla gave to Einar when she saw him posing for the portrait in her dress—Gerda believes it is all just a silly game.
After that night, however, Einar cannot go back. He "dreams [Lili's] dreams, and thinks her thoughts" and can no longer deny himself of who he truly is. Gerda finds her muse in Lili, but fails to understand that Einar is slipping further and further away and will never come back to her. Finding Lili allows Einar to become who he always believed himself to be, and going back to denying that identity is not an option.
It is important to note, that The Danish Girl is inspired by the lives of Lili Elbe and Gerda Wegener, but that the love story itself is fictional. With that aside, Eddie Redmayne and Alicia Vikander are perfectly cast, beautifully portraying the on screen couple's love for one another as Lili's transformation turns the life they both knew upside down.
The film is perhaps not as hard hitting as one would expect, but director Tom Hooper and screenwriter Lucinda Coxon have succeeded in delivering a beautiful and emotionally poignant film. But it is Vikander and Redmayne who truly give the film its strength, delivering two absolutely stunning performances, and no doubt placing themselves at the forefront of the Oscar race for best performance this year.
© Jessica E. Perry FF2 Media (12/18/15)
Top Photo: Gerda focused on her work.
Middle Photo: Gerda struggles to accept that Einar is not coming back to her, and to love Lili for who she is.
Bottom Photo: Lili poses for her portrait. Gerda paints her muse.
Photo Credits: Agatha A. Nitecka
Q: Does The Danish Girl pass the Bechdel Test?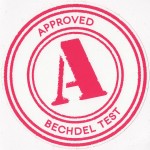 Yes, Gerda and Lili share many poignant conversations throughout the film. In one such powerful scene, Lili speaks to Gerda about how beautiful it is to truly be herself for the first time.