Written and directed by Diane Bell, Bleeding Heart is a small story with big moments, portraying the lengths one will go to for family, even family you just met. "May" (Jessica Biel) meets her long lost sister "Shiva" (Zosia Mamet) and the two quickly grow close. But when Shiva's abusive boyfriend begins to threaten Shiva's life, May will go to any length to protect her. (JEP: 3.5/5)
Review by Contributing Editor Jessica E. Perry
"May" (Jessica Biel) is a yoga instructor. She prays for peace and lives a life grounded in non-violence. But May is struggling with the newfound knowledge that she has a long lost sister, and is wrestling with what to do now that she has finally tracked her down.
So one day, May makes a choice. She gets into her old classic car (the subject of a few too many conversations with no plot payoff) and drives the short thirty-minute trip to the address she has managed to track down for her sister. But May can't bring herself to get out of the car.
Suddenly, a nameless faceless man strides over admiring May's ride and then proceeds to enter the very same apartment May has been eying. After the man enters, a young woman comes out and May recognizes her for who she is… her little sister.
May goes home and tells her boyfriend,"Dex" (Edi Gathegi), that she has found her sister. However, he is less than supportive, feigning interest when really his sole focus is growing their yoga studio. He encourages May not to meet her sister right away as t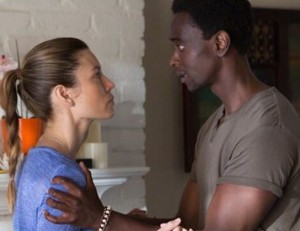 hey have "a lot going on" with their yoga studio and she needs to be focused. May mumbles her agreement, but the next day gets in her car once again and drives to her sister's address.
This time May knocks on the door, and the young woman answers. To escape the listening ears of her boyfriend, the two women agree to meet at a bar around the corner. Both women, although polar opposites, discover that they have an instant bond neither expected.
May's sister—who asks to be called "Shiva" (Zosia Mamet)—explains that she gives massages for work and a naive May believes her at first. Only to discover soon after that her self deemed title is actually "sex worker."
As the two women grow closer, they both face resistance from their boyfriends. Dex doesn't like the changes he sees in May, and although he prides himself on helping others, he has no interest in helping Shiva because of her line of work. Shiva, on the other hand, is in an abusive relationship with her boyfriend turned pimp "Cody" (Joe Anderson). When Cody begins threatening Shiva's life, May finds herself going to extremes to protect her sister. She begins to do things she never though herself capable of, but she never shies away from this new side of herself, as she will do anything to protect family.
Bleeding Heart boasts a strong female cast and some suspenseful moments, but it won't quite have you on the edge of your seat. One must commend writer/director Diane Bell on Bleeding Heart for its subject matter, important message, and strong female characters. But ultimately the seemingly solid execution finds itself faulty in parts. Bleeding Heart is good not great, but Biel and Mamet will keep you in it until the end.
© Jessica E. Perry FF2 Media (12/12/15)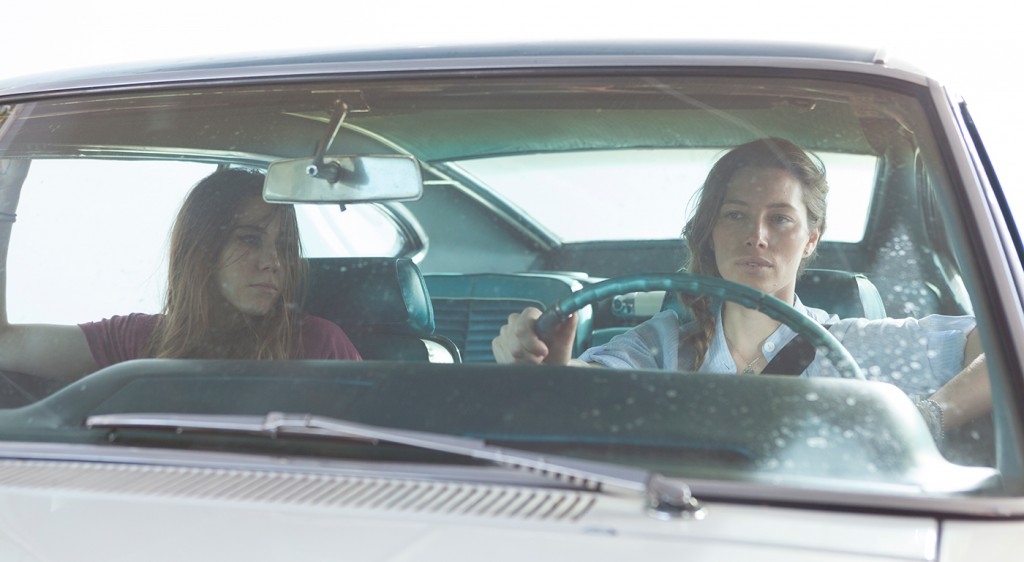 Top Photo: May will do anything to protect family.
Middle Photo: Dex and May no longer see eye to eye.
Bottom Photo: Shiva and May leave town.
Photo Credits: Aaron Epstein
Q: Does Bleeding Heart pass the Bechdel Test?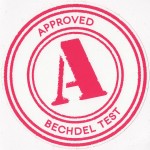 Yes definitely!
When May and Shiva first meet they speak about their mother, their upbringing, and their current jobs. The two women have a lot of catching up to do resulting in many important conversations about life and what it means to be family.