The Sam Rockwell-led satire tells the story of a Biblical archaeologist on the hunt for new artifacts. The bizarre comedy from Jared and Jerusha Hess has a tone similar to their 2004 megahit Napolean Dynamite, with the satirical humor geared towards a niche audience. (BKP: 3.5/5)
Review by Associate Editor Brigid K. Presecky
The film opens with footage from a VHS tape, the kind that would be shown to elementary school students in the late 1980s, documenting the findings from an archaeologist "Don Verdean" (Rockwell). Verdean travels around the world, seeking thousand-year-old artifacts to prove the existence of God and His infamous Biblical stories.
Cut to 10 years later as Verdean spends his time lecturing churchgoers and reading from his own book about his travels and findings. The washed-up archaeologist and his charming, plain Jane assistant "Carol" (Amy Ryan) find new inspiration, however, thanks to an eccentric leader of the church, "Tony Lazarus" (Danny McBride) and his ex-prostitute wife, "Joylinda Lazarus" (Leslie Bibb). If Don and Carol can find the church an impressive new artifact (Goliath's skull, maybe) that will reignite people's faith in God, all of his expenses will be paid.
Don Verdean schemes to find artifacts, threading a web of lies as he fabricates when and where he finds Goliath's skull. Some moments are more enjoyable than others, thanks to the comedic timing of Will Forte as "Pastor Fontaine." In a particularly funny scene, Pastor Fontaine tries to convince parishioners that Satan is trying to take hold of us through everyday things, even cereal. "Satan can get you to start your day off wrong and he's gonna do it through breakfast cereal. Grape nuts. Nuts. Testicles. Nice try, Satan." Amy Ryan, versatile in both drama and comedy, is convincing (and somewhat underused) in her role as timid Carol. Likewise, Rockwell naturally elevates the material to make it engaging, as he does in every film he is in.
Although the writing has sharp, witty and smart dialogue ("We need something big. The Holy Grail of artifacts." "And what might that be?" "The Holy Grail") the overall joke tires around the 30-minute mark. The parody of intense churchgoers and the caricatures of the holy devout seems better suited for a short film, or better yet, a Saturday Night Live sketch. However, like the niche audience of Napoleon Dynamite, the oddball premise might work for fans who share the same sense of humor as Jared and Jerusha Hess. When Joylinda Lazarus sings a ballad about women catering to their husbands' needs, the ridiculous lyrics make for a laugh-out-loud experience, particularly for those who understand Biblical references and will not be offended by the mockery of extremist Christians.
© Brigid K. Presecky FF2 Media (12/13/15)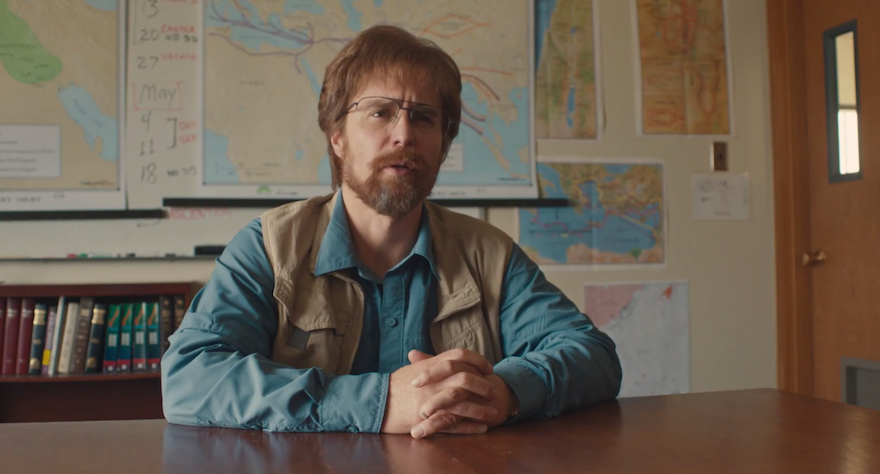 Middle Photo: Amy Ryan as "Carol" and Sam Rockwell as "Don Verdean"
Bottom Photo: Don Verdean gets the assignment to find Goliath's skull
Photo Credits: Sundance Film Festival
Q: Does Don Verdean pass the Bechdel Test?
No.