Full Title = The Winding Stream: The Carters, The Cashes, and The Course of Country Music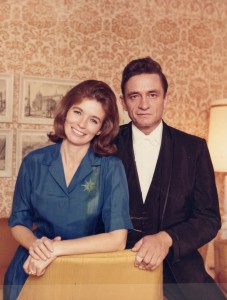 Exhilarating film about the Carter Family, Country Music stars from the dawn of recorded music right up to today. Filmmaker Beth Harrington has directed The Winding Stream with skill and smarts, and Mike Olson contributes terrific photoanimations to make the pre-Selfie Era come alive on screen. Yup, even someone like me who hates Country Music will love this film 😉 (JLH: 4/5)
Review by Managing Editor Jan Lisa Huttner
Oy! Is it possible to fully appreciate a documentary film when it's about music that has always sounded to you like fingernails on a blackboard?
I love music. I love roots music. I have over a dozen Putamayo mixes from all around the world. There's only one kind of music I've never been able to listen to with pleasure and that's American Country Music. Sure, I loved Nashville, but the songs in Nashville were created for the Nashville soundtrack. Real Nashville? Authentic Grand Ole Opry? Oy!
So I went into The Winding Stream with some trepidation. Sure enough, even though it's a terrific story, the first half with its high nasal twang was tough going. Then Johnny Cash appeared and everything was fine!
The Winding Stream begins in rural Virginia, when a misfit named Alvin Pleasant Delaney Carter (aka "A.P.") meets and marries a teenager named Sara Dougherty. A.P. likes to sing and Sara likes to sing, and so does Sara's cousin Maybelle Addington (who just happens to be married to A.P.'s brother Ezra). Per Wikipedia: "All three were born and raised in southwestern Virginia, where they were immersed in the tight harmonies of mountain gospel music and shape note singing."
One day in 1927, A.P. hears that a record producer named Ralph Peer will be in nearby Bristol, Tennessee to audition local groups. So he persuades his wife and sister-in-law to travel with him to Bristol up hill and over dale, and the rest–as they say–is "history." Peer recorded the group–under the name The Carter Family–and after royalty checks began flowing into his mailbox, A.P. became obsessed with writing new songs as well as going on "collecting trips" to cull the best from his neighbors. 
Meanwhile, Sara and Maybelle stayed home, doing all the heavy physical things women did in those days to keep house and raise an ever growing number of children. You know that famous line about Ginger Rogers ("After all, Ginger Rogers did everything that Fred Astaire did. She just did it backwards and in high heels."), well Maybelle traveled to Bristol when she was almost 8 months pregnant!
The first Carter Family recordings were made in Bristol on August 1, 1927, and Maybelle's first daughter Helen was born on September 19. Then she gave birth to June and Anita, while Sara also gave birth to three children (Gladys, Janette, and Joe).
For a while, A.P. moved them all to Texas where they became headliners on a Mexican radio station called "the boarder blaster" because it was targeted to American audiences. But eventually it all became too much for Sara. She divorced A.P., remarried, and move to California. Maybelle, on the other hand, transformed her line into "Mother Maybelle and the Carter Sisters," and carried on until June married Johnny Cash at which point great success was finally assured.
I know my tone is a bit snide, but seriously: this is a terrific story! And once Johnny starts singing–alone, with June, and/or with anyone else–the soundtrack is pure pleasure.
Filmmaker Beth Harrington has directed The Winding Stream with skill and smarts. I think she knows some people–like me–just don't have the right ears for Old Time Country Music, so she has many wonderful musicians on hand to cover A.J.'s best-known songs like "Keep on the Sunny Side" and "Will the Circle Be Unbroken." For example, follow link to listen to the Carolina Chocolate Drops' rendition of "When the World's on Fire."
[Side Note: I find it interesting that the cover that most pleased my own ears was done by contemporary African-American musicians now staking their claim to their own heritage. Early on, there is a segment in which Harrington describes how A.J. worked with local Black musicians, but failed to acknowledge their contributions to his archive once he became famous.]
Kudos also to Mike Olson who did the terrific photoanimations. No actual pictures remain of the trip to Bristol–a trip made way before the Selfie Era–but Olson masterfully recreates it, bumps and all.
© Jan Lisa Huttner FF2 Media (12/19/15)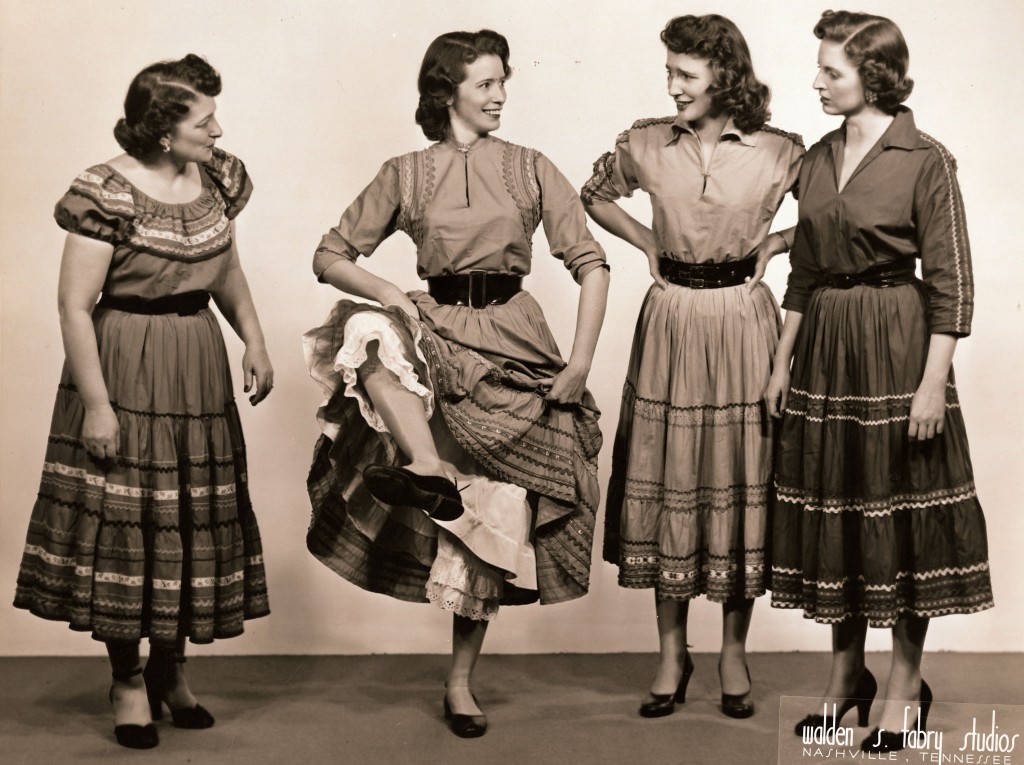 Top Photo: Johnny Cash with wife & partner June Carter Cash.
Middle Photo (from left): A.P., Sara, and Maybelle.
Bottom Photo (from left): Mother Maybelle with daughters June, Helen and Anita.
Photo Credits courtesy of The Winding Stream website.
Q: Does The Winding Stream pass the Bechdel Test?
With documentary films, it's often a judgment call. In this case, I am going to say yes, because filmmaker Beth Harrington (who is a woman) interviews an equal number of men and women, and male and female voices are well balanced on the soundtrack. She also offers insights into the lives of the women which I doubt would be so evident if this film had been done by a team of male filmmakers with no women on it. Just sayin'