Game of Thrones actress Natalie Dormer stars in a dual role as twin sisters, successful blondie "Sarah" and gothic, anxiety-ridden "Jess." When Jess disappears in a Japanese forest (known for their infamous suicide rates) Sarah sets out on a journey to save her sister. Taylor Kinney co-stars as her hunky forest guide, the only highlight in a script more horrifying than its plot. (BKP: 2/5)
Review by Associate Editor Brigid K. Presecky
"If you see something bad in the forest, it's not real, it's in your head."
In that case, The Forest must have been all in my imagination.
The story follows "Sarah" (Dormer) in pursuit of her lost, free-spirited sister "Jess" (a brunette Dormer) into the titular "suicide forest," specifically the Aokigahara forest at the base of Mount Fuji. In an extremely drawn-out exposition, Sarah and her guides, "Aiden" (Kinney) and "Michi" (Yukiyoshi Ozawa) stumble through the woods, searching the woodlands as fruitlessly as the writers (Nick Antosca, Sarah Cornwell and Ben Ketai) search for a plot line.
For the first hour, Sarah's journey is slow
and riddled with scare tactics in the form of whispering voices and hanging corpses. Any attempts to instill fear in the audience are feeble, from Sarah dramatically stepping over the "No Entry" sign to hokey dialogue about her freaky twin connection. The most frightening aspect of The Forest is how uneventful it actually is.
When Michi warns that the forest makes you see things, Sarah quickly starts to question her surroundings: What's real? What's a hallucination? Or, the most important question of all: Who cares? The mystery is not about Jess' whereabouts, it is about how Sarah's iPhone battery lasts for 48 hours straight.
There are very few – if any – reasons to invest in Sarah's search. Both she and her twin sister lack any sort of dimension, despite the attempts to provide details about their traumatic back story. Taylor Kinney (of Chicago Fire, or as the loud whisperer sitting behind me in the theater identified as "Lady Gaga's fiance!") does provide some relief as the American turned Australian turned Japanese journalist who wants to write a piece on Sarah's search.
Before Sarah enters the dreaded forest, she is warned multiple times, "Do not stray from the path." Clearly, Director Jason Zada and the writers did not stray from the path of tired horror movie cliches.
© Brigid K. Presecky FF2 Media (1/09/16)
Middle Photo: Taylor Kinney as lovable forest guide/reporter, "Aiden"
Bottom Photo: Natalie Dormer as scared, gullible "Sarah" in the suicidal woods
Photo Credits: Supplied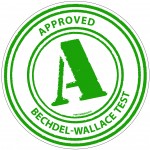 Q: Does The Forest pass the Bechdel-Wallace Test?
Barely.
"Sarah" and "Jess" share very few, fleeting scenes together. Not recommended.