Writers Jean-Claude Carrière, Caroline Deruas-Garrel, Arlette Langman, and Philippe Garrel illustrate a sentimental and hilariously complicated romance. Casually set against Parisian architecture and in soft black-and-white, director Philippe Garrel crafts In the Shadow of Women beautifully.
"Pierre" (Stanislas Merhar) and "Manon" (Clotilde Courau) seem to be having trouble with both their artistic ambitions and their marriage. They're working together on a documentary about a French Resistance fighter "Henri" (Jean Pommier). It is this kind of yearning that seems to be the cause of Pierre and Manon's dissatisfaction in their marriage as well.
When Pierre begins an affair with graduate student "Elisabeth" (Lena Paugam), Manon can sense his coldness towards her, and she begins an affair of her own. The ensuing love triangles turn into a game of childish hypocrisy. Narration (voiced by Louis Garrel, filmmaker and son of writer/director Philippe Carrel), joined by voiceovers conveying the characters' own thoughts, is both critical of the lovers' absurd behavior and sympathetic to their situation.
While Pierre, Manon, and their lovers' foolishness is childlike, an effect that is reinforced by the movie's soft style, their problems are problems of adults. Manon doesn't know how to balance having her own identity with being a good lover, and Pierre wonders whether freedom to follow his instincts can keep him feeling alive. The movie's storytellers handle all this subtly and casually, and it's the kind of movie that makes adulthood, in all its problems, make sense to me. (AEL: 4/5)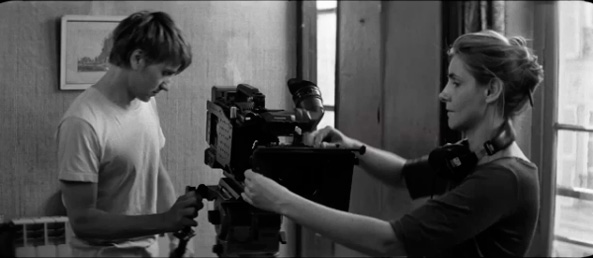 Top Photo: Stanislas Merhar and Clotilde Courau as Pierre and Manon.
Bottom Photo: Manon and Pierre look at some of their documentary footage.
Photo Credits: Guy Ferrandis
Q: Does In the Shadow of Women pass the Bechdel-Wallace Test?
 Not quite.
Manon meets up with her mother and her friends in cafes, where they comfort each other and give each other advice, but the conversation topics don't extend beyond their marriages. Manon's mother (long-time French stage icon Antoinette Moya) tells Manon not to sacrifice her studies for her husband, but Manon explains that she sees true love in working with her husband, where the lovers share their ambitions.
Mini-Review by FF2 Intern Amelie E. Lasker
Visit GoWatchIt for viewing options:
https://gowatchit.com/watch/movies/in-the-shadow-of-women-302291
© Amelie E. Lasker FF2 Media (6/22/16)