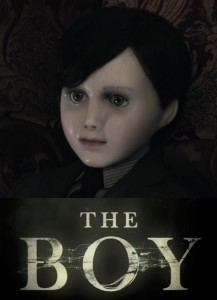 Screenwriter Stacey Menear draws viewers into an eerie mansion as American nanny "Greta," (Lauren Cohan) babysits an eight-year-old, life-sized doll. The unpredictable and peculiar plot engages viewers for the majority of the film, making them wonder if young "Brahms" is a real boy, haunting his new housekeeper. (BKP: 3.5/5)
Review by Associate Editor Brigid K. Presecky
Montana-born Greta is looking for a new job and a new life, away from America and her abusive ex-husband. Luckily, she finds a three-month nannying job in England for the Mr. and Mrs. Heelshires and their eight-year-old son, "Brahms." However, Mr. and Mrs. Heelshire never informed Greta that their "son," is actually a porcelain doll who needs to be cared for and played with morning, noon and night. If she does not follow the strict rules, "Do not leave Brahms alone. Do not cover his face. Always kiss goodnight, etc." bad things will happen.
Laughing it off like a joke and an easy way to make money, Greta covers Brahms with a blanket and ignores the Heelshires' specific requests. Alone in the Victorian mansion with no internet, cell service or entertainment, Greta eventually finds companionship in the form of the family's grocery man, "Malcolm" (Rupert Evans). The two flirtatious singles hit it off immediately, much to the dismay of Brahms … who has uncovered himself with the blanket and started silently wreaking havoc in the house.
In predictable fashion, spooky occurrences manifest as Greta realizes Brahms is, in fact, a real-life boy. Viewers go along for the journey and easily scare at classic horror movie tropes like shadows, dark objects and loud surprises. The twists and turns keep them guessing as to who, what and how of it all. That is, until the major plot twist in Act Three transforms a question into an answer, and a scare into a groan.
Lead actress Lauren Cohan (with a multitude of television credits, most notably The Walking Dead) is fit for the big screen. It takes a considerable amount of talent to act – in wide-ranging emotion – opposite an inanimate object. Writer Menear gives Greta's character a backstory that adds to the drama of The Boy, however, the exposition and rising action are much more compelling than the bizarre, over-the-top climax.
Like Brahms himself, this film had two sides: mostly good, but when bad … really bad. Although most of the William Brent Bell-directed film feels effortlessly compelling, not every plot point connects in the final act. Maybe … if they had just followed the rules. Sleep tight.
© Brigid K. Presecky FF2 Media (1/25/16)
Middle Photo: Lauren Cohan as "Greta" with Brahms
Bottom Photo: Brahms, the eight-year-old "boy"
Photo Credits: STX Entertainment
Q: Does The Boy pass the Bechdel Test?
Not really. However, it is established that Greta (Lauren Cohan) has a strong relationship with her sister … over phone conversations.