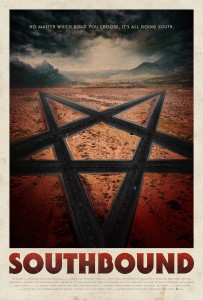 Written and directed by a creative team including Roxanne Benjamin and Susan Burke, Southbound tells the tale of five different horror stories, all taking place along one single stretch of desert highway. Will little story but lots of fright, Southbound is told with a twist ending…so stay in your seat until the credits roll. (JEP: 3.5/5)
Review by Contributing Editor Jessica E. Perry
Southbound is a horror film comprised of five stand-alone, yet interconnected stories. Although the five segments often seem disjointed throughout the film, the payoff in the end makes it clear where each story connects.
When the film opens, "Mitch" (Chad Villella) and "Jack" (Matt Bettinelli-Olpin) drive through the desert with blood stained hands and faces. They're running from the events of the night before, vowing to return home. The two men pull off at a diner to clean the blood off their faces, but once there, they are haunted by the presence of two demon skeleton creatures. Jack and Mitch hastily flee the diner, but each time they speed away from the dusty parking lot, they find themselves back in the same place—literally unable to escape their demons.
"Ava" (Hannah Marks), "Kim" (Nathalie Love), and "Sadie" (Fabianne Therese)—friends and band members—wake up extremely hung over from the happenings of the night before. The three girls pack up and leave their motel (which just so happens to be directly next to the aforementioned diner) and set off on the road to their next gig. Soon after leaving, their van gets a flat tire, and alone in the middle of an empty desert, the girls agree to take a ride from a suspicious couple. Back at the couple's home, the girls stay for a small dinner party. When things take a turn later that night, Sadie soon finds herself running for her life from her two best friends. 
"Lucas" (Mather Zickel), drives his Audi down the dark desert highway talking to his wife on the phone through his headphones. While talking, he's scrolling through pictures of his wife deciding which dress she should wear for an event. Clearly not watching the desolate road in front of him, Lucas does not see the woman run into the middle of the road. After discovering that she is still alive after the car accident, Lucas immediately calls 911. But when the phone operators have a plan of their own, Lucas' night—and life—is turned upside down.
As Lucas flees, hanging up the 911 call, the film cuts to a woman speaking on a payphone. The mysterious woman hangs up the payphone she was speaking on and walks into a dive bar. When a man barges in after her, gun in hand, he demands to be brought to his sister "Jesse" (Tipper Newton)—who he has been searching for for years. But when he discovers that Jesse didn't want to be found, his night becomes one filled with demonic and supernatural creatures in the same stretch of desert as the others.
Jesse crosses paths with a young girl "Jem" (Hassie Harrison) about to go off to college. She is on one last trip with her parents, and after they check into their motel room for the night, three masked men break in and exact revenge on the entire family for one man's wrongdoings.
Told with a twist, Southbound is pure horror. Which, unfortunately, means that the narrative is a bit underdeveloped. But if you're looking for fright over story, Southbound is one to see.
© Jessica E. Perry FF2 Media (2/8/16)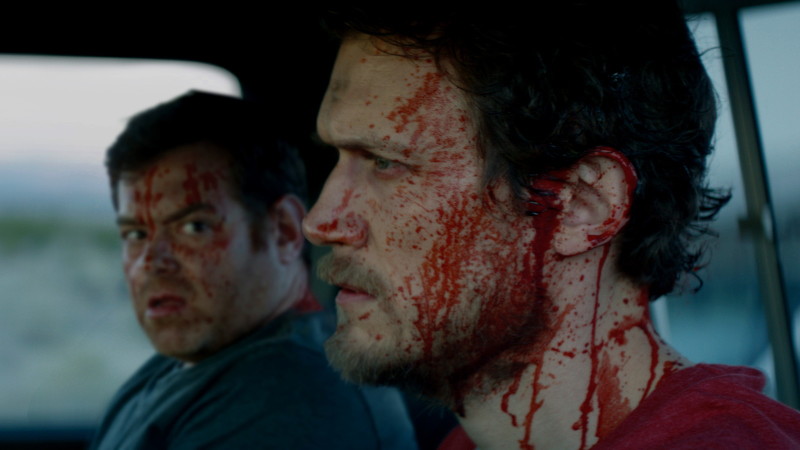 Top Photo: Southbound poster.
Middle Photo: Lucas searching for help in an abandoned hospital.
Bottom Photo: Mitch and Jack drive through the desert after a night of terror.
Photo Credits: The Orchard
Q: Does Southbound pass the Bechdel Test?
Yes!
Ava, Kim, and Sadie share many conversations together, almost none of them about men. In one such instance, the three girls talk about how to get their flat fixed in order to make it to their gig the next night.