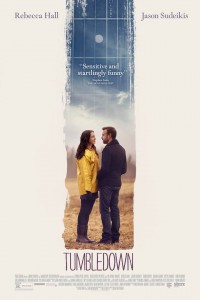 Written by Desiree Van Til and Sean Mewshaw, Tumbledown is a tale of letting go and finding love in the most unexpected of places. "Hannah"—wonderfully played by Rebecca Hall—is unable to move on from the loss of her late husband. But when a New York City writer comes into town, unbeknownst to them both, it is his presence that helps Hannah begin the healing process. JEP: (4/5)
Review by Contributing Editor Jessica E. Perry
"Hannah" (Rebecca Hall) lives alone in western Maine with her two dogs. She is in mourning over the death of her late husband Hunter Miles, a revered musician. In order to cope with her grief, Hannah does her best to pen Hunter's biography, but struggles to capture the truth of him in her words.
"Andrew McDonnell" (Jason Sudeikis), a professor in New York City, ventures to the same part of rural Maine for research on his own book about the infamous musician. At first, Hannah adamantly rejects any contact with Andrew, refusing to indulge another who wants to exploit the death of her husband like many have sought to do before him.
But Andrew's work and interest in Hunter's music is genuine, and once Hannah comes to realize this, she slowly begins to let him in. Hannah asks Andrew to forgo his own book on Hunter to help her write his biography. With the promise of an inside look into Hunter's musical process, and the truth about his passing, Andrew agrees to co-write the biography with Hannah. Leaving his girlfri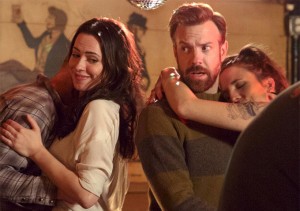 end "Finley" (Dianna Agron) behind in New York City, Andrew temporarily moves himself into the spare bedroom in Hannah's home.
As the two work on his biography, it is Hunter's memory that brings Hannah and Andrew closer together. They begin to lean on one another for support, and Andrew's presence—although at first unwanted—may just be what Hannah needs to put her husband's memory to rest and to let herself move past her grief.
An authentic romance about letting go and finding love in the most unexpected places, Tumbledown boasts a strong narrative from Desiree Van Til and director Sean Mewshaw, and superb performances from the entire cast. Sudeikis and Hall shine both apart and together, and with charismatic supporting performances from Agron, Blythe Danner, and Joe Manganiello, Tumbledown breaks from the mold of a typical romantic comedy.
Even though the film stumbles a bit through its third act, it is grounded in honesty, begging you to pardon any missteps. Genuine and uncharacteristically authentic for its genre, Tumbledown will make you feel it all.
© Jessica E. Perry FF2 Media (2/9/16)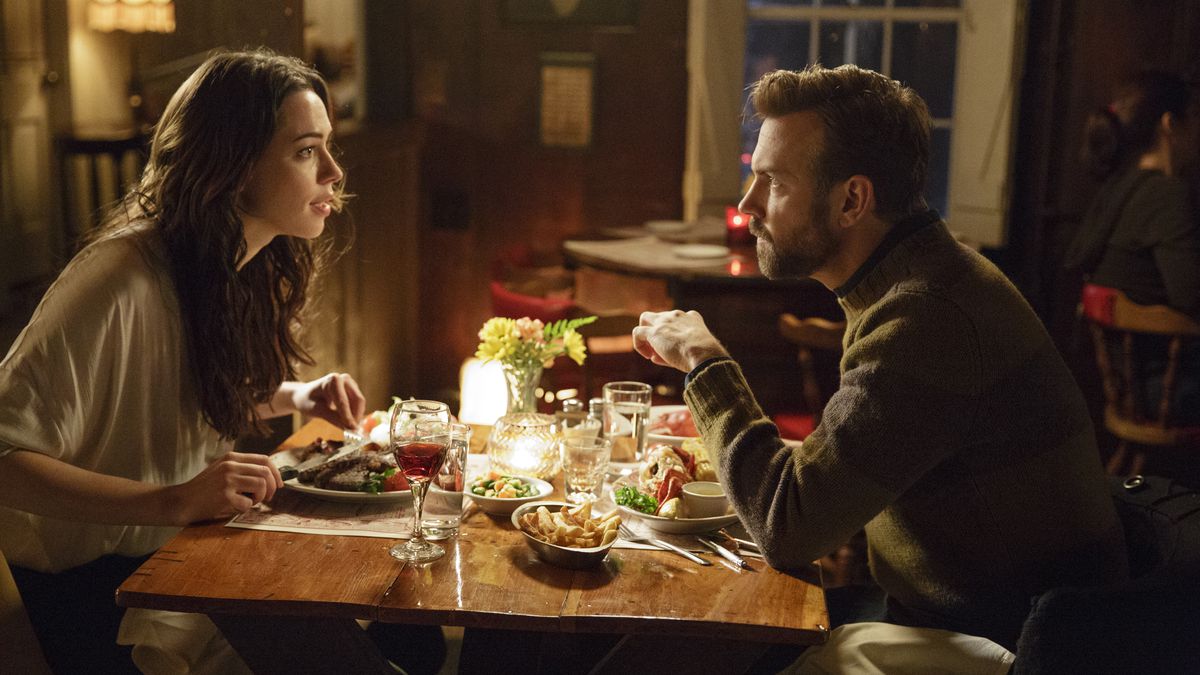 Top Photo: Tumbledown poster.
Middle Photo: Hannah and Andrew during a night out and away from their writing.
Bottom Photo: Andrew and Hannah grow closer together.
Photo Credits: Seacia Pavao
Q: Does Tumbledown pass the Bechdel Test?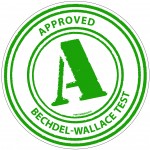 Yes!
Hannah's mother "Ellen" (Blythe Danner) talks with her about the phases of life, and her wish for a grandchild in this stage of her own. Ellen wants to see her daughter happy and free from the burdens of loss, but until that day, she will continue to love and support Hannah through her grief.