Basically just a feature-length walk and talk, Already Tomorrow in Hong Kong is Emily Ting's directorial debut.
On her first trip to Hong Kong, "Ruby" (Jamie Chung) meets a fellow American by happenstance. He helps her find her way through the winding maze of streets, and an unexpected romance blossoms. Already Tomorrow in Hong Kong is about finding love in the most unexpected of places, but at the wrong time. (JEP: 3/5)
Review by Contributing Editor Jessica E. Perry
"Ruby" (Jamie Chung), a Chinese American, is visiting Hong Kong for the very first time. She is supposed to be meeting a group of girlfriends in another part of town, but gets utterly lost trying to find her way.
When she meets a fellow American—"Josh" (Bryan Greenberg)—the stranger offers to walk her to the bar where she is meeting her friends. At first, Ruby refuses Josh's offer—after all, she doesn't know the man—but after failing to remember his mind-jumbling set of directions, Ruby agrees to let Josh show her the way.
The two connect as they walk together through the exciting Hong Kong streets. But when Ruby finds out that Josh has a girlfriend, she rightfully feels misled. The night takes a turn, and the two part ways on uncertain terms.
A year later…
Ruby and Josh meet again by complete happenstance. This time around, both are in relationships, timing still not on their side. But even after a year, their connection is undeniable, and they find themselves once again walking together through the streets of Hong Kong. As Ruby and Josh tread the line between friendship and romance, we are all reminded that sometimes you meet the right person at the wrong time…
With an endearing and talented cast, and a compelling premise, I wanted so badly to love Already Tomorrow in Hong Kong. Sadly, just as I was falling in love with the film, it ended. Just as something was finally about to happen, Ting didn't let her audience have it. Now I'm all for a cliffhanger, but when nothing happens throughout the entire film, shying away from the stakes is a hard note to end on.
Already Tomorrow in Hong Kong's structure would make an amazing short film to be developed into a feature. But because it is already feature-length, the film has little to offer. Instead, it is basically just an hour and eighteen minutes of walk and talk.
However, I will applaud Emily Ting for writing a strong female protagonist. Ruby stands on her own and tells it like it is, and that in and of itself, is extremely refreshing. Ting had all the parts, but somehow missed the whole. We needed more from the film, but just didn't get it.
© Jessica E. Perry FF2 Media (2/15/16)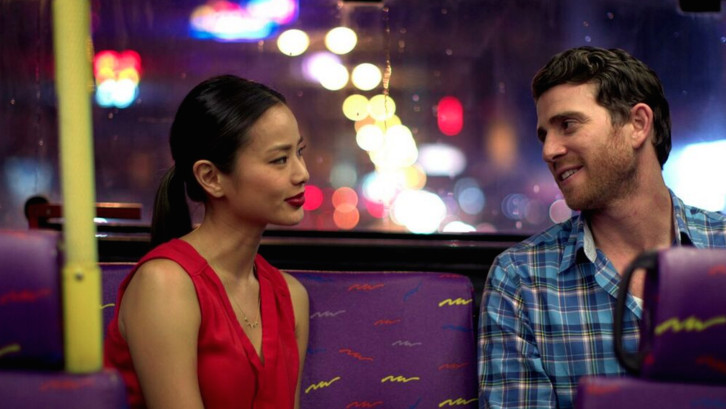 Top Photo: Already Tomorrow in Hong Kong poster.
Middle Photo: Ruby and Josh grow closer, walking through the streets of Hong Kong.
Bottom Photo: Real-life husband and wife Greenberg and Chung, as "Josh" and "Ruby," ride through the city at night.
Photo Credits: Gravitas Ventures
Q: Does Already Tomorrow in Hong Kong pass the Bechdel Test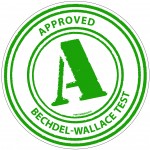 ?
No.