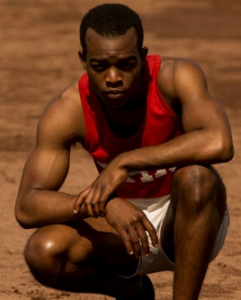 Stephan James stars in this inspiring, albeit slowly paced, true story of as 1936 Olympic Gold Medalist Jesse Owens. Although the elements are there: breaking through boundaries, tackling racism and incorporating Hitler's Nazi regime, it takes around 90 minutes for Race to turn into something more than a lackluster biopic. (BKP: 3.5/5)
Review by Associate Editor Brigid K. Presecky
Young sprinter "Jesse Owens" (Stephen Hopkins) begins his journey in Race by attending Ohio State University on a scholarship, where he meets his new white trainer "Larry Snyder," (Jason Sudeikis). The linear timeline traces three storylines: Jesse's journey to the Olympics, a female documentarian "Leni Riefenstahl" (Carice van Houten) who struggles with Nazi propaganda ambassador "Joseph Goebbels" (Barnaby Metschurat) and America's decision not to boycott the event.
By the time Owens appears at the Olympics, the film gains the momentum it needs. Visually, you feel like you are a part of the 1936 games … or at least a face in the crowd. And witnessing the continued success of Owens, a man from very humble beginnings, is – without a doubt – a heartwarming story.
Jason Sudeikis plays Larry Snyder with his natural charm, yet his 21st Century way of speaking does not quite fit into the 1930s time period. However, the relationship between Synder and Owens is a highlight of Race. James portrays Owens perfectly, including his impressive physical transformation to mirror the lean body a professional sprinter.
The by-the-numbers story follows a predictable trajectory. Not that Director Stephen Hopkins and writers Joe Shrapnel and Anna Waterhouse should have altered true events, but the story missed certain beats that would have allowed audiences to maintain their sense of interest and investment (see: Remember the Titans and Miracle).
The B and C storylines frequently yank viewers out of Jesse's journey, ultimately making the film feel like three separate films stitched together. The all-rise story ultimately ends on a "bummer" note, leaving the audience with a sick feeling in their stomachs as the filmmakers remind them how racism is still prevalent in America. For the bulk of the film to have feel-good tone and to leave it on a feel-bad note, the tonal shift is off and uncomfortable. The lukewarm Race will be remembered as inspirational, that is, if it is remembered at all.
© Brigid K. Presecky FF2 Media (2/22/16)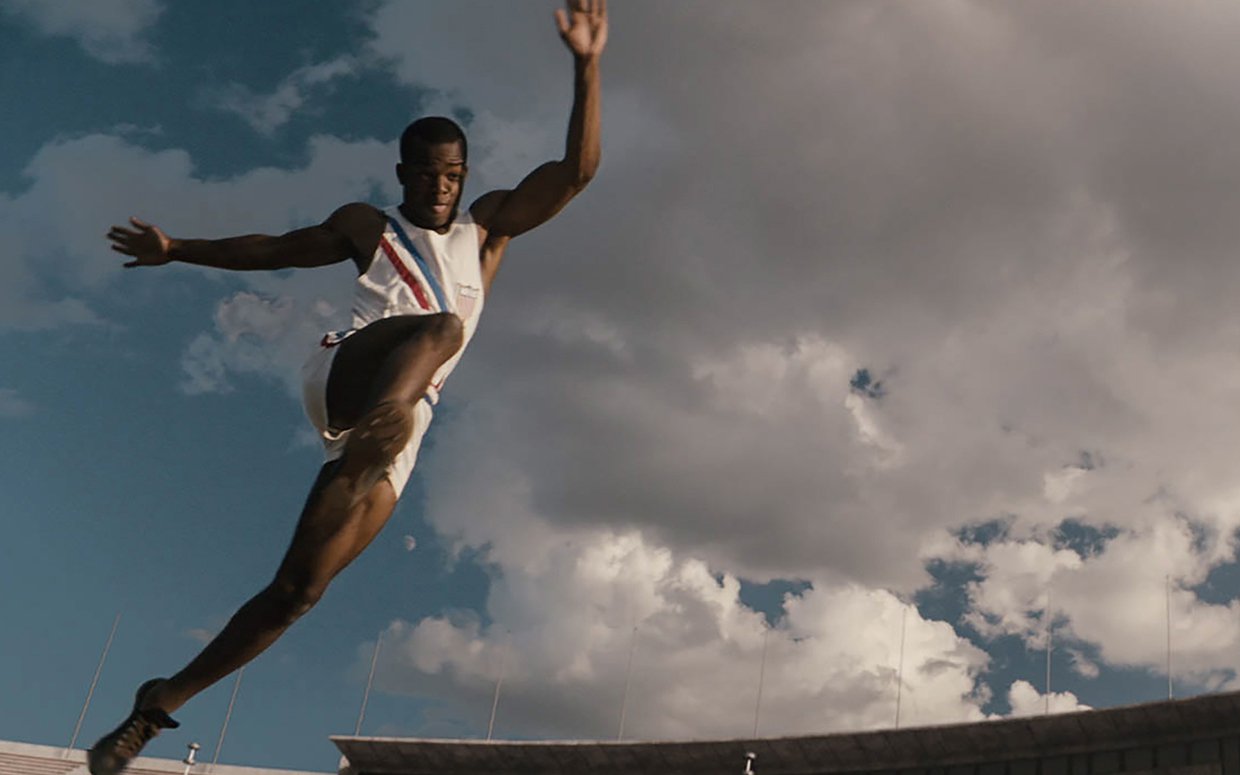 Top & Bottom Photo: Stephan James as "Jesse Owens"
Middle Photo: Stephan James as "Jesse Owens" and Jason Sudeikis as "Larry Snyder"
Photo Credits: Focus Features
Q: Does Race pass the Bechdel-Wallace Test?
No.
Race is based on the life of Jesse Owens, and his journey to the Berlin Olympics where he became a four time gold medalist despite all of the obstacles against him.
With a sleepy start, Race may have you checking your phone an hour in. But I assure you, it does pick up, and when it does, you'll be all in—rooting for Jesse Owens as he competes for the gold in the 1936 Olympics.
Set in the late 1930's, the film bears the weight of both shadows from the Great Depression and whispers of Hitler's Nazi regime. Screenwriters Anna Waterhouse and Joe Shrapnel clearly sought to give equal weight to Jesse's story and the world events of the time. Unfortunately,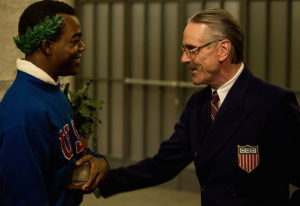 there were far too many moments when Waterhouse and Shrapnel allowed Jesse's story to come to a halt, forgoing their hero for abrupt shifts in storylines.
With too much weight given to moments outside of Jesse's world, the audience doesn't know who or what to invest in. Brigid said it best above—sometimes Race felt like multiple different movies, pulling its audience in and out of the narrative, instead of focusing its lens.
However, Stephan James delivers a compelling performance as "Jesse Owens." And supported by Jason Sudeikis (in rare form in a dramatic performance) as his coach "Larry Snyder," the pair keeps the film moving even when the narrative lags.
Race is redeemed from its "snooze-fest" status once we get to the Olympic games. However, do beware, the filmmakers take so many twists and turns to get us there, it's a wonder I held on. But in the end, what would've been a thumbs down, earned itself a thumbs up thanks to strong performances and a redeeming third act. (JEP: 3.5/5)
© Jessica E. Perry FF2 Media (2/28/16)