King Georges is Erika Frankel's documentary debut, following the chaotic life of a French restaurateur who is forced to assimilate to a changing culinary world. It is a compelling glimpse into the kitchen of a historic restaurant that has one man at its heart and soul – a man who is conflicted about seeing 40 years of hard work come to an end. (4/5)
Review by Associate Editor Brigid K. Presecky
"A chef doesn't have a normal life," says Georges Perrier at the beginning of King Georges, a documentary that follows his life as a restaurateur on the brink of culinary change. Writer-director Erika Frankel takes this statement and runs with it for the whole of the film, immediately establishing that Perrier's abnormal life and occupation is a worthy subject for a documentary.
The chef is immediately established as a credible and important part of the culinary world, not just in Philadelphia where his renowned French restaurant Le Bec-Fin is based, but nationwide. Montages of Perrier dominating his busy kitchen (yelling things like "time is money!" and "no brown, no flavor!") interwoven with testimonials from other acclaimed chefs calling him "king" make it clear that the chef is a force to be reckoned with.
When viewers enter Georges' world, he is calling his restaurant "the only true French restaurant in the United States left." From here on, the film becomes a tale of changing times. A majority of the documentary's conflict centers on Perrier putting Le Bec-Fin up for sale – and watching him struggle to say goodbye to a place he's put his entire life into for more than 40 years.
The history of the Philadelphia culinary scene and Georges' rise to culinary fame in the 1980s are covered, but they feel necessary to his narrative. A very clear picture of the Le Bec-Fin of old is painted, which makes it all the more heartbreaking when the picture starts to fade as a new generation starts to prefer casual, affordable cuisine to "stuffy" French dining. At one point, a restaurant patron asks Perrier if fine dining in America is dead.
Frankel's documentary shines a light on the fact that, yes, this style of food now only appeals to a specific audience. Thankfully the same is not true for her documentary debut – Perrier's "marriage" to his restaurant and sometimes off-putting dedication to his culinary craft will be interesting to viewers who don't know a croissant from a cruller. (Like me, who just sat here for five minutes struggling to come up with a metaphor involving French pastries).
It will especially appeal to fans of series like "Top Chef" or "Food Network Star," who are fascinated by watching chefs ladle unidentified foods into pots and are entertained by the science of cooking. But King Georges is more than that – the human story at its center is what saves it. Substitute any passion for Perrier's passion for food and the documentary becomes easier to relate to and more enjoyable to watch.
It is a testament to Frankel's subject matter and story-telling that a French restaurant in Philadelphia feels familiar –while not entirely comforting, thanks to Perrier's constant incoherent shouting – by the end. Despite one too many montages of sauces being poured and fish being gutted, viewers will understand why Perrier will miss the noisy chaos of the Le Bec-Fin kitchen.
Like Georges says, it's not a normal life – but it's definitely not a boring one. Neither is Frankel's film.
© Brigid K. Presecky FF2 Media (2/27/16)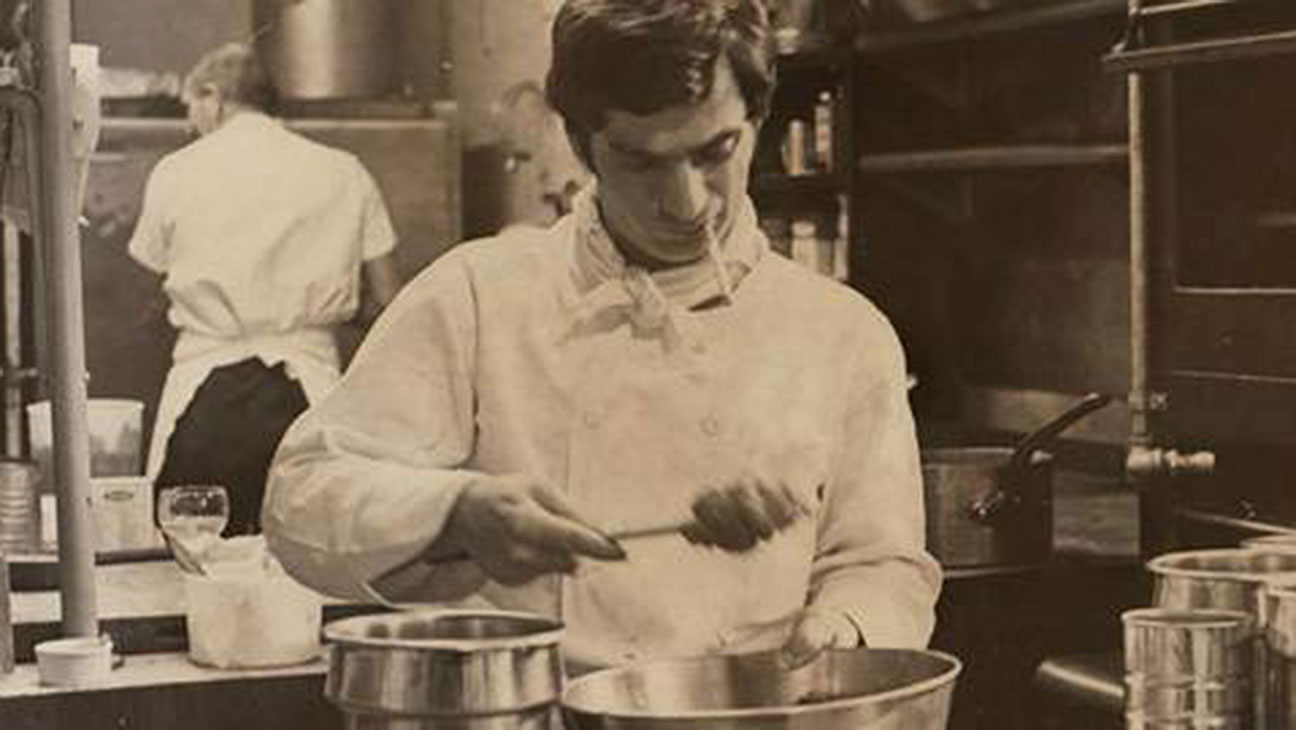 Photos: Georges Perrier running his French kitchen now & then
Photo Credits: IFC Films
Q: Does King Georges pass the Bechdel Test?
No.