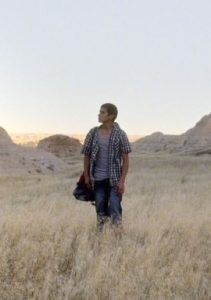 Writer and director Chloé Zhao brings out the joys and difficulties of her characters' lives on Pine Ridge Reservation with masterful sensitivity.
"Johnny" (John Reddy) is working hard to save up enough money to leave the reservation. His sister "Jashaun" (Jashaun St. John) sees the gorgeous South Dakota plains as magical even if Johnny sees them as desperately boring. Jashaun takes an interest in everyone around her, learning about bull riding and tattooing and playing music. Her perspective of patient appreciation sets the movie's pace and structure.
The film has a semi-documentary feel. Most characters share the actors' first names, and the movie is shot entirely on location. Many of the young actors, most notably leading siblings Johnny and Jashuan, are appearing onscreen for the first time, delivering incredibly authentic and charismatic performances. (AEL: 4.5/5)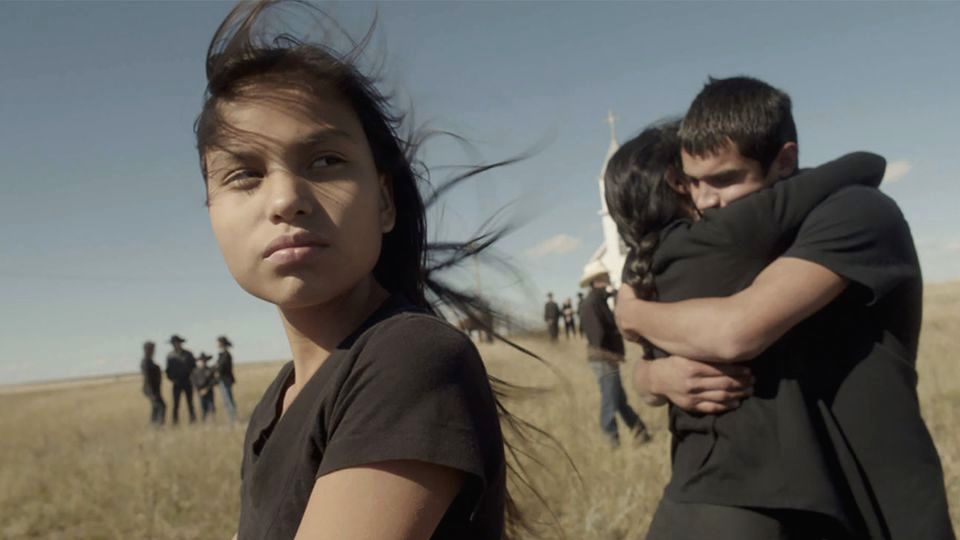 Top Photo: "Johnny" (John Reddy) in the South Dakota landscape.
Bottom Photo (from left): Jashaun, Johnny and their mother "Lisa" (Irene Bedard) at their father's funeral.
Photo Credits: Carlos Miller
Q: Does Songs My Brothers Taught Me pass the Bechdel-Wallace Test?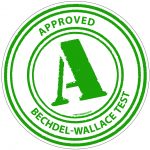 Yes.
Jashaun and her young friends, each of them at different stages of growing up, help each other through difficult family situations.
Mini-Review by FF2 Intern Amelie E. Lasker (6/21/16)
Visit GoWatchIt for viewing options:
https://gowatchit.com/watch/movies/songs-my-brothers-taught-me-277272