Resourceful teenager tries her best to care for self and sister in the absence of reliable adults, but there is only so much she can do… Until a young man–with personal problems and family problems all his own–arrives in town just in time to save the day.
Wonderful characters are played by first-rate actors. Now if only the screenplay (written by director Laurie Weltz based on a story she developed with her actress/daughter India Ennenga) were a bit stronger, I would be raving. (JLH 3.5/5)
Review by Managing Editor Jan Lisa Huttner
A teenager named "Scout" (India Ennenga) is living in a rundown Texas town with her grandmother "Gram" (Ellen Burstyn) and her younger sister "Lulu" (Onata Aprile). Their mother is dead and their father is on the road somewhere working in a traveling carnival.
This trio has clearly managed to make a go of it for several years, but Gram's advancing age and deteriorating health make a future together untenable. So Gram calls her son "Ray" (Tim Guinee) who soon arrives with pregnant girlfriend "Georgie" (Nikki Reed) in tow. They decide Scout is old enough to fend for herself, so they drive off with Lulu (who is screaming for Scout from the backseat of their car).
Three accomplished, engaging actresses quickly capture our hearts, and filmmaker Laurie Weltz–collaborating on this screenplay with her with daughter and lead actress India Ennenga–has us in the palm of her hand. But sorry to say, Weltz doesn't quite know what to do next.
So she adds a second chase 🙁
Scout abandons Gram and heads off with a guy named "Sam" (James Frecheville). Scout is desperate to find Lulu, and everything Scout does on her sister's behalf is urgent and compelling. But what about Sam? Ironically no one seems to care about Scout, but by teaming with Sam, Scout inadvertently puts an investigator named "Red" on her own tail, and despite Danny Glover's stalwart presence Act Two quickly spins out of control.
A cast is a terrible thing to waste! Weltz has an Oscar winner (Burstyn), a Spirit winner (Glover) and an Emmy winner (Jane Seymour as Sam's mother "Gloria") all on board in supporting roles. And even more important, Weltz has a genuinely engaging leading lady near the start of what is likely to be a very promising career.
Now I am not a screenwriter and it is not my job as a critic to tell Weltz what she should have done, but would it have been so hard for her to make Sam and Gloria more like real people and less like plot devices?
About Scout is a fine vehicle for India Ennenga. Those of us who watched her for years on HBO's Treme–she played "Sofia Bernette," the daughter of the Melissa Leo and John Goodman characters–will cherish this opportunity to watch her expand her range and carry a whole film on her lovely young shoulders. Note that she was also wonderful as "Molly Haines"–the daughter of the Meg Ryan character–in Diane English's 2008 remake of The Women (a film I really liked although very few of my colleagues did).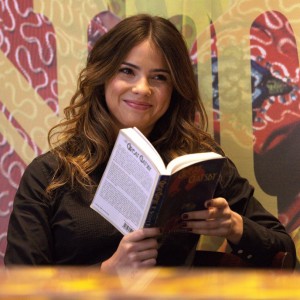 Frecheville (who was excellent in the Australian films Animal Kingdom and Adore) is fine as Sam, and he surely would have been able to do more if he had been given more to do. Along the way, he has a riveting encounter–with a woman played by luminous Shelley Hennig–which not only shows him in a potentially adult relationship but also makes clear that his affection for Scout is not sexual. (Thank God!)
So next time, if she manages to pull all the pieces together, filmmaker Laurie Weltz may well have a winner.
© Jan Lisa Huttner (3/12/16) FF2 Media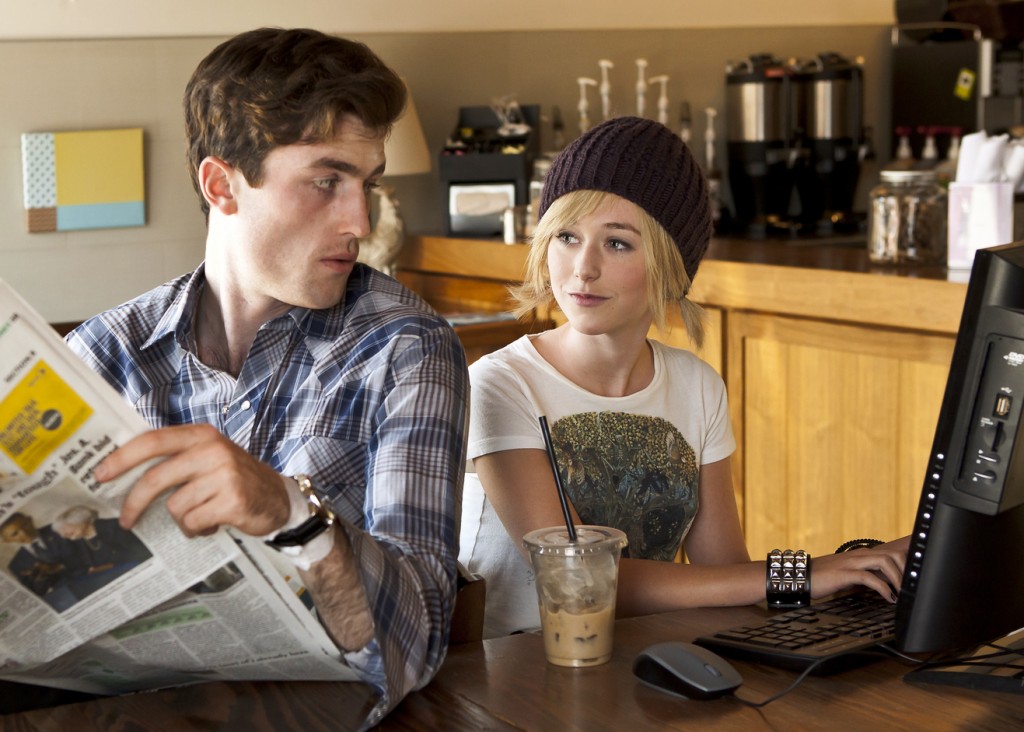 Top Photo: "Scout" (India Ennenga) in Texas with Onata Aprile as "Lulu."
Middle Photo #1: Shelley Hennig as "Melinda" beaming at Sam.
Middle Photo #2: "Sam" (James Frecheville) and "Scout" (India Ennenga) on the road, searching for Lulu.
Bottom Photo: "Scout" (India Ennenga) and "Lulu" (Onata Aprile ) in Manahttan searching for Sam.
Photo Credits: Tibrina Hobson
Q: Does About Scout pass the Bechdel-Wallace Test?
Absolutely!
Most of Act One revolves around Scout's relationships with Gram and Lulu, and believe me, "talking about a man" is the furthest thing from their minds. When Gram finally decides to contact Ray, she doesn't talk about it, she just does it. Scout probably knows what Gram is up to, but there is nothing she can do about it, so there is nothing to discuss.
Ellen Burstyn is really wonderful as Gram and I heaved a heavy sigh when Scout decided to leave her in Texas by herself. In one of the film's best moments, Scout posts a note about Gram's meds, a note clearly intended for a visit from a caregiver. But she doesn't make any arrangements for Gram and there is no assurance that anyone will ever come to care for Gram once Scout and Lulu are gone.
It goes without saying that Gram will get no help whatsoever from her son Ray 🙁
About Scout is definitely not "a romance" about Scout and Sam (and once again, I am thankful that Weltz leaves no doubt about that). Rather, About Scout is one of several films like 27 Dresses, In Her Shoes and Sunshine Cleaning (my personal favorite in this genre) about sisters who must rely on each other in the absence of a mother.
Will Lulu–so fragile and dependent–ever appreciate what her older sister has taken on? Hopefully one day, Weltz will make a sequel, because I really would like to know how it all turns out!