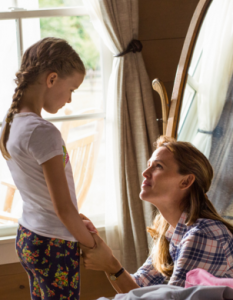 From The 33 director Patricia Riggen, Miracles From Heaven tells the true story of a family facing a potentially unthinkable tragedy and the faith that brings them through it. You'll leave the theater thinking about the miraculous little things in your own life – no matter where you believe they come from. (4/5)
Review by Associate Editor Brigid K. Presecky
The film is based on the real-life story of "Annabel Beam" (played beautifully by young Kylie Rogers), a child with an incurable intestinal disorder that prevents her from properly digesting food and leaves her in constant pain. Her belly protrudes; she's forced to eat through a tube and makes frequent, long hospital visits. But through it all, she believes that God will make it all OK.
Her mother "Christy" (Jennifer Garner), on the other hand, is slowly retreating from her Christian values and questioning how a supposedly loving higher being could put her daughter through this ordeal. In the film's third act, Anna's terrifying fall from a hollowed-out tree is actually her saving grace – one simple decision to climb a tree with her sister completely alters her story from one of tragedy to one of "miracles," as the film is aptly named.
As the proverbial doubting Thomas, Jennifer Garner is the star of the film in every sense of the word. Here is an actress whose immense talent is too often outshined by her celebrity status. Garner's versatility is at its peak in her portrayal of Christy Beam, a mother who feels completely lost. The character is seemingly drowning in despair – her bank account is dwindling and her daughter is dying, and there is absolutely nothing she can do. She tells her husband she can't even bring herself to pray – despite Anna's urgings that God is with her no matter what. Christy's persistence in finding proper care for her daughter and her desperation to do whatever it takes to help Anna might feel clichéd or overacted if played by anyone else. Garner has been super-spy Sydney Bristow (Alias) and ditzy Jenna Rink (13 Going on 30) , but this painfully truthful role of a mother at the absolute end of her rope is a standout performance.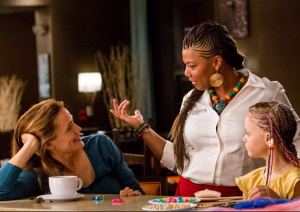 At times, the religious aspects of the Beams' story might feel hokey to the average viewer. There are times when Christy slowly lifts her eyes to the sky or when the family literally falls to their knees in prayer that do feel like too much. In addition, certain parts of Anna's story could have been implied but are instead shown in detail, such as her first-person account of what Heaven felt like or the painfully long sequence of her rescue from the tree.
But what it lacks in subtlety, Miracles from Heaven makes up for in aesthetic appeal – the film is beautifully shot. Landscapes of the Beams' Texas farm are stunning, and especially comforting when juxtaposed with the gray sadness of Anna's hospital room.
And it's true what Anna tells her parents near the film's end, "Not everyone is going to believe, and that's OK." On the surface, Riggen's picture appears to only appeal to a certain kind of audience. But what is marketed as a solely religious film has a very universal theme at its heart about the nature of life – it can get worse than you can even deign to imagine. But then it gets better. Not necessarily from a life-changing fall from a tree, but from little everyday moments that make the tough ones feel a little easier to bear.
Miracles From Heaven is quick to explain that it doesn't know the answer to why bad things happen to good people. But the Beams are walking, talking proof that sometimes people are able to live happier, more meaningful lives in spite of what happens to them. Despite what they couldn't control, they chose to believe in something – which is a human lesson more than it is a Christian one.
© Brigid K. Presecky FF2 Media (3/18/16)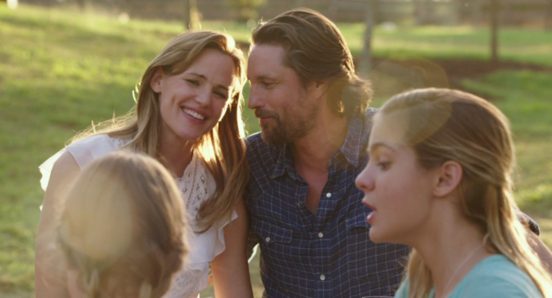 Top Photo: Jennifer Garner as "Christy" and Kylie Rogers as "Anna"
Middle Photo: Jennifer Garner as "Christy" with Queen Latifah as "Angela" and Kylie Rogers as "Anna"
Bottom Photo: The Beam Family 
Photo Credits: Tristar Pictures
Q: Does Miracles from Heaven pass the Bechdel-Wallace Test?
Absolutely!
A majority of the film's most important scenes take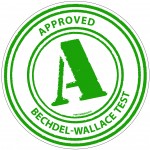 place between "Christy" (Jennifer Garner) and "Anna," (Kylie Rogers) centering around their conflicting relationships with their faith and Anna's painful, frequent doctors' visits and long stretches in the hospital. The Beams have two other daughters with whom Christy also has meaningful relationships.
Christy also has words with female members of her church who – infuriatingly – believe that Anna's illness must be a result of some kind of sin on the part of the Beams, which only contributes to Christy's growing disillusionment with her religion. Finally, Christy and Anna meet and bond with a sweet and generous waitress, "Angela" played by a classic Queen Latifah, who helps them feel at home in Boston, where Anna's specialist is.