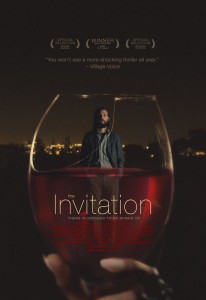 Masterfully paced psychological thriller directed by Karyn Kusama, The Invitation is a nail biting, seat gripping, feature about a dinner party with old friends that slowly develops into something much more sinister when secrets are revealed and the truth is tested. (JEP: 4/5)
Review by Contributing Editor Jessica E. Perry
After two years of silence, an invitation arrives in the mail inviting its guests to a dinner party between old friends. Surprising everyone, "Will" (Logan Marshall-Green) accepts the invitation, returning for the first time to the house buried deep within the Hollywood Hills that he used to call home. Will brings along his girlfriend "Kira" (Emayatzy Corinealdi), both on edge as they drive up the narrow and winding roads to their destination.
When the pair arrives, people Will used to call friends, some even family, are seated on couches in tense conversation. It has been years since they've all been together, enjoying one another's company. A mysterious tragedy pulled them apart, and answers to burning questions build as the old friends get reacquainted.
Adorned in a long white dress, setting her apart from the rest of the group, "Eden" (Tammy Blanchard) glides over to Will with open arms. Her relationship with Will is immediately un
clear, but it is apparent that the pair shares a past. Everyone is guarded and careful with Eden, but they are even more wary of Will and his behavior. It is soon revealed that Eden and Will were married. Quite happily, in fact, until tragedy struck and both struggled to keep a grasp on their sanity when it did.
Years later, "David" (Michiel Huisman) Eden's current husband and new keeper of the house has an unnerving hold over his wife, their behavior alarming to all of their friends. Why did Eden and David decide to hold a dinner party after all this time? Where was the couple for the past two years, and who were they with? And why, after two years of radio silence, have they extended the invitation?
The plot continues to twist and turn as unfamiliar faces join the dinner party. "Sadie" (Lindsay Burdge) and "Pruitt" (John Carroll Lynch), both suspect in their own right and clearly harboring secrets, know of Eden and David's previous whereabouts. When the four suspicious adults begin to reveal their true intentions, Will, and those around him, are unsure of whom to trust. And as Will grows increasingly paranoid, we as an audience, wonder if he is a reliable protagonist, attempting to keep up as secrets are whispered and truths are turned on their heads.
Director Karyn Kusama masterfully keeps her audience in a state of suspense. Delicately unfolding screenwriters Phil Hay and Matt Manfredi's intricately crafted world, settling us in somewhere between mystery and paranoia. The Invitation is dark, twisted, and suspenseful pulling you in from the film's opening and not letting you go until after the final credits have rolled.
© Jessica E. Perry FF2 Media (4/15/16)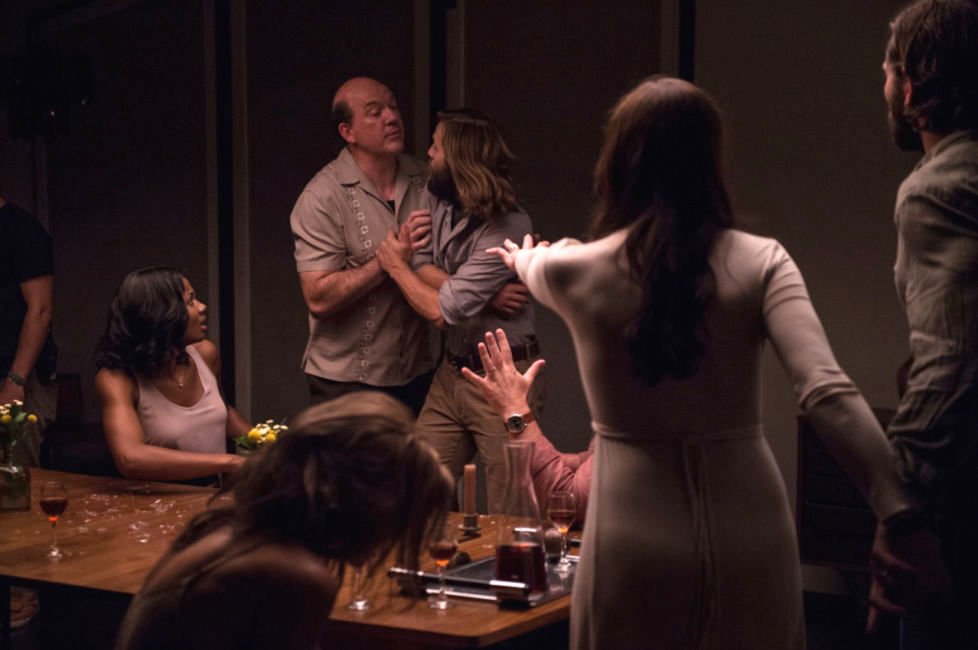 Top Photo: The Invitation poster.
Middle Photo: David addresses the group.
Bottom Photo: Tensions run high as secrets start to come out.
Photo Credits: Temma Hankin
Q: Does The Invitation pass the Bechdel-Wallace Test?
No.
The women in the film don't have conversations only with each other that pass the Bechdel test. Instead, all conversations that would pass are had between them only when the whole dinner party group is talking together.